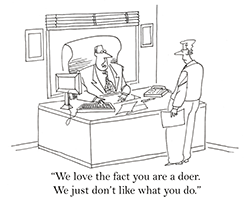 Managing employees is critical to the success of every business, and in these hard times it is imperative that your full team pulls their weight.
In an ideal world, your business will be full of passionate individuals, working together for the overall success of your company. However, it doesn't always turn out like this. Whether the employee lacks the ability to deal with clients and colleagues or is persistently sloppy; the effect of one "bad apple" can have a degenerative effect on your hard-earned success.
Disciplining a bad employee can be a long and painful process, so acting pre-emptively to ensure that both your rights, and the rights of your employee, are covered is essential.
Make sure all of your HR decisions are by the book. Instigate personal development plans with regular performance related targets and establish probationary periods for all new employees to ensure that your new team member is following through with the promises made in their interview.
Is formal action immediately necessary?
No! A quiet word may often be all that is needed. This is not to say that managers cannot keep a note of these discussions, and any informal verbal warnings they have given, otherwise this will become an ineffective management tool.
Suggested informal steps 
Highlight the problem in a confidential, private meeting.
Get to the bottom of the problem: find out why this is happening.
Agree what action is needed.
Keep a record of the conversation.
Send a memo to the employee setting out what has been agreed and state that disciplinary action will follow if there is no change in conduct.
When do informal reviews become formal?
Informal usually has reason to become formal when there is continued poor performance in areas of concern. Common examples include continued: 
lack of productivity or slowness.
inflexibility.
failure to establish good working relationships with colleagues or customers.
Every issue should be handled individually - if the matter involves misconduct rather than underperformance, make sure that it is treated as a result of conduct as opposed to a shortcoming in capability, otherwise it may result in unfair dismissal.
Outright sackable offences
This is known in law as "summary dismissal" for gross misconduct, and any of the following actions by an employee may warrant immediate dismissal:
Theft or unauthorised removal of the business's property or the property of a colleague, contractor, customer or member of the public.
Fraud, forgery or other dishonesty, including fabrication of expense claims and time sheets.
Physical violence or bullying; or actual or threatened violence, or behaviour which provokes violence.
Deliberate and serious damage to property; or deliberate damage to buildings, fittings, property or equipment, or the property of a colleague, contractor, customer or member of the public.
Serious misuse of property or name of the business.
Deliberately accessing internet sites containing pornographic, offensive or obscene material.
Serious insubordination; or repeated or serious failure to obey instructions, or any other serious act of insubordination.
Investigations and hearings
This is the part that tends to baffle most employers - exactly how much investigation is required?
The investigation must be even-handed, and should not simply be a search for evidence against the employee. Evidence in the employee's favour should also be sought.
The employee needs to be given sufficient time and information to form a meaningful response to all allegations. Depending on the results of the investigation, if formal disciplinary action is needed the employer should: 
give written confirmation of the outcome of the investigation.
conduct a hearing at a reasonable time and place.
send the employee a copy of the employer's disciplinary procedure, so the employee understands the process.
inform the employee in writing of the right to be accompanied - as advised by the ACAS Code.
Always follow the ACAS Code
The ACAS (Advisory, Conciliation and Arbitration Service) Code of Practice exists to improve workplaces for both employers and employees - and keep everyone out of costly industrial tribunals.
It's vital to know exactly where you stand legally before embarking on any discussions or disciplinary procedures with any employee so always consult a law firm.
Wax Noor is a Director & Owner at Win Solicitors.