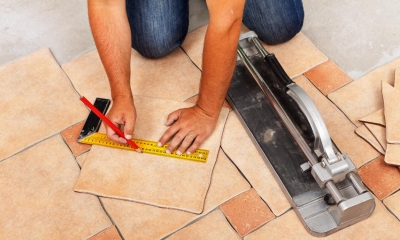 There are several areas where legislation is of particular relevance to tiling specialists. The following is an overview of legislation that you and any employees you have should be aware of.
What licences does a tiling service business need?
There are no licensing requirements relating specifically to tiling specialists. You should, however, be aware of the following.
Building waste
If you are going to transport building waste (which is classified as a controlled waste), you will need a certificate of registration as an upper tier waste carrier (or just waste carrier in Scotland). Types of building waste that you might transport could include old hacked-off tiles and plasterboard off-cuts, for example. Certificates are issued by:
the Environment Agency in England
Natural Resources Wales
the Northern Ireland Environment Agency
the Scottish Environment Protection Agency (SEPA) in Scotland
It currently costs about £155 for the initial registration fee and around £105 to renew it every three years (a bit more in Scotland, a bit less in Northern Ireland).
Asbestos
If you think that you may do any work involving asbestos (this might include removing old wall cladding and partitions, for example) you may need a licence from the Health and Safety Executive (HSE) Asbestos Licensing Unit - or from the Health and Safety Executive Northern Ireland (HSENI).
In practice, you'll probably use the services of a licensed specialist if you come across any asbestos that needs to be disturbed.
Other licences
Depending on the nature of your business, some other licences may be required:
skips placed on a public highway require a Skip Permit from the local authority. Certain conditions may be attached to the licence. Normally the skip hire company will arrange the necessary licences, but it is worth making certain of this
if background music is played in a tile or bathroom showroom or similar you will probably need a Music Licence from PPL PRS Ltd. There is an annual fee for this which you can pay online on the PPL PRS website
Health & safety, fire
The Construction (Design and Management) Regulations specifically cover health and safety issues within the construction industry. Some key areas where health and safety regulations affect your tiling business, particularly if you employ staff, include:
lifting heavy items
safety, maintenance and use of electrical equipment (power tools and so on - particularly electric tile cutters that are used with water to cool the blade)
working at height
access to first aid equipment
adequate provision and use of protective clothing and equipment
reporting of any accidents and injuries at work
You must comply with workplace health and safety and fire safety legislation.
Employment legislation
Anyone employing staff must comply with employment legislation. Important areas of legislation include:
Recruitment and employment contracts
Working time: hours, leave, flexible working
Maternity, paternity and adoption
Managing home workers, remote workers, lone workers
Hazardous substances
You must ensure that your and any employees' exposure to potentially harmful substances is minimised. This might involve precautions such as using dust masks and goggles when preparing walls or floors, or ensuring that ventilation is adequate when using certain adhesives and sealers. Be aware that cementitious tile adhesives can cause irritation and harm to skin and eyes - and the powder is also harmful to lungs if breathed in. Make sure that you and your staff take suitable precautions at all times.
The environment
Environment protection legislation covers pollution prevention and the disposal of building and demolition waste, which is classed as a controlled waste. Special provision is made for hazardous waste products, for example old asbestos board.
The Gov.uk website includes guidance for businesses on environmental management.
Goods and services
There is a range of legislation that applies to all businesses to protect the interests of the customer. For example, goods and services must not be misleadingly described. This includes the supply and fixing of tiles - you can be held responsible for ensuring that appropriate tiles are used (for example frost proof tiles for outside areas) and that they are correctly fixed in place. All work done must be of satisfactory quality. You must not pretend to hold qualifications or trade association memberships that you don't actually have, and you must also avoid unfair sales tactics like pressure selling.
You can get more information about many different aspects of consumer protection and fair trading legislation from the Trading Standards Business Companion website. Information for businesses is also available on the Gov.uk website. If you have a specific query about how consumer protection regulations affect your business you could contact your local trading standards department.
Illegal workers
As an employer it's your responsibility to check that someone you take on is entitled to work in the UK. There are fines for employers who employ illegal workers because they've failed to make the necessary checks. You can read more about preventing illegal working on the Gov.uk website.
Insurance for a tiling service business
When you start up in business you will need insurance cover. Contact an insurer and explain to him or her exactly how the business will operate - they will then recommend what cover you should have. This might include:
employer's liability
public liability
contract indemnity/contractor's all risks
premises, premises contents and stock (if you have any premises)
unfixed materials, plant and equipment on site
cash
business interruption
motor insurance (for business vehicles), possibly with cover for goods and equipment carried in your vehicles
personal cover - accident and injury, loss of earnings and so on
The Tile Association has negotiated competitive rates for members on several classes of business insurance through their associated insurance partner. You can find out more about insurance available through the Tile Association and read about special terms available for members on their website.