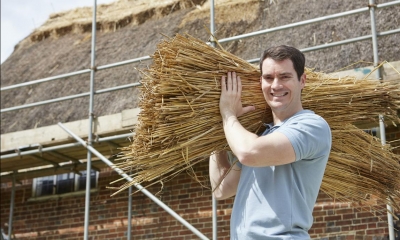 There is no legislation relating specifically to thatchers. However, as a business person engaging in certain potentially hazardous activities there is certain legislation that you should be aware of. You will also need to become familiar with listed building and conservation legislation, including local planning rules and guidelines.
The following is an outline of some of the areas which may well be relevant to you.
What licences does a thatcher need?
There are no specific licences that you will need to work as a thatcher, so if your business activities are going to fall within the usual range of services offered by this type of business you may not need to do anything further.
However, if you are going to transport building waste, which is classified as a controlled waste, you will need a certificate of registration as an upper tier waste carrier (or equivalent in Scotland). Old thatch and other materials removed from a building would be classified as a controlled building waste. Certificates are issued by:
the Environment Agency in England
Natural Resources Wales
the Northern Ireland Environment Agency
the Scottish Environment Protection Agency (SEPA) in Scotland
They currently cost about £155 for the initial registration fee with a renewal fee of around £105 every three years. Similar fees apply in Scotland and Northern Ireland (a bit higher in Scotland, a bit lower in Northern Ireland).
Skips placed on a public highway require a skip permit from the local authority. Certain conditions may be attached to the licence. Normally the skip hire company will arrange the necessary licences, but it is worth making certain of this.
Before erecting a scaffold on or over a public highway, you are obliged by law to obtain a permit from your local highway authority. Some local authorities also require you to obtain a scaffolding permit before putting up a scaffold in a public place. If you use a specialist scaffolder, they will often take responsibility for arranging any scaffolding permits needed. For more information, contact your local authority planning department or environmental health department.
If you intend to do any work involving asbestos you may need a licence from the Health and Safety Executive (HSE) Asbestos Licensing Unit - or from the Health and Safety Executive Northern Ireland (HSENI). In practice, you'll probably call in a licensed specialist to deal with any asbestos you come across.
If you offer an insurance backed warranty - even if you make no extra charge for this - then you may be covered by general insurance legislation administered by the Financial Conduct Authority (FCA). Businesses whose activities are covered by the legislation need to be either directly authorised by the FCA or an 'appointed representative' of a principal FCA authorised insurer.
Building Regulations self-certification
Some of the work you do is likely to be covered by Building Regulations. If you want to be able to sign off your work for Building Regulations compliance instead of getting it inspected you will need to join the National Federation of Roofing Contractors (NFRC) Competent Roofer scheme. You can find out more about this government-approved scheme on the Competent Roofer website.
Building Regulations, planning and listed building consent
'Building Regulations' is a general term for different pieces of legislation in England and Wales, Scotland and Northern Ireland. The work that you do on domestic buildings must normally comply with local Building Regulations where applicable, although these make some allowances and exemptions for historic and ancient buildings.
Regulations covering roofing work on domestic properties include specific requirements for insulation performance. In general terms, substantial roofing work (normally 50% plus of the roof area refurbished/replaced) done to domestic properties must comply with regulations covering insulation performance. These are set out in Document L of the Building Regulations. However, a well constructed thatched roof typically provides a high level of insulation - a fact which is acknowledged within the regulations - meaning that often no insulation upgrading is necessary. Note though that Building Regulations cover other aspects of roof work too, such as structural strength and load-bearing ability.
Your local authority building inspectorate will be able to give you more information. Details of the Building Regulations are available from the Planning Portal website. More information about the Building Regulations in Northern Ireland is available on the Department of Finance website. Special guidance on applying Document L of the Building Regulations when working on historic buildings is available to download from the Historic England website.
In most cases it will be down to the client to seek the appropriate planning and listed building consent before re-thatching. However, your expert opinion will often be sought, particularly where the owner of the building is applying to change the type or style of thatching used.
The environment
The Environmental Protection Act and regulations made under it apply to the disposal of building and demolition waste. Special provision is made for hazardous waste products, for example old asbestos-cement roofing sheets.
Health & safety, fire
All roofing work is potentially very hazardous and it is very important that you keep up to date with health and safety regulations.
Some key areas where health and safety regulations affect your business, particularly if you employ staff, include:
working at height (the Work at Height Regulations apply to both employers and self-employed workers)
adequate provision and use of protective clothing and equipment (dust masks, for example, may be required when working with thatching materials)
access to first aid equipment
reporting of any accidents at work
use of any electrical equipment
You must comply with workplace health and safety and fire safety legislation.
Employment legislation
Anyone employing staff must comply with employment legislation. Important areas of legislation include:
Recruitment and employment contracts
Working time: hours, leave, flexible working
Maternity, paternity and adoption
Managing home workers, remote workers, lone workers
Asbestos
Any work that you do which might lead to exposure to asbestos is covered by the Control of Asbestos Regulations. For example, you might be asked to remove old asbestos roofing sheets or insulation before thatching as part of a restoration project. Under these Regulations, you may need a licence if you intend to carry out work involving asbestos. Appropriate precautions must be taken at all times when handling asbestos or working with suspect materials.
Fair trading
Special consumer protection regulations require all traders to act honestly and fairly towards their customers. It goes without saying that you shouldn't make claims that aren't true, or quote prices (or indeed project timescales) that turn out to be wildly inaccurate. More information about consumer protection and fair trading legislation is available on the Trading Standards Business Companion website. Information is also available on the Gov.uk website.
Insurance for a thatcher
When you start up in business you will need insurance cover. Contact an insurer and explain how the business will operate. They will then be able to recommend what cover you should have, which might include:
public liability and professional indemnity (be sure you are covered in the event of a thatch fire which starts when you are working on a property, or if water ingress causes causes damage to property)
employer's liability
contractor's liability/contractor's all risks
unfixed materials, plant and equipment on site
combined property
business interruption
motor insurance (for business vehicles)
personal cover - accident and injury, loss of earnings and so on
premises cover if you have any business premises (if you run the business from home and store tools and materials there, be sure to notify your existing household insurer)
You might also want to offer an insurance backed guarantee scheme - these are underwritten by specialist insurers.
When taking out personal, public liability and employer's liability cover it is particularly important to give precise details of the types of activity that you and your staff will be engaging in. Be prepared to answer questions about the height at which you will be working, the type of materials and equipment you will be using and so on.
Some professional associations and 'approved contractor' schemes require all participating businesses to have a minimum level of public liability insurance, for example £2 million. Some associations can pass on details of insurers who specialise in providing cover for thatching businesses.
Some insurers specialise in covering all aspects of thatch and thatching, including business insurance, insurance backed guarantees and insurance for thatched buildings.