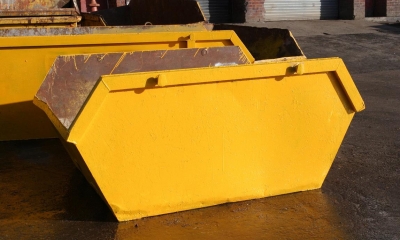 The transportation, storage and disposal of controlled and hazardous wastes is very closely regulated in the UK. The following is just a brief outline of some of the main regulations that may be relevant to your skip hire business.
What licences does a skip hire business need?
There are certain licences that you will need to operate legally as a skip hire business. The main licences that you are likely to need are listed below.
Waste licensing
As your business will be involved in transporting controlled wastes you will require a certificate of registration as an upper tier waste carrier or broker (waste carrier in Scotland). These are issued by the Environment Agency in England, Natural Resources Wales, the Northern Ireland Environment Agency, and the Scottish Environment Protection Agency (SEPA). In England and Wales this currently costs about £155 for the initial registration fee and a further renewal fee of about £105 every three years. The fees are slightly higher in Scotland and a bit lower in Northern Ireland. Note that a single licence is issued to your business covering all of your waste transporting vehicles. Waste carrier licensing in England and Wales comes within the environmental permitting regime (see below).
If you are going to store any waste at your premises then, unless the amounts are small or an exemption applies, in England and Wales you will need an environmental permit authorising the site as a licensed waste transfer station permitted to carry out specified waste-related activities. The cost of a site licence varies, depending on factors such as the type and amount of waste handled and the specific activities undertaken - several thousand pounds per site is not unusual. The licence lasts until it is surrendered (or revoked following a breach of the conditions), but an annual subsistence charge is payable to cover the cost of inspections and so on. The subsistence charge will also vary, and once again may run to several thousand pounds.
If you have an environmental permit as a waste transfer station you don't need to register separately as a waste broker or dealer if you arrange for waste that you've acquired to be disposed of or stored on sites covered by your permit. But if you send the waste to a site not covered by your permit then you'll need to register with the Environment Agency as an upper tier waste broker.
Businesses in Scotland and Northern Ireland that deposit, treat, keep or dispose of waste normally require a waste management licence. As with environmental permits, there is an application fee and an annual subsistence charge.
To find out more about environmental permitting, contact the Environment Agency. In Northern Ireland, contact the Northern Ireland Environment Agency and in Scotland contact SEPA. Natural Resources Wales deals with environmental permitting and waste licensing in Wales. More information about environmental permitting and waste management licensing is also available on the Gov.uk and Netregs websites.
Save £5 and pay £30 for a year's access to 890 business document templates. Use code SLD7948.S
Scrap metal
Be aware that if scrap metal dealing forms a substantial part of your business then you may need to obtain an appropriate scrap metal dealer's licence from your local authority. If you think you will be handling a large amount of scrap metal then it's wise to check with your local authority. They will also be able to advise you on which type of licence you need.
Asbestos
If you think that you may do any work involving asbestos you will probably need a licence from the Health and Safety Executive (HSE) Asbestos Licensing Unit - or from the Health and Safety Executive Northern Ireland (HSENI). There is a charge for this licence. Further details are available on the HSE and HSENI websites.
Vehicles
As a business operator of large lorries you will need an operator's licence for each Traffic Area in which you have a base. Licences are issued by the Transport Office Traffic Commissioner for that area. There are eight Traffic Areas covering England, Wales and Scotland. In Northern Ireland you must obtain a goods vehicle operator's licence. These licences are issued by the Transport Regulation Unit (TRU) of the Department for Infrastructure (DfI). You can find out more about goods vehicle operator licensing on the Gov.uk and DfI websites.
It is an offence to drive, or to permit another person to drive a vehicle on the road without a valid driving licence which covers that category of vehicle. To obtain a licence, drivers must take and pass a driving test for the appropriate class of vehicle. To drive a vehicle that exceeds 7.5 tonnes gross weight a driver must hold an LGV (large goods vehicle) licence.
Professional lorry drivers are also required to hold a current certificate of professional competence, which they must renew every five years.
Although it's not mandatory for operators of skip handling machinery to hold a skills registration card, it's a good way of showing that your business complies with the requirement under health and safety legislation for operators to be suitably trained. The Sector Skills Council CITB offers one of the best known card schemes, the Construction Plant Competence Scheme (CPCS). You can find out more about the CPCS on the CITB website.
Skip licensing
Skips that are placed on a public highway require a highway permit from the local authority. This is generally referred to as a 'skip permit' or 'skip operator's licence'. In some cases, a controlled parking permission is required. Charges for these licences vary - your local authority will be able to give you details of charges that apply in your area.
Many local authorities operate a skip hirer registration scheme. Under the scheme, skip hirers who meet requirements such as adequate insurance cover can register with the local authority in order to streamline the skip licensing process - and in some cases to receive a discount on skip licensing costs. In some cases, only skip operators who are registered with the local authority are permitted to place skips on the highway. There is generally an annual fee for registering.
Radio licensing
You may decide to equip your skip transporters with radio transceivers so that they can stay in touch with your base. Radio operators must obtain a radiocommunications licence from Ofcom, for which there is an annual fee. The fee will vary according to the number of mobile units you have. Details are available on the Ofcom website.
Environmental protection and waste
Many of the regulations that relate to the handling of controlled and hazardous wastes are made under the Environmental Protection Act. The Control of Pollution (Amendment) Act is another important piece of legislation under which waste regulations have been introduced.
Legal requirements to which skip hire operators must adhere include the keeping of certain records, the registration and licensing of vehicles and waste transfer stations and the correct handling of all controlled and hazardous wastes.
Remember that your legal obligations include a 'duty of care' to make sure that all of the waste you pass on to other businesses or organisations for final disposal is dealt with according to the appropriate statutory guidelines. Bear in mind too that business clients who produce controlled wastes are also affected by environmental and pollution control legislation. Some may require advice on how to fulfil their legal duties and all will need to satisfy themselves that your business will dispose of their waste in a responsible and legal manner. In March 2016 the Department for Environment, Food and Rural Affairs (Defra) issued the 'Waste duty of care code of practice' providing practical guidance on how to meet your waste duty of care requirements in England and Wales. You can read this on the Gov.uk website.
Special regulations apply to hazardous waste. Be aware that it is illegal for anyone to dispose of hazardous waste such as asbestos, refrigerators and old oil in a skip. It's wise to inform your customers about what they can and can't dispose of in your skips. You could take the opportunity to warn them about preventing fly tipping and avoiding overfilling the skip at the same time.
Vehicles
A range of special legislation applies to businesses that operate fleets of heavy vehicles such as large skip transporters. Key pieces of legislation cover matters that include:
operator licensing. You must hold a valid operator's licence if you run vehicles over 3.5 tonnes gross vehicle weight. A 'restricted category' licence should be sufficient to cover skip-carrying operations
drivers hours. There are restrictions governing continuous driving hours and mandatory daily and weekly rest periods. As an employer you will have to make periodic checks to ensure that your drivers hours' rules are observed by referring to tachograph records
vehicle safety. Goods vehicles must be tested annually to ensure they are mechanically sound and safe to use. Also, most goods vehicles require a Department of Transport plate which shows maximum permissible weights for the vehicle
insurance. Motor fleet operators must submit details of all vehicles operated and insured to the Motor Insurers' Bureau (MIB) database. More information is available on the MIB website
speed limiters. The Road Vehicles (Construction and Use) Regulations require goods vehicles over 7.5 tonnes to be fitted with a speed limiter device
When collecting filled skips it's important that your drivers understand that they must avoid overloading the vehicle. An on-board weighing system fitted to skip-handler vehicles can be very useful in ensuring that vehicles are never driven when overloaded.
Skip regulations
The Builders Skips (Markings) Regulations require permission to be obtained from the local authority before a skip is placed on a road. Certain conditions, including correct marking and siting, must be met as a condition of a licence being granted. An incorrectly sited or lit skip may be removed by the local authority, which will then normally seek to recover its costs (possibly from your client). To find out more, contact your local authority highways department.
Health & safety, fire
The Health and Safety at Work Act and regulations made under it cover all aspects of workplace health and safety. Employers have a duty to ensure the health and safety at work of all their employees. Those with five or more employees must prepare a written health and safety policy statement. Some key areas where health and safety regulations affect your business, particularly if you employ staff, include:
working with and disposing of asbestos
working with other potentially hazardous wastes
lifting heavy items
access to first aid equipment
adequate provision and use of protective clothing and equipment
reporting of any accidents and injuries at work
Health and safety legislation requires operators of machinery like skip handler vehicles to be properly trained. Skills registration card schemes like the Construction Plant Competence Scheme (CPCS) run by CITB enable employers to show that their plant operators are properly qualified. You can find out more about the CPCS on the CITB website.
You must comply with workplace health and safety and fire safety legislation.
Employment legislation
Anyone employing staff must comply with employment legislation. Important areas of legislation include:
Recruitment and employment contracts
Working time: hours, leave, flexible working
Maternity, paternity and adoption
Managing home workers, remote workers, lone workers
Sources of further Information
The employing people section of the Gov.uk website includes information and guidance on all aspects of employment legislation. Information for businesses in Northern Ireland is available on the NI Business Info website.
Insurance for a skip hire business
When you start up in business you will need insurance cover. Contact an insurer and explain to him or her exactly how the business will operate - the insurer will then recommend what cover you should have. This might include:
employer's liability
public liability
professional indemnity
pollution cover and environmental liability
asset cover (skips and other hire items)
motor insurance for your vehicle fleet
business interruption
premises and premises contents
personal cover (accident and injury, loss of earnings and so on)
When taking out personal and employer's liability cover it is particularly important to give precise details of the type of business that you will be running. Be prepared to answer questions about the type of wastes you and your staff will be handling, the equipment you will be using, your health and safety and duty of care policies, your licensing status and so on.
Note that your skip truck cover will probably include certain conditions - for example you may not be covered if you carry overloaded skips.
There are a number of specialist insurers for the waste industry and for skip hirers.
Responsibility for skips
As a condition of granting a licence to site skips on a public highway, local authorities will normally require you show that you have a certain minimum level of public liability cover.
Although it's usually possible to insure your skips against theft, you may find that the cost of doing so - and the excess if you claim - just isn't worth it. This is particularly the case for smaller skips. To reduce the chances of them being stolen, it's wise to use skip locks on all your skips to prevent other operators lifting them onto their own vehicles. It's possible to get skip lights which act as locks, meaning that both the skip and the lights are protected from theft.
You might set out in your terms and conditions that customers are responsible for the security of skips while they're on their premises. However, if you do this you should make sure that every customer is aware of their obligations.