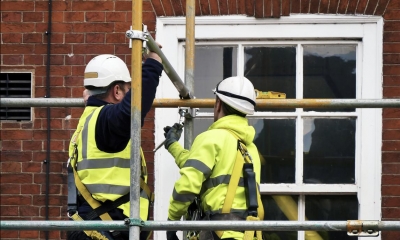 As a business person engaging in activities that are potentially hazardous to your employees, co-workers, scaffold users and the general public, there is certain legislation - especially health and safety legislation and regulations covering working at height - that you should be particularly aware of.
The following is an outline of some of the areas which may well be relevant to you. The list is not intended to be exhaustive.
What licences does a scaffolder need?
There are no specific licences that you need just to work as a scaffolder. However, there are certain situations where you and/or your workers may need a licence.
Local authority scaffolding permits
Many local authorities will require you to obtain a licence before you erect a scaffold in certain areas (usually public places). Contact your local authority planning department or environmental health department to find out more about scaffolding permit requirements in your area.
There is usually a small fee payable for each permit application. It may be possible to get your firm's name listed on a scaffolding register, enabling you to make permit applications over the telephone or even online. There is normally a further small annual charge for registering.
A local authority scaffolding permit is usually valid for a set period of time, for example, 12 weeks.
Scaffolds on or over public highways
Before erecting a scaffold or hoarding on or over a public highway (including the pavement), you are obliged by law to obtain a permit from the local highway authority. Before issuing a permit, the authority will want to be sure that certain safety conditions are met (for example adequate lighting of the scaffold). Contact your local highway authority or building control services department for more information.
Scaffolding lorries
You will probably need a medium to large van or lorry for transporting scaffolding and equipment - small flat-bed cab lorries are popular. If your business operates goods vehicles with a gross plated weight of more than 3.5 tonnes (or an unladen weight of more than 1,525 kg for unplated vehicles) then it will need a goods vehicle operator licence in England, Scotland and Wales. You must have an operator licence for each Traffic Area in which you have a base. A restricted category licence is sufficient for businesses which only carry their own goods and equipment.
Licences are issued by the Traffic Commissioner for that area. There are eight Traffic Areas covering England, Wales and Scotland. In Northern Ireland you may need a goods vehicle operator's licence from the Transport Regulation Unit (TRU) of the Department for Infrastructure (DfI).
More information about goods vehicle operator licensing is available on the Gov.uk website - and from the DfI website in Northern Ireland.
Scaffolders Record Scheme
The Construction Industry Scaffolders Record Scheme (CISRS) is affiliated to the industry-wide Construction Skills Certification Scheme (CSCS) and run by the CITB, the skills body for the construction industry. The scheme helps workers to show that they are competent and properly qualified. Although it's not a legal requirement for scaffolders to hold a CISRS card, more and more contractors will only engage scaffolders who carry one. Some contractors will only deal with scaffolders who belong to the National Access and Scaffolding Confederation (NASC).
Scaffold inspectors must be competent to carry out inspections (which are a legal requirement). A certificate of training and competence achieved under the CISRS is a common way of demonstrating competence.
A similar scheme - the Construction Plant Competence Scheme (CPCS) - exists for operators of elevating 'cherry picker' platforms and other construction plant. More information about the CPCS is available on the CITB website.
SCAFFTAG
Although not a legal requirement, the SCAFFTAG/SAFETRAK system provides for continuous safety control over a scaffold. An up to date SCAFFTAG displayed on a scaffold helps to demonstrate compliance with the appropriate safety procedures.
Asbestos
If you intend to do any work involving asbestos (this might include putting up safety enclosures or access scaffolds for licensable asbestos removal work, for example) you may need a licence from the Health and Safety Executive (HSE) Asbestos Licensing Unit - or from the Health and Safety Executive Northern Ireland (HSENI). A licence will be needed if it is foreseeable that the scaffolding work is likely to disturb the asbestos. There is a charge for this licence - the renewal charge depends on whether a further one or three year licence is issued.
Further details are available on the HSE and HSENI websites.
Building waste
If you are going to transport any building waste (which is classified as a controlled waste), you will need a certificate of registration as an upper tier waste carrier (just 'waste carrier' in Scotland). These are issued by the Environment Agency in England, Natural Resources Wales, the Northern Ireland Environment Agency, and the Scottish Environment Protection Agency (SEPA) in Scotland. It currently costs about £155 for the initial registration fee and a further renewal fee of about £105 every three years. Note that a single licence is issued to your business covering all of your waste transporting vehicles.
Health & safety, fire
Scaffolding is potentially a very hazardous activity and it is extremely important that you keep up to date with health and safety regulations.
The Health and Safety at Work Act and the numerous regulations made under it cover all aspects of health and safety. The health and safety aspects of construction based activities are specifically covered by the Construction (Design and Management) Regulations. These were overhauled and updated in 2015 and apply to temporary structures such as event stages, as well as to more traditional construction projects. They can apply to domestic as well as commercial construction works. You can find out more about the CDM regulations on the Health and Safety Executive website.
The Work at Height Regulations covers all work done at height where there is a risk of falling that could cause personal injury. The Regulations place very specific duties on both employers and self-employed workers to make sure that all necessary safety precautions are taken when people are working at or above a certain height. Duties include:
assessing all risks
planning and organising all work at height properly
making sure all people involved are competent and all equipment used is safe and appropriate
Proper training of all workers involved in putting up, altering and taking down scaffolds is a key part of meeting your health and safety obligations as an employer.
Other key areas where health and safety regulations affect your business, particularly if you employ staff, include:
lifting of heavy items
adequate provision and use of protective clothing and equipment
reporting of any accidents and injuries
use of electrical equipment (power tools and so on)
access to first aid equipment
It goes without saying that your scaffolds should always be properly and safely erected and safe for others to use.
Health and safety legislation requires operators of machinery like high-rise 'cherry picker' platforms and construction plant to be properly trained and qualified. Skills registration card schemes like the Construction Plant Competence Scheme (CPCS) run by the CITB, the skills body for the construction industry, enable employers to show that their plant operators are properly qualified. You can find out more about the CPCS on the CITB website.
You must comply with workplace health and safety and fire safety legislation.
Employment legislation
Anyone employing staff must comply with employment legislation. Important areas of legislation include:
Recruitment and employment contracts
Working time: hours, leave, flexible working
Maternity, paternity and adoption
Managing home workers, remote workers, lone workers
Scaffolding safety checks
To comply with health and safety regulations scaffolds used for construction should be inspected on a regular basis by someone who is competent to inspect that type of scaffold. A scaffold should be inspected:
before it is first used
every seven days until it is taken down
directly after any substantial alteration - including repairs to any damage - is made to it
directly after any severe weather conditions which could potentially damage it
Scaffolds on or over public highways
Under the Highways Act, your local highway authority has control over the erection of scaffolds and hoardings on or over any public highway. The highway authority will require that scaffolds conform to certain criteria and has the power to refuse permission for a scaffold if these are not met.
Asbestos
Any work that you do which might lead to exposure to asbestos is covered by the Control of Asbestos Regulations. For example, you might be providing access to an old sheet asbestos roof. Under these Regulations, you may need a licence if you intend to carry out work involving asbestos.
Sources of further Information
The National Access and Scaffolding Confederation (NASC) is the leading trade body for the scaffolding industry and can advise its members on regulatory matters. NASC requires its members to comply with all statutory health and safety obligations.
The employing people section of the Gov.uk website includes information and guidance on all aspects of employment legislation. Information for businesses in Northern Ireland is available on the NI Business Info website.
Insurance for a scaffolder
When you start up in business you will need insurance cover. Contact an insurer and explain exactly how the business will operate. They will then be able to recommend what cover you should have. This might include:
employer's liability
public liability, including sufficient cover in the event of a failure of one of your scaffolds
contract and professional indemnity
product liability
premises, premises contents
plant, equipment and assets - including on-site cover and hired-in plant
motor insurance (for business vehicles), possibly including cover for equipment carried in your vehicles
personal cover, including accident and injury, loss of earnings and so on
business interruption
When taking out personal and employer's liability cover it is particularly important to give precise details of the types of activity that you and your staff will be engaging in. Be prepared to answer questions about the height at which you will be working, the type of equipment you will be using, your health and safety policy and so on.
The National Access and Scaffolding Confederation (NASC) requires its members to have adequate levels of both public liability and employer's liability insurance. NASC has negotiated preferential insurance rates for its members and can provide insurance advice.
Business insurance policies for construction firms can be very costly and it would be a good idea to get some quotes at an early stage in your planning. Shop around to obtain the best cover at the most affordable price.