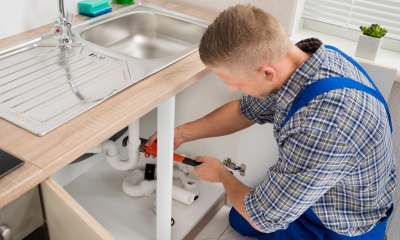 The following is an outline of some of the areas which may be relevant to your plumbing business.
What licences does a plumber need?
There are no specific licences that you need to work as a plumber, so if your business activities are going to fall within the usual range of services offered by this type of business you may not need to do anything further.
Gas installers
If you intend to work on gas equipment and appliances, you are required by law to be registered as certified to do so by the Gas Safe Register. The Gas Safe Register will assess your competence at least every five years and issue you with an ID card if you meet the certification requirements. There is an initial application fee and an annual registration fee. You can contact the Gas Safe Register on their free engineers' telephone helpline 0800 408 5577 or visit their website for more information.
Other heating installation work
Some of the work you do - for example installing boilers and heating controls, may involve working on domestic electrical systems. If you do this you will need to either get the work approved by local building control or register as a 'competent person' who can self-certify the work. There are several special electrical self-certification schemes available for plumbers and heating engineers who work on electrical systems like heating controls. One of these is run by the Association of Plumbing and Heating Contractors (APHC).
If you're going to install and service oil fired boilers and appliances then a similar scheme - run by OFTEC - applies. Solid fuel appliances are covered by their own scheme, HETAS.
Other competent person registration schemes
Competent person schemes exist covering other types of work regulated by Building Regulations. Belonging to such a scheme enables you to self-certify that all work you do within the scheme meets the requirements of the Building Regulations. Types of work covered by approved schemes include:
plumbing, heating and hot water systems (vented and unvented), including renewables like solar water heating
ventilation and air conditioning systems
bathroom facilities
electrical safety - including 'defined competence' schemes for plumbers who install and work on electrical heating controls
You can find out more about competent person schemes on the Gov.uk website. More information on the Building Regulations in Northern Ireland is available on the Department of Finance (DoF) website.
Engineers who install renewable technologies can register as competent installers under the Microgeneration Certification Scheme (MCS). You'll need to be registered for your customers to be able to claim Renewable Heat Incentive payments.
Renewables specialists who installed qualifying energy-saving products could become certified Green Deal installers, authorised to undertake installations funded through the Green Deal Initiative. The government has stopped funding the Green Deal Finance Company, which was set up to lend money to Green Deal providers. It may still be possible to get Green Deal funding from providers financing the scheme themselves.
Asbestos
If you intend to do any work involving asbestos (this might include removing old insulation around pipe-work, for example) you may need a licence from the Health and Safety Executive (HSE) Asbestos Licensing Unit - or from the Health and Safety Executive Northern Ireland (HSENI). There is a charge for this licence - renewal charges depend on whether a further one or three year licence is issued.
Further details are available on the HSE and HSENI websites.
In practice, it will probably be more practical to use a licensed specialist if you encounter asbestos that needs removing. However, you still need to be aware of your obligations under asbestos safety legislation.
Other licences, permits and registrations
Skips placed on a public highway require a Skip Permit from the local authority. Certain conditions may be attached to the licence. Normally the skip hire company will arrange the necessary licences, but it is worth making certain of this.
If you offer an insurance backed warranty - even if you make no extra charge for this - then you may be covered by general insurance legislation administered by the Financial Conduct Authority (FCA). Businesses whose activities are covered by the legislation need to be either directly authorised by the FCA or an 'appointed representative' of a principal FCA authorised insurer.
If you pay sub-contractors for work done within the Construction Industry Scheme for taxation (CIS) then you must register as a contractor with HM Revenue & Customs (HMRC). More information is available on the HMRC section of the Gov.uk website.
Note that in some situations - for example an industrial premises where there are flammable or explosive materials - you may need to obtain a 'hot work permit' before soldering or brazing. Whoever is responsible for the site will probably inform you if this is a requirement.
Voluntary licensing schemes
Several voluntary licensing bodies exist for plumbers who wish to participate in a scheme which enables them to offer their customers a greater degree of security.
The Association of Plumbing and Heating Contractors (APHC) operates a licensing scheme under which participating plumbers must, among other things, be appropriately qualified and adhere to a strict Customer Charter. Plumbers who do work covered by building regulations can register as competent persons under the APHC's comprehensive scheme. The Chartered Institute of Plumbing and Heating Engineering (CIPHE) operates its 'Registered Plumber' and 'Registered Heating Professional' schemes for suitably qualified members. The Scottish and Northern Ireland Plumbing Employers' Federation (SNIPEF) operates a similar voluntary licensing scheme for plumbers in these regions.
The Water Industry Approved Plumbers Scheme (WIAPS) is overseen by the Water Regulations Advisory Scheme (WRAS) on behalf of a number of regional water companies. Under the scheme, registered 'Approved Plumbers' are exempted from some aspects of the Water Supply Regulations which require them to notify the local water company prior to making certain modifications to mains-fed systems. Membership of the Approved Plumbers scheme is free, although there is a charge for taking the required assessment. Further details are available on the WRAS website.
The Buy with Confidence - Trading Standards Approved scheme allows businesses like plumbers to demonstrate their commitment to operating in a legal, fair and honest way. It's not UK-wide, but more and more local authorities are signing up to it.
Waste carriers
If you are going to carry away waste that you have generated in the course of a job (and that isn't building waste) you'll need to register as a 'lower tier' waste carrier (England, Wales and Northern Ireland) or a 'professional collector or transporter of waste' (Scotland). Registration is free of charge and lasts indefinitely. If you think that you will transport building waste, you will need a certificate of registration as an 'upper tier' waste carrier (just 'waste carrier' in Scotland). Waste registration is dealt with by the Environment Agency in England, Natural Resources Wales, the Northern Ireland Environment Agency, and the Scottish Environment Protection Agency (SEPA) in Scotland. Upper tier registration currently costs about £155 for the initial registration fee and a further renewal fee of about £105 every three years. Note that a single licence is issued to your business covering all of your waste transporting vehicles.
Legislation of particular importance to plumbers
The Water Supply (Water Fittings) Regulations require plumbers to adhere to certain standards covering the specification and installation of water fittings when working on a mains-fed water supply. Information and guidance on the Regulations is available from the Water Regulations Advisory Scheme (WRAS) website
Gas safety regulations - operatives who service or install gas equipment must register with the Gas Safe Register and follow gas safety legislation. The register oversees assessment and certification of registered operatives, who must adhere to gas safety regulations
Plumbers should also ensure that they keep abreast of the relevant aspects of legislation such as Building Regulations (including energy efficiency and electrical safety regulations), Control of Asbestos Regulations and Gas Safety Regulations, as applicable.
Health & safety, fire
Some key areas where health and safety regulations affect your business, particularly if you employ staff, include:
use of electrical equipment (power tools and so on)
access to first aid equipment
adequate provision and use of protective clothing and equipment
working at height (the Work at Height Regulations apply to both employers and self-employed workers)
reporting of any accidents at work
You must comply with workplace health and safety and fire safety legislation.
Employment legislation
Anyone employing staff must comply with employment legislation. Important areas of legislation include:
Recruitment and employment contracts
Working time: hours, leave, flexible working
Maternity, paternity and adoption
Managing home workers, remote workers, lone workers
Consumer protection and fair trading
Most people have heard stories about cowboy trades-people who do shoddy work and charge over the odds, and there is consumer protection legislation to protect customers from people like this. Legislation covers matters such as trading terms and contracts being fair, goods and services being of adequate quality, and so on. Of course, this should go without saying in a sound business! Detailed information about consumer protection and fair trading legislation is available on the Trading Standards Business Companion website. Information is also available on the Gov.uk website and from your local trading standards department.
Insurance for a plumber
When you start up in business you will need insurance cover. Contact an insurer and explain how the business will operate. They will then be able to recommend what cover you should have. This might include:
employer's liability
public liability
professional indemnity and contract indemnity, including cover for flood damage
premises, premises contents
product liability
unfixed materials, plant and equipment on site
combined property
motor insurance (for business vehicles)
loss of earnings
Some professional associations and 'approved contractor' schemes require all participating businesses to have a minimum level of public liability insurance, for example £2 million.
The Chartered Institute of Plumbing and Heating Engineering (CIPHE) offers members access to discounted contractor's liability cover. You can find out more about this and other member benefits on the CIPHE website.
The Association of Plumbing and Heating Contractors (APHC) offers its PlumbGuard specialist insurance services to both members and non-members. A range of business insurances is available, including public and employer's liability, professional indemnity, and earnings protection. More information is available on the APHC website.