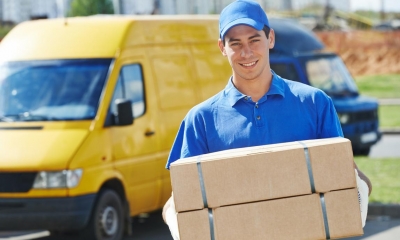 All vehicles used must be taxed, insured and have a valid MOT certificate. All drivers must have the appropriate licence for the vehicle they are using. There is a wide range of legislation that can apply to a courier service, some of which is likely to be particularly relevant. The following is an overview of some of the key areas that you should be aware of. The list is not intended to be exhaustive.
What licences does a courier service need?
If your business operates goods vehicles with a gross plated weight of more than 3.5 tonnes (or unladen weight more than 1,525 kg for unplated vehicles) then you will need a goods vehicle operator licence in England, Scotland and Wales. You will need a standard licence, which permits you to carry your own and other people's goods. You must have an operator licence for each Traffic Area in which you have a base. Licences are issued by the Traffic Commissioner for that area. There are eight Traffic Areas covering England, Wales and Scotland. In Northern Ireland you may need a goods vehicle operator's licence from the Transport Regulation Unit (TRU) of the Department of the Environment (DOENI). More information about goods vehicle operator licensing is available on the Gov.uk website - and from the DOENI in Northern Ireland.
It is an offence to drive, or to permit another person to drive, a vehicle on the road without a valid driving licence which covers that category of vehicle. To obtain a licence, drivers must take and pass a driving test for the appropriate class of vehicle. To drive a vehicle that exceeds 7.5 tonnes gross weight a driver must hold an LGV (large goods vehicle) licence. Drivers of dangerous goods vehicles are also required to hold a training certificate gained by attending an approved course and passing a written examination.
Drivers of large goods vehicles must hold a valid certificate of professional competence (CPC).
Note that anyone who transports live animals in the course of their business - for example a specialist reptile courier - requires a transporter authorisation from DEFRA and, where appropriate, a certificate of vehicle approval. You can apply for animal transporter authorisation on the Gov.uk website.
There are no other licensing requirements relating specifically to couriers, beyond the need for all vehicles to have a valid vehicle excise duty licence (road tax). Note that the law requires all of your motor vehicles to be insured all of the time unless they are declared to be off the road (SORN).
Goods vehicle legislation
You will need an operator's licence if you use any goods vehicles that are over 3.5 tonnes gross vehicle weight and you and any drivers you employ must be appropriately licensed. There are restrictions governing continuous driving hours and mandatory daily and weekly rest periods. If you employ other drivers, you will have to make periodic checks to ensure that your drivers hours' rules are observed by referring to tachograph records.
All new vehicles that require a tachograph must be fitted with a digital tachograph rather than the old analogue type.
Goods vehicles must be tested annually to ensure they are mechanically sound and safe to use. Also, most goods vehicles require a Department of Transport plate which shows maximum permissible weights for the vehicle cargo.
You can find out more about all aspects of goods vehicle operator and driver regulation on the Gov.uk website.
Insurance
All vehicles must be properly insured at all times (unless they have been declared off the road). As well as vehicle insurance you will need suitable insurance cover for goods in transit. EU legislation requires motor fleet operators to submit details of all vehicles operated and insured to the Motor Insurance Database. Visit the Motor Insurers' Bureau (MIB) website for more information.
Goods and services
There is a range of legislation that applies to all businesses to protect the interests of the customer. For example, goods and services must not be misleadingly described. This includes the supply of courier services. You are responsible for ensuring that the service provided is of a satisfactory quality.
You can find out more about many different aspects of consumer protection and fair trading legislation on the Gov.uk website.
Health & safety, fire
You must also make sure that you comply with workplace health and safety and fire safety legislation.
Employment legislation
Anyone employing staff must comply with employment legislation. Important areas of legislation include:
Recruitment and employment contracts
Working time: hours, leave, flexible working
Maternity, paternity and adoption
Managing home workers, remote workers, lone workers
Insurance for a courier service
When you start up in business you will need insurance cover. Contact an insurer and explain exactly how your business will operate. They will then be able to recommend what cover you should have. As well as motor fleet insurance and breakdown cover for your vehicle/s you might also need:
employer's liability
public liability
premises and premises contents
goods in transit (being collected or delivered)
cash
business interruption
It is worth noting that the Despatch Association offers advice on insurance matters to its members.