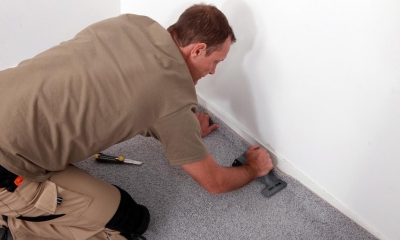 There is no legislation specifically for carpet fitters and floor layers. However, there are certain general regulations that you should be aware of. The following is an outline of some of the areas which may well be relevant to you. The list is not intended to be exhaustive.
What licences does a carpet fitter need?
There are no specific licences that you will need to work as a carpet fitter and floor layer, so if your business activities are going to fall within the usual range of services offered by this type of business you may not need to do anything further.
Floor coverings standards
There is a British Standards Institute (BSI) Code of Practice for the Installation of textile floor coverings. BS 5325: 2001 covers all floor covering products composed of textile materials and lays down specifications for design, materials selection and installation. Carrying out work to BS 5325 is likely to be a requirement of many commercial floor laying contracts. There are further British Standards that cover the installation of flooring of wood and wood based panels as well as laminate flooring.
Working with asbestos
If you intend to do any work involving asbestos (this might include removing old vinyl asbestos tiles, for example) you may need a licence from the Health and Safety Executive (HSE) Asbestos Licensing Unit or from the Health and Safety Executive Northern Ireland (HSENI). The cost of the licence is very high, so you'll probably find that it's more economical for you to use a specialist firm whenever you encounter asbestos that needs removal.
Further details are available on the HSE and HSENI websites.
Transporting waste
You'll need to register as a 'lower tier' waste carrier if you take away customers' old carpets and/or remove off-cuts from new carpets that you lay. To avoid this requirement, you may decide to make it clear to clients before you carry out the fitting work that you are unable to remove any of this type of waste material. Alternatively, you might decide to register as a carrier and make off-cut and other waste removal a selling point for your business.
Waste carrier registration is carried out by:
the Environment Agency in England
Natural Resources Wales
the Scottish Environment Protection Agency
the Northern Ireland Environment Agency
Heavy goods vehicles
If your business operates goods vehicles with a gross plated weight of more than 3.5 tonnes* (or unladen weight more than 1,525 kg for unplated vehicles) then it will need a goods vehicle operator licence in England, Scotland and Wales. If you only carry you own goods you'll only need a 'restricted' licence. You must have an operator licence for each Traffic Area in which you have a base. Licences are issued by the Traffic Commissioner for that area. There are eight Traffic Areas covering England, Wales and Scotland. In Northern Ireland, you may need a goods vehicle operator's licence from the Transport Regulation Unit (TRU) of the Department of the Environment (DOENI). More information about goods vehicle operator licensing is available from the Transport Office - and from the DOENI in Northern Ireland.
* Many medium sized vans fall below this weight - contact the vehicle manufacturer or main dealer if you are unsure
Other licences
If you intend to offer credit facilities to consumers - for example to spread the cost of an expensive carpet purchase - you will need consumer credit authorisation from the Financial Conduct Authority (FCA).
If you play background music in any premises that you have then you're likely to need a Music Licence from PPL PRS Ltd. There is an annual fee for this which you can pay online on the PPL PRS website.
Fair trading
Special consumer protection regulations require all traders to act honestly and fairly towards their customers. It goes without saying that you shouldn't make claims that aren't true, pressure customers into signing up to things they don't need, or quote prices that turn out to be wildly inaccurate. More information about consumer protection legislation is available on the Trading Standards Business Companion website.
Health & safety, fire
Working with tools, particularly power tools and sharp cutting implements, is potentially a hazardous activity and it is very important that you keep up to date with health and safety regulations.
The Health and Safety at Work Act and the numerous regulations made under it cover all aspects of health and safety. Employers have a duty to ensure the health and safety at work of all their employees. Those with five or more employees must prepare a written health and safety policy statement. Some key areas where health and safety regulations affect your business, particularly if you employ staff, include:
use of electrical equipment (power tools and so on)
access to first aid equipment
reporting of any accidents and injuries at work
adequate provision and use of protective clothing and equipment (for example gloves, knee pads, dust masks and, where necessary, eye protection)
You must comply with workplace health and safety and fire safety legislation.
Employment legislation
Anyone employing staff must comply with employment legislation. Important areas of legislation include:
Recruitment and employment contracts
Working time: hours, leave, flexible working
Maternity, paternity and adoption
Managing home workers, remote workers, lone workers
Sources of further information
Most trade associations can advise their members about regulatory issues that affect them.
The employing people section of the Gov.uk website includes information and guidance on all aspects of employment legislation. Information for businesses in Northern Ireland is available on the NI Business Info website.
Insurance for a carpet fitter
When you start up in business you will need insurance cover. Contact an insurer and explain to him or her exactly how the business will operate - the insurer will then recommend what cover you should have. This might include:
tools cover
public liability
motor insurance (for business vehicles), possibly including cover for goods and equipment carried in your vehicles
personal cover - accident and injury, loss of earnings and so on
business interruption
premises, premises contents
employer's liability
When taking out personal and employer's liability cover it is particularly important to give precise details of the types of activity that you and any staff will be engaging in. Be prepared to answer questions about the type of equipment you will be using, your health and safety policy and so on.