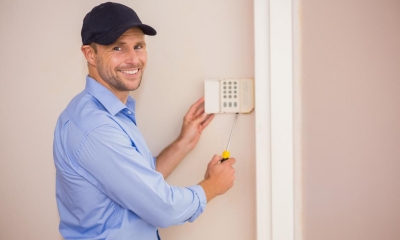 There is a wide range of legislation that you should be aware of. The following is an outline of some of the key pieces of legislation that may apply to your business.
What licences does a security alarm fitter need?
At present there are no licensing requirements relating specifically to security alarm fitters. However if you offer 'key holding' services (including sending an alarm response officer when an alarm system is triggered) you will need to be licensed by the Security Industry Authority (SIA). In addition, if you operate an alarm receiving centre, there may also be a requirement to be licensed by the SIA if the nature of your role falls within the definition of manned guarding. You can find out more about the licensing scheme and the future of security regulation on the SIA website.
Voluntary certification
Many would-be customers will want to satisfy themselves that your business does good quality work using suitable equipment. One way of demonstrating your commitment to quality is to become an approved contractor of a scheme operated by the NSI or SSAIB. (These are assessing bodies that are approved by the SIA. You can find more details on the SIA website.) This will involve meeting the requirements of the police, fire authorities and insurance industry and complying with relevant British and European Standards. Only alarm businesses that are accredited by the NSI or SSAIB are able to install and maintain remotely monitored alarm systems.
Waste carrier registration
You will need to register as a lower tier waste carrier (England, Wales and Northern Ireland) or a professional collector or transporter of waste (Scotland) if you carry away any waste that you generate when you fit a security system. Lower tier registration is free of charge and lasts indefinitely.
Waste carrier registration is carried out by:
the Environment Agency in England
Natural Resources Wales
the Scottish Environment Protection Agency
the Northern Ireland Environment Agency
You should also be aware of the following:
if credit facilities are offered to consumers you will need consumer credit authorisation from the Financial Conduct Authority (FCA)
if you keep computerised records of individuals' personal details and/or use CCTV you may be required to register as a data user with the Information Commissioner's Office
if you have a showroom or shop and provide background music you will probably need a Music Licence from PPL PRS Ltd
Security alarm legislation
The Private Security Industry Act was introduced to regulate the private security industry. The installation of security systems is not a licensable activity but if you offer 'key holding' services where you respond to the triggering of a security system or operate as an alarm receiving centre and your role comes within the definition of manned guarding then you will need to be licensed by the Security Industry Authority (SIA).
Alarms are covered by British Standards and you should check that all items you install conform to the appropriate standard. Your suppliers should be able to confirm this if you are in any doubt. In addition, the police should be contacted to see if there are any conditions on the use of audible alarms in your area. Remotely monitored alarm systems require a Unique Reference Number (URN) from the police and these systems can only be installed and maintained by businesses that are accredited by either the National Security Inspectorate (NSI) or the Security Systems and Alarm Inspection Board (SSAIB). Visit their websites for further details on gaining accreditation.
Electrical work
The Institution of Electrical Engineers Wiring Regulations (BS 7671) is the principal British Standard that covers the safe design, installation and testing of electrical installations in the UK. In addition, specific British and European Standards also cover the installation of fire alarms, lighting systems and security systems. All security system installation work that you carry out should be done to these standards.
Hazardous substances
You must ensure that your and any employees' exposure to potentially harmful substances is minimised. This might involve precautions such as using dust masks and goggles when drilling into walls or ceilings, or ensuring that ventilation is adequate if using paint or adhesives.
Goods and services
There is a range of legislation that applies to all businesses, which protects the interests of the customer. For example, goods and services must not be misleadingly described. This includes the supply and fitting of security systems - you are responsible for ensuring that appropriate equipment is used and that it is installed correctly. All work done must be of satisfactory quality.
Health & safety, fire
Some key areas where health and safety regulations affect your business, particularly if you employ staff, include:
working at height
safety, maintenance and use of electrical equipment (power tools, for example)
access to first aid equipment
adequate provision and use of protective clothing and equipment
reporting of any accidents and injuries at work
You must also make sure that you comply with workplace health and safety and fire safety legislation.
Employment legislation
Anyone employing staff must comply with employment legislation. Important areas of legislation include:
Recruitment and employment contracts
Working time: hours, leave, flexible working
Maternity, paternity and adoption
Managing home workers, remote workers, lone workers
Insurance for a security alarm fitter
When you start up in business you will need insurance cover. Contact an insurer and explain to him or her exactly how your business will operate - they will then recommend what cover you should have. This might include:
premises, premises contents and stock (if you have any premises)
cash
business interruption
employer's liability
public liability
product liability
motor insurance (for business vehicles), possibly with cover for tools and equipment carried in your vehicles
personal cover - accident and injury, loss of earnings and so on
If you're a member of a trade association, you may be able to get discounted rates of business insurance. For example, members of the British Security Industry Association (BSIA) can get a 10% discount through the BSIA's preferred partner. There's more information on the BSIA website.