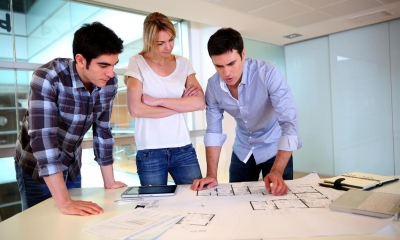 The following is likely to be relevant to anyone offering architectural services.
What licences does an architect need?
You need to be aware that the Architects Act 1997 restricts the use of the title Architect to those people who are registered with the Architects' Registration Board. You will need to have gained certain qualifications in order to be eligible to register and you will have to pay an annual retention fee.
Under the Data Protection Act you may have to register as a data user with the Information Commissioner's Office (ICO) if you keep computerised records of your clients' personal details. You will have to pay a fee for this.
Professional regulation (Architects Act 1997)
The activities of registered architects are regulated by the Architects Registration Board (ARB) and architects must comply with the ARB Code of Conduct and Practice; failure to do so may result in removal from the register. Only those registered with the ARB may use the title 'architect'.
While it is not compulsory, many registered architects are members of a professional body such as the RIBA and/or the Scottish, Welsh and Northern Ireland bodies (RIAS, RSAW and RSUA respectively). This entitles members to use the title 'chartered architect' and requires them to abide by a Code of Conduct.
Architectural technologists may apply for membership of the Chartered Institute of Architectural Technologists (CIAT) provided they have obtained recognised qualifications and satisfy the entry requirements. All members must abide by the CIAT Code of Conduct; disciplinary procedures exist for infringements of the Code.
Construction, Design and Management (CDM) Regulations
These Regulations place an obligation on the architect or architectural technologist to consider and explain to the client the health and safety issues which will arise during the construction of their design and, once it is completed, in its maintenance. The client must be aware of his or her obligation to appoint a principal designer whose duties include managing and co-ordinating health and safety during the pre-construction phase of a project, and working with the principal contractor to manage ongoing health and safety risks. If you agree to act as principal designer you should draw up a separate agreement to cover this. You can download helpful Construction Information Sheets about the Regulations from the Health and Safety Executive website.
Building and planning legislation
You must have a working knowledge of the building regulations in force and of the planning legislation that controls the development of all land and buildings in the UK.
Health & Safety, fire
You must comply with workplace health and safety and fire safety legislation.
Employment legislation
Anyone employing staff must comply with employment legislation. Important areas of legislation include:
Recruitment and employment contracts
Working time: hours, leave, flexible working
Maternity, paternity and adoption
Managing home workers, remote workers, lone workers
Insurance for an architect
When you start up in business you will need insurance cover. Contact an insurer and explain exactly how your practice will operate. They will then be able to recommend what cover you should have, which might include:
professional indemnity insurance
premises, premises contents
personal accident and travel
loss of earnings
employers liability
public liability
product liability
motor insurance
You can find details of insurers/insurers which offer Professional Indemnity cover on the Architects' Registration Board (ARB) website. The ARB requires architects to make sure that they have adequate and appropriate cover by obtaining advice from their insurer. They are expected to hold a limit of indemnity of no less than £250,000 for each and every claim.
Members of a professional body like the RIBA or CIAT may benefit from tailored insurance packages.