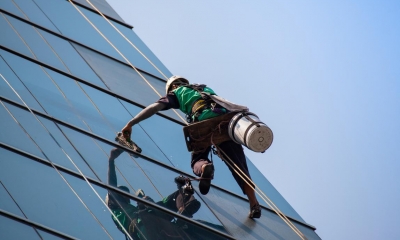 Some of the key areas where legislation is likely to affect your business are listed below.
What licences does a window cleaning business need?
If you plan to set up your window cleaning business in Scotland you may need to obtain a licence from your local council. Licences generally last for three years. One of the conditions for obtaining a licence is that you have third party indemnity insurance. You can apply for a licence online on the Gov.uk website if your local council requires this.
If you plan to dispose of your customers' controlled waste as part of a range of services you provide, you will need to register as an upper tier waste carrier (or the equivalent in Scotland) with:
the Environment Agency in England
Natural Resources Wales
the Northern Ireland Environment Agency (part of the Department of Agriculture, Environment and Rural Affairs - DAERA)
the Scottish Environment Protection Agency (SEPA) in Scotland
British Standard BS 8213-1:2004
This standard covers the safe cleaning of windows, doors and roof lights and includes guidance on cleaning materials and methods.
Working at height
Work at height regulations specify that work at height must not be carried out unless a risk assessment has demonstrated that the work cannot be done more safely by other means than at height. They require any work that is carried out at height to comply with specified safety procedures. Visit the Window Cleaning section on the HSE website for more information.
Protective clothing
Depending on the type of window cleaning work you do, you may need to provide protective clothing, such as helmets, for your employees to protect them from risks to their health and safety. More details are contained in the HSE publication Personal Protective Equipment (PPE) at Work which you can download from the HSE website.
Use of potentially hazardous substances
Under the Control of Substances Hazardous to Health (COSHH) regulations you must protect your employees from any risks associated with the use of 'hazardous' substances such as cleaning products. Any products that have been classified as hazardous must be supplied with a safety data sheet when purchased. You must use the information on the sheet to assess the risk to your staff from using the product and then put in place systems to minimise or remove the risk. Your staff must be fully informed and trained in how to use these chemicals safely.
Fair trading
Special legislation exists to make sure that trades-people and other businesses deal with fairly and honestly with consumers. They cover matters like price information and consumer contracts. You can find out more on the Trading Standards Business Companion website.
Health & Safety, fire
You must comply with workplace health and safety and fire safety legislation. This covers all aspects of health and safety. Employers have a duty to ensure the health and safety at work of all their employees and this includes making sure that employees are trained in how to use work equipment such as ladders, pressure water cleaners, hoists and elevating 'cherry picker' platforms safely. Skills registration card schemes like the Independent Training Standards Scheme and Register (ITSSAR) enable employers to show that their cherry picker operators are properly qualified.
You should include in your policy statement details of your risk assessment procedures and the arrangements you have put in place to comply with COSHH regulations, protective clothing and equipment requirements and to prevent falls. A range of health and safety publications, including guidance focusing on window cleaning, ladder safety and working at height, are available to download from the Federation of Window Cleaners (FWC) and Health and Safety Executive (HSE) websites.
Employment legislation
Anyone employing staff must comply with employment legislation. Important areas of legislation include recruitment, employment contracts, pay, working hours, holidays, employment policies, sickness, maternity, paternity, discrimination, discipline, grievances, dismissals, redundancies and employment tribunals.
Insurance for a window cleaning business
Contact an insurer or insurance broker and explain exactly how your business will operate - they will then explain what insurance cover you must have by law, and other cover you should consider. This might include:
public liability
employer's liability
cover for accidental damage to property, including broken or scratched glass
premises, premises contents and stock (for example cleaning supplies)
equipment on site - like water fed pole systems
working at height
business interruption
motor insurance (for business vehicles)
Note that if you are working in Scotland, you may be required to obtain a licence from the local council and a condition for obtaining a licence is that you take out third party indemnity insurance.
Contact the Federation of Window Cleaners (FWC) for details of insurance packages negotiated for members with specialist insurers. Using telescopic water fed poles may reduce the need to work at height and may therefore lead to lower insurance premiums.
When comparing insurance quotes, uncover the differences between policies by using an insurance comparison form.