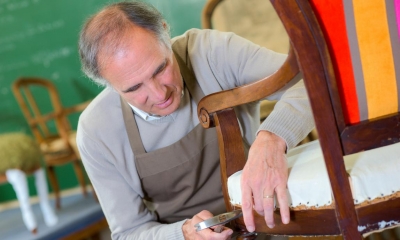 Upholstery work uses potentially harmful procedures and substances so care should always be taken to comply with health and safety legislation to make the workshop as safe an environment as possible for both you and any employees.
Some of the key areas where legislation is likely to affect your business are listed below.
What licences does an upholstery business need?
There are no licensing requirements relating specifically to carrying out upholstery work but there are some related activites that do require a licence. For example:
if you work away from your premises and carry away waste that you generate - for example offcuts of fabric left over from an upholstering job that you carry out on site - then you will need a certificate of registration as a lower tier waste carrier (or equivalent in Scotland). This is issued by the Environment Agency in England, Natural Resources Wales, the Northern Ireland Environment Agency, and the Scottish Environment Protection Agency (SEPA). There is no charge for registering and registration lasts indefinitely
if you have a retail outlet and play background music in it you're likely to need a Music Licence from PPL PRS Ltd. There is an annual fee for this which you can pay online on the PPL PRS website
Blinds and child safety
If you make blinds, you need to be aware of the standards that they must meet so they don't pose a strangulation hazard for small children. The British Blind and Shutter Association's 'Make it Safe' website includes detailed information for the trade on how to comply with the rules. The AMUSF website also includes guidance for its members on blinds and child safety.
Manual handling
You and your employees may regularly handle heavy, bulky and awkward items like furniture that are difficult to grasp and carry. You should be aware that you must reduce the risks of injury to any employees you have as far as possible. You can download the guidance publication Getting to grips with manual handling from the Health and Safety Executive (HSE) website.
Storage, sale and disposal of potentially hazardous substances
Under the Control of Substances Hazardous to Health (COSHH) Regulations employers must assess the risk of using and storing potentially harmful products and put in place measures to reduce the risks. Contact your local authority environmental health department for guidance.
Personal protective equipment
People doing upholstery work may be exposed to potentially harmful substances and you should consider what protective clothing you should provide to minimise the risks to health. You should make sure that your employees use the protective clothing correctly and you should arrange for it to be laundered on a regular basis. Don't overlook the need to wear facemasks when undertaking some jobs. Download Personal protective equipment (PPE) at work from the HSE website for more information.
Use of equipment and tools
The Provision and Use of Work Equipment Regulations cover the use and maintenance of hand and power tools so that they are used in conditions that are as safe as possible. The HSE website also has comprehensive guidance on your responsibilities under these regulations.
Health & Safety, fire
You must comply with workplace health and safety and fire safety legislation.
These regulations specify that all furniture that is manufactured in the UK after February 1988 must comply with strict requirements regarding flammability. You must make sure that all fillings and fabrics that you use have passed the appropriate fire resistance test. Your material suppliers should be able to confirm this. Where you only re-cover a piece of furniture, you're not obliged to replace any filling that doesn't conform to the requirements of the regulations although it's strongly recommended that you should alert the customer of the potential fire risk. You can read guidance on the regulations on the British Furniture Manufacturers website and members of the Association of Master Upholsterers and Soft Furnishers (AMUSF) can also benefit from their guidance on how the regulations apply to loose covers. (Note that re-upholstery of furniture made before 1950 is exempt from these regulations, allowing you to use traditional materials on older pieces of furniture.)
Employment legislation
Anyone employing staff must comply with employment legislation. Important areas of legislation include recruitment, employment contracts, pay, working hours, holidays, employment policies, sickness, maternity, paternity, discrimination, discipline, grievances, dismissals, redundancies and employment tribunals.
Insurance for an upholstery business
Contact an insurer or insurance broker and explain exactly how your business will operate - they will then explain what insurance cover you must have by law, and other cover you should consider. This might include:
premises, premises contents and stock of upholstery materials/fabrics
goods in trust
goods in transit (for example being collected or delivered)
business interruption
employer's liability
public liability
product liability
motor insurance (for delivery vehicles)
Visit the Association of Master Upholsterers and Soft Furnishers (AMUSF) website for details of special insurance packages available to members. When comparing insurance quotes, uncover the differences between policies by using an insurance comparison form.