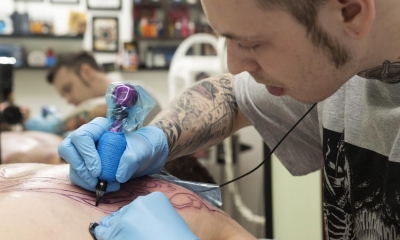 If you are starting a new business, rather than taking over an existing one, you may need to obtain planning permission from your local planning authority. Even if you are going to be working from home from a suitably converted room or outbuilding, planning permission may be required depending on the exact nature of the business and the area where you live.
Some of the main areas where legislation may apply to your business are summarised below.
What licences does a tattoo studio need?
All tattoo artists - including those offering semi-permanent skin colouring (micropigmentation) - must be registered with their local authority environmental health department. Many local authorities require both the tattoo artist and their premises to be registered. An officer will need to visit and inspect your premises to see that the required standards are met. They may inspect your premises again at regular intervals. Contact your local environmental health department for details. Check that your registration allows you to work in a client's home from time to time (at their request) if you plan to do this.
Note that if you intend to tattoo at events and festivals you'll need to get clearance from the event organiser and the local authority in each area you visit. In practice, you may find it very difficult to get a licence to do permanent tattoos at events unless you have a properly equipped mobile studio (for example a large converted van) which you have succeeded in registering as your premises. You might, however, be able to do henna - non-permanent - tattoos at these instead. Be aware that it's illegal to offer tattoo services at a private event like a tattoo party held in someone's home.
Local authorities are also given powers to regulate cosmetic skin-piercing businesses, with most requiring them to register. In some cases a single registration/licence covers cosmetic skin piercing and tattooing. Contact your local authority for details.
You should also be aware of the following:
if you play background music you'll usually need a Music Licence from PPL PRS Ltd. There is an annual fee for this which you can pay online on the PPL PRS website
businesses which keep computerised records of individuals' personal details may need to register as data users with the Information Commissioner's Office (ICO)
Anaesthetics
Lignocaine-based anaesthetic creams and sprays are medical products that are only available from pharmacies and medical practitioners. A body artist who does not have the necessary medical training to apply such products is likely to be in breach of medicines law. Anaesthetic products which are injected may only be administered by a doctor, dentist or nurse prescriber.
Age limit and other restrictions
It is illegal to tattoo any person under 18 years of age, whether or not they have their parents' permission. There is currently no statutory age limit for body piercing in much of the UK. However, members of the British Body Piercing Association (BBPA) will not carry out a piercing on anyone under the age of 14 - and 14 to 16 year olds must be accompanied by a parent or guardian. In Scotland, under-16s must be accompanied by someone with parental responsibility for them who gives their consent.
Registering with your environmental health department
All tattoo artists and their premises must be registered with their local authority environmental health department. It is illegal to carry out permanent or semi-permanent skin colouring without being registered. You should display your registration certificate at your premises.
Registration involves an inspection of the premises and equipment used to see that they reach the standards required by local bye-laws. These vary slightly around the country, but are always concerned with maintaining health and safety by ensuring high standards of cleanliness, hygiene and the use of appropriate equipment (for example autoclaves for sterilizing) and techniques. After you have registered, your studio will be inspected regularly to ensure that you are continuing to meet the necessary conditions and standards. Contact your local environmental health department for further details. Advice is also available from the Chartered Institute of Environmental Health (CIEH).
You can download a Tattooing and body piercing guidance toolkit produced by Public Health England. This sets out detailed guidance on complying with health and safety legislation and on putting in place safe working practices. You can find out more on the Gov.uk website.
Copyright
Be aware that if you copy another artist's design without their permission then you could be in breach of copyright law. You can find out more about copyright law on the Intellectual Property Office (IPO) section of the Gov.uk website.
Waste disposal
All waste must be disposed of properly. In particular, some of the waste produced by a tattoo artist will be classified as clinical or hazardous waste. This might include such things as used needles and other sharps, disposable gloves, spatulas, dressings and antiseptic wipes. Such waste must only be taken away and disposed of by a registered, authorised waste carrier. You should contact your local environmental health department for guidance and details of authorised waste carriers in your area.
Hazardous substances
Because you and your staff may be handling potentially hazardous substances, you must be aware of and comply with the Control of Substances Hazardous to Health (COSHH) Regulations. Your local environmental health department will be able to help you with this.
Health & Safety, fire
You must comply with workplace health and safety and fire safety legislation.
It is generally recommended that anyone using needles and/or coming into regular contact with blood products is immunised against hepatitis B. An up to date tetanus vaccination is also recommended.
Employment legislation
Anyone employing staff must comply with employment legislation. Important areas of legislation include recruitment, employment contracts, pay, working hours, holidays, employment policies, sickness, maternity, paternity, discrimination, discipline, grievances, dismissals, redundancies and employment tribunals.
Insurance for a tattoo studio
Contact an insurer or insurance broker and explain exactly how your business will operate - they will then explain what insurance cover you must have by law, and other cover you should consider. This might include:
premises and premises contents
cash
business interruption
employer's liability
public liability (see above)
professional indemnity/negligence cover
loss of registration
treatment risk (for injuries or infection occurring as a result of a tattoo/body piercing)
motor insurance (for any business vehicle)
You must have public liability insurance and if you employ any staff, employers' liability insurance.
Note that, if you intend to offer a mobile service and attend events and festivals you should let your insurer know. You may have considerable difficulty getting public liability insurance - but never work without full cover. It might be easier to get insurance cover to do henna (non-permanent) tattoos at events.
Visit the UK Tattoo Studio website for details of specialist insurance cover for tattoo and piercing businesses.
When comparing insurance quotes, uncover the differences between policies by using an insurance comparison form.