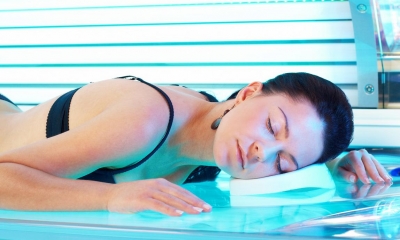 Some local authorities may require tanning centres in their area to register with them and/or to be licensed. They may impose restrictions on the way you operate and will inspect your premises to make sure you comply with health and safety regulations.
In the UK, no-one under the age of 18 can use a commercial tanning centre. In Scotland, Wales and Northern Ireland you can't operate an unsupervised tanning centre but you can in England unless prohibited from doing so under the terms of your local authority licence or registration. You should display information notices in your centre warning customers of the health risks and explaining good practice.
You must make sure that both customers and staff are protected as far as possible from the potentially damaging effects of UV radiation. Customers must wear protective goggles during each session. You must also make sure that spent tubes are disposed of in accordance with the Control of Substances Hazardous to Health (COSHH) Regulations.
All your sunbeds and any other electrical equipment you use must be professionally installed and regularly maintained so that they are safe for both customers and staff to use. There is a legal limit of 0.3 watts per square metre for UV radiation emissions from sunbeds. If you operate more than two sunbeds you must install a three phase electrical supply. You should put in place a system for regularly examining your electrical equipment and for getting things fixed if any problems are discovered.
Make sure also that your premises are well ventilated as sunbeds give off a lot of heat which might cause the equipment to overheat.
What licences does a tanning centre need?
As the proprietor of a tanning centre you may be required by law to register with, or obtain a licence from, your local authority environmental health department, depending on the area in which you operate. They may impose certain conditions, such as requiring a number of shower units to be installed, or limiting the number of sessions that individual customers can have in a year. They're likely to require sunbed equipment to be serviced and inspected each year and a sunbed safety test certificate issued.
You should contact your local authority to see what licensing or registration requirements apply in your area.
Other matters
If you plan to play background music in the salon you will need a Music Licence from PPL PRS Ltd. There is an annual fee for this which you can pay online on the PPL PRS website.
Data protection
Any business that keeps records of individuals' personal details, or in some cases uses a CCTV system, may need to register with the Information Commissioner's Office (ICO). From May 2018 the General Data Protection Regulation has introduced additional protection for personal data. Contact the ICO, Wycliffe House, Water Lane, Wilmslow, Cheshire SK9 5AF - or visit their website to find out more.
Sunbed Association
Members of the Sunbed Association must abide by a Code of Practice and must agree to be inspected at regular intervals.
Waste Electrical and Electronic Equipment (WEEE) Regulations
The WEEE Regulations aim to minimise the impact of waste electrical and electronic equipment on the environment. Under the regulations you must make sure that all old UV lamps are safely disposed of - not just thrown away! All lamps must be returned to a designated collection facility. This will probably be your lamp supplier, who will collect your used lamps when you purchase new ones. The Gov.uk website has more information on the WEEE regulations.
Workplace smoking bans
Smoking is not permitted in any public places, including tanning salons. You must display appropriate 'No Smoking' signs. The legislation varies slightly in different parts of the UK so contact your local authority for details of how the ban affects you. You can also find out more on the HSE website.
Health & Safety, fire
You must comply with workplace health and safety and fire safety legislation.
Further information and guidance leaflets on all aspects of health and safety are available on the Health and Safety Executive (HSE) website and from your local authority environmental health department. The Health and Safety Executive has produced guidance for operators of UV tanning equipment. Reducing Health Risks from the use of UV tanning equipment can be downloaded from the HSE website.
Employment legislation
Anyone employing staff must comply with employment legislation. Important areas of legislation include recruitment, employment contracts, pay, working hours, holidays, employment policies, sickness, maternity, paternity, discrimination, discipline, grievances, dismissals, redundancies and employment tribunals.
Insurance for a tanning centre
Contact an insurer or insurance broker and explain exactly how your business will operate - they will then explain what insurance cover you must have by law, and other cover you should consider. This might include:
premises, premises contents and stock
employers liability (if you employ staff)
business interruption
public liability and 'treatment risk' (this is particularly important)
motor insurance (for business vehicles)
The Sunbed Association has developed a specialist insurance package for members in conjunction with insurance company Arthur J Gallagher (AJG). Visit the AJG website for details. When comparing insurance quotes, uncover the differences between policies by using an insurance comparison form.