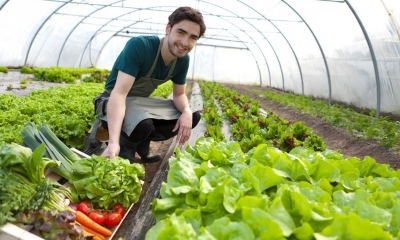 Some of the key areas where legislation is likely to affect your smallholding are listed below.
What licences does a smallholding need?
If your business will prepare, store and sell food (for example when you process your crops or livestock to add value to it or sell it in a farm shop) you will need to register with your local environmental health department. They will inspect your premises and help you to comply with the requirements of the Food Safety Act and Food Hygiene Regulations. You should contact your local authority early on in your planning so that you register in good time. There is no charge for registering.
If you undertake any of the following activities you will need to take further action:
if you aim to sell wool and have more than four adult sheep, you must be registered with and sell your wool to the British Wool Marketing Board
if you keep sheep, pigs or goats you must be registered with the relevant agriculture department - the Department for the Environment, Food and Rural Affairs (DEFRA), the Department of Agriculture, Environment and Rural Affairs in Northern Ireland or the Scottish Government Rural Affairs and Environment Department. Before you register them, you first have to get a County Parish Holding (CPH) number from the Rural Payments Agency (RPA)
if you produce milk you must be registered in England and Wales with the Food Standards Agency and licensed in Scotland and Northern Ireland by local environmental health departments and the Department of Agriculture, Environment and Rural Affairs in Northern Ireland respectively
if you grow three hectares or more of potatoes per year you must register with AHDB Potatoes and pay an annual levy (England, Scotland and Wales only)
if you have a sizeable poultry operation, you must register with the Animal & Plant Health Agency. This covers birds like chickens, ducks and turkeys as well as game birds like pheasants and quail. You will need a CPH number
you must hold a firearms certificate or a shotgun certificate if you have a rifle or shotgun. Certificates are issued by the police, and the chief officer for the area should be contacted for details
Organic
You cannot sell any of your produce as 'organic' unless you register with and comply with the standards of one of the approved control bodies. See Organic farm legal issues.
Eggs
If you are planning to sell eggs on a large scale and use an egg packer, you will have to comply with the Egg Marketing Regulations.
In addition, all laying hen establishments with over 350 laying hens must be registered and all Class A eggs sold at retail level must be stamped with a code that identifies the establishment, the country of origin and the method of production. If you sell ungraded eggs at local public markets you need to mark them with a code that identifies the method of production and your establishment. This applies to all flocks, regardless of size. If you have more than 50 birds, you are required under the terms of the Avian Influenza (Preventive Measures) Regulations to register with the GB Poultry Register that is operated by the Animal and Plant Health Agency (APHA).
Sheep and goats
If you keep sheep or goats, you must register the flock with your local agriculture department, even if you have only one animal. All sheep born on your smallholding must be individually identified within a year of their birth or before they move off your holding (even if they are going to slaughter).
Cattle and pigs
In common with sheep and goats, if you have cattle or pigs you must register them with the Animal and Plant Health Agency. Cattle must have a 'passport'. These are available from the Cattle Tracing System. You can find out more on the British Cattle Movement Service (BCMS) website.
Animal movements
There are strict rules that cover the movement of cattle, sheep, pigs and goats. These animals must be moved under the terms of general movement licences and all movements must be recorded and reported to the appropriate authority. (You don't need to apply for a general movement licence; just download it from the Gov.uk or other devolved agricultural department website and make sure you follow the licence conditions.)
Animal welfare
There is legislation obliging you to take reasonable steps to ensure your animals' welfare and prevent unnecessary suffering, including during transport.
Food safety
If your business offers sales of food (for example, selling your produce through your own farm shop), you must comply with strict food safety legislation and register your business with the local authority environmental health department. Your local environmental health officer will be able to give you advice and guidance as to what you should install in your premises, to make sure your operating areas are hygienic and how to comply with the requirements of the Food Safety Act and Food Hygiene Regulations.
Health & Safety, fire
You must comply with workplace health and safety and fire safety legislation.
Employment legislation
Anyone employing staff must comply with employment legislation. Important areas of legislation include recruitment, employment contracts, pay, working hours, holidays, employment policies, sickness, maternity, paternity, discrimination, discipline, grievances, dismissals, redundancies and employment tribunals.
Insurance for a smallholding
Contact an insurer and explain exactly how your business will operate - they will then explain what insurance cover you must have by law, and other cover you should consider. This might include:
premises and premises contents. (Don't overlook cover for things like power tools - these are increasingly being targeted by thieves)
livestock insurance
employers liability
third party liability
motor insurance (for delivery vehicles)
farm vehicle insurance (for tractors)
The Accidental Smallholder website has guidance on smallholder insurance policies, including recommendations on what should be covered and the information that you'll need to obtain a quote from a insurer. When comparing insurance quotes, uncover the differences between policies by using an insurance comparison form.