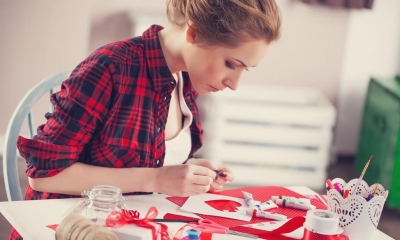 There is a range of legislation that may apply to your craft business. The following is an outline of some of the areas that may be relevant to you.
What licences does a rural crafts business need?
There are no licensing requirements relating specifically to rural craft businesses.
You should, however, be aware that if background music is played in a shop or studio open to the public, a music licence from PPL PRS Ltd is normally required.
Specific craft legislation
Depending on the type of products that you make and sell, there may be specific legislation of which you should be aware. A few examples are listed below:
if you make precious metal jewellery, you need to be aware of hallmarking regulations and if you make any jewellery containing nickel, you need to be aware of the set limits on nickel content
crafts-people working with stained glass should be aware of safety regulations controlling the use of lead
if upholstered furniture is made, regulations concerning its resistance to fire will apply
if you make toys of any sort, you should be aware of toy safety regulations
equipment such as furnaces and kilns must - if used - comply with electrical and gas safety regulations
Trade associations and local authorities should be able to advise you further about legislation relevant to your particular craft activities.
Protecting original designs
You should be aware of the Copyright, Designs and Patents Act. This gives copyright protection to original designs, including 'artistic craftsmanship'. The copying of original designs without permission is prohibited. Designers can do more to protect themselves from counterfeiting by registering their designs with the Intellectual Property Office (IPO). A single design item can be registered, if required. There's more information about copyright and design protection on the IPO section of the Gov.uk website.
Hazardous substances
As a craft maker you may use various hazardous substances such as paints, adhesives, thinners and lacquers. Dust - for example wood dust - can also be hazardous. Specific regulations cover their use, storage and disposal. Ensure that your and any employees' exposure to potentially harmful substances is minimised. This might involve precautions such as using gloves to limit exposure of the skin to cleaning chemicals, or limiting exposure to wood dust by using a mask and so on. Hazardous substances must also be stored correctly.
Retailing and consumer protection
If you decide to sell craft items direct to members of the public you should be aware that there is a wide range of legislation that applies to retail businesses and that protects the interests of the consumer. For example, goods and services must not be misleadingly described and the retail price of goods must be clearly displayed. You will be responsible for making sure that all goods are fit for their intended purpose and of satisfactory quality. So if you make and sell garden chairs, for example, they must be robust.
If you intend to sell your products by mail order or online you should be aware of special 'distance selling' rules which protect the rights of the customer and specify that clear information must be given about the goods offered.
More information about consumer protection and fair trading legislation is available on the Gov.uk website. There's detailed guidance on your legal obligations to consumers, and on the requirements when selling online, on the Trading Standards Business Companion website.
Health & Safety, fire
You must comply with workplace health and safety and fire safety legislation.
Employment legislation
Anyone employing staff must comply with employment legislation. Important areas of legislation include recruitment, employment contracts, pay, working hours, holidays, employment policies, sickness, maternity, paternity, discrimination, discipline, grievances, dismissals, redundancies and employment tribunals.
Insurance for a rural craft business
Contact an insurer or insurance broker and explain exactly how your business will operate - they will then explain what insurance cover you must have by law, and other cover you should consider. This might include:
employer's liability
public liability
product liability
premises, premises contents and stock
goods in transit (for example being delivered to trade customers or craft exhibitions)
cash
business interruption
motor insurance (for delivery vehicles)
It is worth noting that some trade associations offer their members special insurance policies, which might save you money and provide the level of cover you need. There are also some insurance intermediaries who specialise in policies for craftspeople.
When comparing insurance quotes, uncover the differences between policies by using an insurance comparison form.