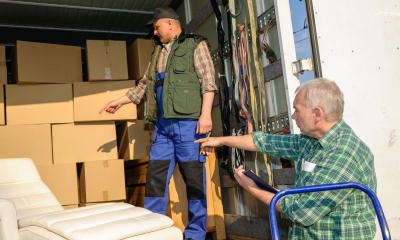 The transport sector is subject to a considerable amount of regulation and it could be wise to obtain specialist help where necessary to make sure you comply with all the legal requirements. Trade associations can often give their members advice and guidance on legal matters. The following is an outline of some of the areas where legislation is likely to be relevant to your removals business.
What licences does a removals business need?
Under the Goods Vehicle (Licensing of Operators) Act, if you run vehicles over 3.5 tonnes gross plated weight you must have a standard operator's licence for each Traffic Area in which you have a base. If you are going to be undertaking overseas work then you will need an international licence. Licences are issued by the Driver and Vehicle Standards Agency (DVSA) on behalf of the Traffic Commissioner for that area.
There are several Traffic Areas covering England, Wales and Scotland. In Northern Ireland you must obtain a goods vehicle operator's licence. These licences are issued by the Transport Regulation Unit (TRU) of the Department for Infrastructure.
You can find out more about goods vehicle operator licensing on the Gov.uk and NI Direct websites.
It is an offence to drive, or to permit another person to drive a vehicle on the road without a valid driving licence which covers that category of vehicle. To obtain a licence, drivers must take and pass a driving test for the appropriate class of vehicle. To drive a vehicle that exceeds 7.5 tonnes gross weight a driver must hold an LGV (large goods vehicle) licence.
Professional lorry drivers also require a certificate of professional competence (CPC).
All vehicles used on the road must have a current vehicle excise duty licence (road tax).
You can find out more about driver licensing, and check current rates of vehicle excise duty, on the Gov.uk and NI Direct websites.
Transport matters
Operators of large commercial vehicles should be aware of the following:
you must hold a valid operator's licence if you run vehicles over 3.5 tonnes gross vehicle weight and you must stick to the conditions of the licence
drivers hours. There are restrictions governing continuous driving hours and mandatory daily and weekly rest periods. Drivers' hours are monitored by a tachograph which is fitted to the vehicle. As an employer you will have to make periodic checks to ensure that your drivers hours' rules are observed by referring to tachograph records. All new goods vehicles must be fitted with a digital tachograph
vehicle safety. Goods vehicles must be tested annually to ensure they are mechanically sound and safe to use
vehicle emissions. Lorries must comply with regulations covering exhaust emissions
insurance. The Fourth EU Motor Insurance Directive stipulates that motor fleet operators must submit details of all vehicles operated and insured to the Motor Insurance Database. Visit the Motor Insurers' Bureau (MIB) website for more information
drivers of Large Goods Vehicles (LGVs) must hold an appropriate driving licence entitlement reflecting the vehicle's weight and the load it carries
LGV drivers throughout the UK must have the driver certificate of professional competence (CPC) qualification. They must carry the driver qualification card (DQC) to show that they have their driver CPC. You can find out more on the Gov.uk and NI Direct websites
storage of diesel. Regulations cover the storage of fuel at the operating depot and fuel tanks must comply with certain requirements
In-cab cameras
More and more fleet operators are fitting small automatic video cameras into their trucks and vans to capture evidence in the event of a crash. Investing in video technology could help to keep your premiums low, both by prompting your drivers to be careful on the road and by preventing unfair accident claims being made against your business.
London Low Emission Zone (LEZ)
If your vehicles do not meet the LEZ emissions standards you will have to pay a daily charge. Visit the Transport for London (TfL) website for details of the emissions standards, the charges and how to find out which vehicles are affected.
London Safer Lorry Scheme
Heavy goods vehicles over 3.5 tonnes which operate in the London LEZ must be fitted with safety mirrors and side guards to protect cyclists and pedestrians.
Illegal workers
As an employer, it's your responsibility to check that someone you take on is entitled to work in the UK. There are fines for employers who employ illegal workers because they've failed to make the necessary checks. You can read more about preventing illegal working on the Gov.uk website.
Health & Safety, fire
The Health and Safety at Work Act and numerous regulations made under it cover all aspects of health and safety at all business premises. Specific regulations cover such things as manual handling of loads, provision and use of protective equipment, and reporting of injuries, diseases and dangerous occurrences. Employers have a duty to ensure the health and safety at work of all their employees. Those with five or more employees must prepare a written health and safety policy statement.
Driving and road-related safety issues are very important, and you should take the necessary steps to make sure that the health and safety risks to your drivers are minimised. The HSE publishes a useful guide, Driving at work, which you can download from the HSE website.
You must comply with workplace health and safety and fire safety legislation.
Employment legislation
Anyone employing staff must comply with employment legislation. Important areas of legislation include recruitment, employment contracts, pay, working hours, holidays, employment policies, sickness, maternity, paternity, discrimination, discipline, grievances, dismissals, redundancies and employment tribunals.
Insurance for a removals business
Contact an insurer or insurance broker and explain exactly how your business will operate - they will then explain what insurance cover you must have by law, and other cover you should consider.
You will of course need motor insurance for your vehicle/s and the goods which they will carry, both in the UK and abroad if appropriate. You might also need cover for:
employer's liability (a legal requirement if you employ staff)
public liability
premises and premises contents, including cover for goods in storage
business interruption
Many trade associations offer specialist business insurance advice and services to their members, sometimes at advantageous rates. For example, the Road Haulage Association (RHA) offers tailored business insurance to members through its partner insurer. Visit their website to find out more.
When comparing insurance quotes, uncover the differences between policies by using an insurance comparison form.