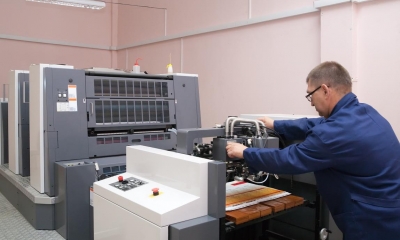 The printing industry is subject to a certain amount of regulation and it would be advisable to obtain specialist help to make sure you comply with all the legal requirements. Members of the British Printing Industries Federation (BPIF) benefit from guidance on the legal requirements relating to the printing industry.
The following is an outline of some of the areas that are likely to be relevant to you.
What licences does a printing business need?
There are no licensing requirements relating specifically to printers.
Goods vehicles
If you run delivery vehicles over 3.5 tonnes you will need an operator's licence.
Data protection
Businesses that keep records of individuals' personal details may need to register with the Information Commissioner's Office (ICO). From May 2018 the General Data Protection Regulation has introduced additional protection for personal data. Visit the ICO website to find out more.
Hazardous waste
Any business which produces 500kg or more of hazardous waste (for example used solvents and old solvent-based inks) at a premises in Wales within a 12 month period must register with Natural Resources Wales as a hazardous waste producer. You can find out more about hazardous waste producer registration on the Gov.uk website.
The British Printing Industries Federation (BPIF) may be able to provide some guidance on licensing matters.
Printed matter
You should be aware of copyright legislation which prohibits the reproduction of copyright material without the copyright holder's permission. Also, gaming legislation requires you to include your firm's details on items such as raffle tickets. It's helpful to be aware of what needs to be included by law on a company's printed business stationery.
Distance and internet selling
If you offer mail order or internet sales of printed items you will need to comply with specific regulations protecting the rights of consumers. You must give consumers certain information covering their cancellation rights and include these details in the terms and conditions of sale included on your website. You can find out more from the British Printing Industries Federation (BPIF).
Environmental protection
The disposal of all kinds of waste including industrial waste products (like solvents and other printing chemicals) is regulated and firms must use authorized handlers to collect and dispose of chemicals.
The Gov.uk website provides guidance for business on environmental protection and management.
Hazardous substances
COSHH regulations cover the use and storage of any potentially hazardous substances and place specific duties on employers which include evaluating all risks and implementing procedures to remove or reduce these risks by preventing or controlling exposure to hazardous substances.
Provision of sanitary conveniences and washing facilities
For 1 to 5 people at work, at least 1 toilet and 1 washbasin
For 6 to 25 people at work, at least 2 toilets and 2 washbasins
For 26 to 50 people at work, at least 3 toilets and 3 washbasins
Separate rooms should be provided for men and women except where each convenience is in a separate room which can be secured from inside.
In the case of facilities used only by men, alternative arrangements may be used:
For 1 to 15 men, 1 toilet and 1 urinal
For 16 to 30 men, 2 toilets and 1 urinal
For 31 to 45 men, 2 toilets and 2 urinals
Health & Safety, fire
You must comply with workplace health and safety and fire safety legislation.
Employment legislation
Anyone employing staff must comply with employment legislation. Important areas of legislation include recruitment, employment contracts, pay, working hours, holidays, employment policies, sickness, maternity, paternity, discrimination, discipline, grievances, dismissals, redundancies and employment tribunals.
Insurance for a printing business
When you start up in business you will need insurance cover. Contact an insurer and explain to him or her exactly how the business will operate - the insurer will then recommend what cover you should have. This might include:
premises, premises contents
raw materials, work in progress, stock
computer and machinery breakdown
breach of copyright
loss of earnings/business interruption
loss of artwork
inching and crawling risks
libel and slander
goods in transit
employers liability
public liability
environmental impairment liability
motor insurance (for delivery vehicles)
BPIF Insurance Services offers tailored insurance cover for members of the British Printing Industries Federation (BPIF). You can find out more on the BPIF Insurance Services website.
When comparing insurance quotes, uncover the differences between policies by using an insurance comparison form.