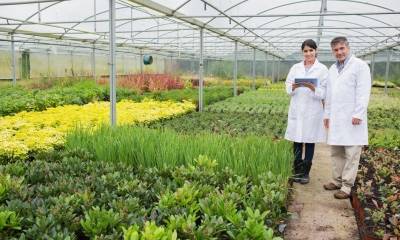 Some of the key areas where legislation is likely to affect your plant nursery business are listed below. The list is not intended to be exhaustive.
Plant passporting and marketing requirements
As you will be growing commercially certain plants and plant products, under plant health legislation you may be required to apply for producer authorisation and to issue plant passports and supplier documents to accompany the sale of your plants. These confirm that the plant or plant products are substantially free of quality affecting organisms. More information is available from:
the Plant Health and Seeds Inspectorate (PHSI), part of the Animal and Plant Health Agency (APHA)
the Department of Agriculture, Environment and Rural Affairs (DAERA) in Northern Ireland
the Scottish Government Rural Affairs and Environment Department
You can also download Plant Health Guide to Plant Passporting and Marketing Requirements from the Gov.uk website.
Plant Health Propagation Scheme (PHPS) certification
The PHPS is a voluntary scheme whereby planting stock for a variety of soft and top fruit crops is certified as being completely free of pests and diseases. You can find out more about the scheme on the Gov.uk website.
Seed potatoes
Seed potatoes grown and marketed in the UK must be classified under the Seed Potato Classification Scheme (SPCS). This makes sure that the seed potatoes are grown from stock that has been tested and found to be free of disease. You can find out more on the Gov.uk website.
Water abstraction licence
You will need to obtain a water abstraction licence if you abstract water for irrigation purposes from any watercourse or underground water reserve. Licences are available from:
the Environment Agency in England
Natural Resources Wales
the Northern Ireland Environment Agency (part of the Department of Agriculture, Environment and Rural Affairs - DAERA)
the Scottish Environment Protection Agency (SEPA) in Scotland
Pesticide spraying
Anyone using a plant protection product authorised for professional use must hold a Specified Certificate (previously called a Certificate of Competence). This is awarded following the completion of specific training such as the Level 2 Safe Use of Pesticides award. Specific Certificates are issued by City & Guilds Land Based Services. You can find out more about horticultural use of pesticides on the Pesticides website.
AHDB horticultural levy
Growers must pay a levy (based on turnover) to the Agriculture and Horticulture Development Board (AHDB) if they grow certain vegetables, fruit, flowers, bulbs, herbs, hardy and other nursery stock, including plants such as bedding plants grown under glass. You can find out more on the AHDB Horticulture website.
Goods vehicles
You may decide that you need a medium to large van or lorry if you intend to deliver wholesale plants to trade customers. If your business operates goods vehicles with a gross plated weight of more than 3.5 tonnes (or unladen weight more than 1,525 kg for unplated vehicles) then you will need a goods vehicle operator licence in England, Scotland and Wales. You must have an operator licence for each Traffic Area in which you have a base. Licences are issued by the Traffic Commissioner for that area. There are eight Traffic Areas covering England, Wales and Scotland. In Northern Ireland you may need a goods vehicle operator's licence from the Transport Regulation Unit (TRU). More information about goods vehicle operator licensing is available on the Gov.uk website - and the Department for Infrastructure website in Northern Ireland.
Environmental legislation
The agricultural sector (which includes horticulture) is subject to a great deal of legislation designed to protect the environment. Regulations cover many activities, including the storage and use of pesticides and plant protection products, the safe storage and disposal of waste, the disposal of dangerous chemicals on land and activities which might lead to water pollution.
Your local authority environmental health department will inspect your premises to make sure you're storing chemicals correctly. Visit the BASIS website to find out about the range of crop protection, pesticide use and environmental courses available. You can get more information about environmental protection and management on the Gov.uk website.
Details of the regulations affecting the use of pesticides is available on the Pesticides website. Visit the City & Guilds Land Based Services website (previously called the National Proficiency Tests Council - NPTC) for details of training courses for Specified Certificates, required by anyone using a plant protection product authorised for professional use.
Plant breeders' rights
If you plan to operate as a plant breeder you should be aware of plant breeders rights which are designed specifically to protect new varieties of plants and to prevent the unauthorised exploitation of those plants. You can read guidance on plant breeders' rights on the Gov.uk website.
Health & Safety, fire
You must comply with workplace health and safety and fire safety legislation.
Employment legislation
Anyone employing staff must comply with employment legislation. Important areas of legislation include recruitment, employment contracts, pay, working hours, holidays, employment policies, sickness, maternity, paternity, discrimination, discipline, grievances, dismissals, redundancies and employment tribunals.
Agricultural and horticultural businesses in the UK that use the services of gangmasters - basic labour providers - are required by law to use only gangmasters that are licensed by the Gangmasters and Labour Abuse Authority (GLAA). More information about gangmaster licensing, including a database of licensed gangmasters, is available on the GLAA website.
Insurance for a plant nursery
Contact an insurer and explain exactly how your business will operate - they will then explain what insurance cover you must have by law, and other cover you should consider. This might include:
premises, machinery, equipment and growing stock
glasshouses
environmental liability
goods in transit (being collected or delivered)
business interruption
employer's liability
public liability
product liability
motor insurance (for delivery vehicles)
farm vehicle insurance (for tractors)
NFU Mutual offers tailored packages to businesses operating in the horticultural sector. More information is available on the NFU Mutual website. When comparing insurance quotes, uncover the differences between policies by using an insurance comparison form.