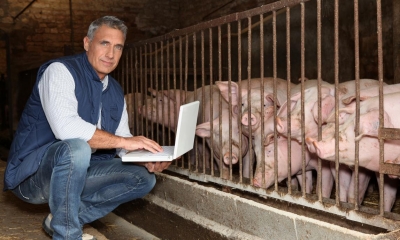 Some of the key areas where legislation is likely to affect your pig farm are listed below.
What licences does a pig farm need?
You should be aware of the following:
under the Animal Health Act you must be registered with the relevant Agriculture Department, because you will be keeping animals
if your pig unit has more than 2,000 places for production pigs over 30kg or 750 places for sows, you will have to obtain a permit to operate from the Environment Agency in England, Natural Resources Wales, the Northern Ireland Environment Agency or the Scottish Environment Protection Agency (SEPA)
you must follow the conditions of the General Movement Licence when you move pigs from your farm. Each movement must be reported using the appropriate electronic movement system (eAML2 in England and Wales, ScotEID in Scotland) or by email or phone
If your business will prepare, store and sell food you will need to register with your local environmental health department. They will inspect your premises and help you to comply with the requirements of the Food Safety Act. You should contact your local authority early on in your planning so that you register in good time. There is no charge for registering.
Pig accommodation
Since 1 January 2013, welfare rules have applied to all pig holdings. These include maximum slot widths and minimum slat widths for concrete slatted floors; and minimum pen side lengths and minimum unobstructed floor area and dimensions for sows and gilts. You can download a pocketbook that summarises these rules from the AHDB Pork website.
Pig identification
All pigs over a year old that are moved off a farm have to be identified. They can be identified with a permanent slapmark on each shoulder or by an eartag or tattoo.
Pigs that are going to slaughter must have an eartag that will remain attached during the slaughtering process. Pigs under a year old can be moved using a temporary paint mark.
There is further information on pig identification on the DEFRA section of the Gov.uk website.
Transporting animals
The Welfare of Animals (Transport) Order covers the conditions for transporting animals. If you transport animals as part of your business you must be authorised as an animal transporter. For long journeys (over eight hours), vehicles must have been inspected and approved. Drivers or attendants responsible for transporting animals more than 65km are required to hold a certificate of competence.
General
under the Waste Management Regulations (commonly referred to as the Agricultural Waste Regulations) you have a responsibilty to deal with agricultural waste correctly. The following options are available: store waste for up to 12 months pending collection; take the waste to a licensed disposal plant; transfer your waste to someone else who will then take it to a licensed plant; obtain an exemption or a permit (or licence) for on-farm waste disposal from the Environment Agency in England, Natural Resources Wales, the Scottish Environment Protection Agency (SEPA) in Scotland or the Northern Ireland Environment Agency
under various feedstuffs legislation you have to register with Trading Standards if you mix your own feed, and you have to register with the Veterinary Medicines Directorate if you mix your own feed and include substances such as antibiotics in it
there is animal welfare legislation obliging you to take reasonable steps to ensure your animals' welfare and prevent unnecessary suffering
if your pig farm is in a Nitrate Vulnerable Zone you must have six months' worth of storage capacity for slurry. There's further information available on the Gov.uk website
it's against the law to feed any kind of kitchen or catering waste to your pigs
Farm assurance scheme
If you choose to join a (non-mandatory) farm assurance scheme, such as Assured British Pigs, you will have to observe their code of conduct.
Organic
You cannot sell any of your produce as 'organic' unless you register with and comply with the standards of an approved organic control body like the Soil Association.
Employment legislation
Anyone employing staff must comply with general employment legislation. Important areas of legislation include recruitment, employment contracts, pay, working hours, holidays, employment policies, sickness, maternity, paternity, discrimination, discipline, grievances, dismissals, redundancies and employment tribunals.
Agricultural businesses that use the services of gangmasters - basic labour providers - are required by law to use only gangmasters that are licensed by the Gangmasters and Labour Abuse Authority - previously called the Gangmasters Licensing Authority (GLA). More information about gangmaster licensing, including a database of licensed gangmasters, is available on the Gangmasters and Labour Abuse Authority website.
Health & Safety, fire
You must also make sure that you comply with workplace health and safety and fire safety legislation.
Insurance for a pig farm
Contact an insurer and explain exactly how your business will operate - they will then explain what cover you must have by law, and other cover you should consider. This might include:
premises and premises contents
livestock insurance
employers liability
third party liability
motor insurance (for delivery vehicles)
farm vehicle insurance (for tractors, fork lifts etc)
In the agriculture sector, NFU Mutual is one of the most popular organisations through which to organise insurance. They, along with other specialist farm insurers, will be able to tailor a policy to fit the needs of your farm.