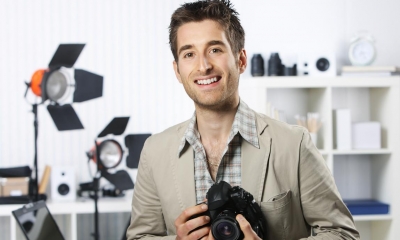 Some of the key areas where legislation is likely to affect your business are listed below. For more comprehensive guidance, the Association of Photographers (AOP) publishes the Beyond the Lens guide to the photographic industry, which includes a section on legislation. It costs £30 for the printed book (£10 if you're a member of the AOP) or £20 for the iBook. You can find out how to purchase it from the Beyond The Lens section of the AOP website.
What licences does a photographer need?
Although there are no licensing requirements relating specifically to photographers you should be aware that:
if you keep computerised records of individuals' personal details you may be required to register as a data user with the Information Commissioner's Office
if background music is played in the studio or waiting area you will usually need a Music Licence from PPL PRS Ltd. There is an annual fee for this which you can pay online on the PPL PRS website
if you regularly work with children - for example kids' portraits and school photography - then it's a good idea to get an up to date background disclosure check to help reassure potential clients. You can get a basic check done on yourself through Disclosure Scotland, but if you need a 'standard' or an 'enhanced' check then as a self-employed person you may need to get it through a registered umbrella body
Copyright law
It is important that you have a working knowledge of copyright law to protect your income and your rights, particularly since the introduction of the orphan works licensing scheme in the last couple of years. The AOP produces guidance on copyright issues.
Protection of children
It is an offence to take an 'indecent' photograph of a child under the age of 16 or to possess an image like this without a valid reason.
Terrorism laws
Police officers have the right to stop and search an individual and in limited circumstances they can view images on a camera or a cameraphone. However, they don't have the right to delete images or destroy film when they carry out a search.
Taxation
Within the industry it is common for assistants to be classed as 'self-employed'. However, you should check with your accountant whether your assistants can be classified as 'self-employed' as a challenge to their status by HM Revenue & Customs (HMRC) can be expensive. It's also important that you check this out if you're planning on working as an assistant yourself.
Storage, sale and disposal of potentially hazardous substances
Specific regulations cover the use, storage and sale of substances such as developing chemicals. You will also have a duty to ensure that waste chemicals are disposed of safely - for example, by using an authorised waste carrier. Contact your local authority environmental health department for guidance.
Health & safety, fire
You must comply with workplace health and safety and fire safety legislation.
You must also make sure that you comply with health and safety legislation, particularly if you have studio premises but also when you're working on location.
Employment legislation
Anyone employing staff must comply with employment legislation. Important areas of legislation include recruitment, employment contracts, pay, working hours, holidays, employment policies, sickness, maternity, paternity, discrimination, discipline, grievances, dismissals, redundancies and employment tribunals.
Insurance for a photographer
Contact an insurer or insurance broker and explain exactly how your business will operate - they will then explain what insurance cover you must have by law, and other cover you should consider. This might include:
premises, premises contents and stock
business interruption
employer's liability
public liability
product liability
motor insurance
Professional associations like the Association of Photographers, the British Institute of Professional Photography (BIPP) and the Master Photographers Association (MPA) may offer discounted insurance to their members. Visit their websites for details.
When comparing insurance quotes, uncover the differences between policies by using an insurance comparison form.