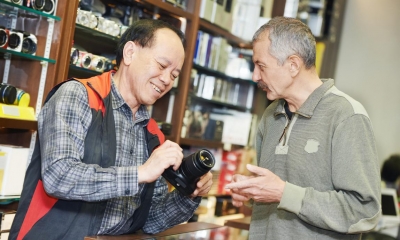 Some of the key areas where legislation is likely to affect your business are listed below.
What licences does a photo equipment business need?
Although there are no licensing requirements relating specifically to photographic equipment dealers, you should be aware that:
if credit facilities are offered to consumers you will need consumer credit authorisation from the Financial Conduct Authority (FCA)
if background music is provided in the shop you will usually need a Music Licence from PPL PRS Ltd. There is an annual fee for this which you can pay online on the PPL PRS website
if you sell, advise on, arrange or assist in selling general insurance you may need to be either directly regulated by the FCA or become an appointed representative of an FCA authorised principal insurer, even if insurance is only a small part of your business - for example, you might sell camera equipment insurance policies
Licensing of second-hand dealers
You might decide to sell some second-hand equipment. Local authorities in Scotland require second-hand dealers to obtain a licence or registration to operate. This applies unless dealing in second-hand goods is only incidental to the main business activity. Elsewhere in the UK, some local authorities license or register businesses (with certain specific exemptions) where second-hand dealing is the main or a significant part of the business and is not just incidental. If you are in any doubt as to whether second-hand dealer licensing may apply to your business, contact your local authority trading standards department for guidance.
Protection of children
It is an offence to take or possess an 'indecent' photograph of a child under the age of 16. If someone brings this sort of material in to your outlet to be processed you should contact the police.
Distributor take-back scheme for waste electrical goods
Retailers who sell electrical goods to private householders are required by law to make provision for the proper disposal of waste electrical and electronic equipment (WEEE). Those that don't offer their own in-store take-back service must join a distributor take-back scheme.
Valpak runs a national distributor take-back scheme for the UK. By signing up to the scheme, you won't have to offer your own in-store take-back service and comply with the other requirements of the WEEE regulations. Your customers can dispose of their items safely and properly at a designated local civic amenity site.
Fees for membership of the distributor take-back scheme typically range from around £400 to £1,500 a year, depending on how many items you sell each year. The largest retailers pay on a per item basis.You can find out more about the Valpak distributor take-back scheme on the Valpak website.
Retailing
There is a wide range of legislation that applies to retail outlets and that protects the interests of the consumer. For example, goods and services must not be misleadingly described and the retail price of goods must be clearly displayed. You will be responsible for making sure that all goods or services are fit for their intended purpose and of satisfactory quality. There's detailed guidance on all the trading standards legislation that applies to your business on the Business Companion website.
Storage, sale and disposal of potentially hazardous substances
Specific regulations cover the use, storage and sale of substances such as developing chemicals. You will also have a duty to ensure that waste chemicals are disposed of safely - for example, by using an authorised waste carrier. Contact your local authority environmental health department for guidance.
Waste batteries
If your business sells more than 32 kg of portable batteries in a year you must take back used batteries from customers to be recycled. You must provide this service free of charge. DEFRA has produced a calculator tool to help businesses work out whether they sell enough batteries each year to be affected by the new regulations. You can use the tool on the Waste Support website.
Carrier bag charge
A 5 pence charge applies in England, but small and medium-sized businesses (with fewer than 250 full-time equivalent employees) are exempt. You can get detailed guidance from the gov.uk website.
Retailers in Wales and Scotland must charge customers at least 5 pence if they supply them with a single-use carrier bag. This applies to all types of single-use bag, whether they are made of plastic, paper or plant-based starch. There is detailed guidance on the Gov.Wales and Zero Waste Scotland websites.
In Northern Ireland retailers must charge customers a 5 pence levy on all bags with a retail price of less than 20 pence (including any bags that would otherwise be free of charge), whether they are single-use or reusable.
Health & Safety, fire
You must comply with workplace health and safety and fire safety legislation.
Employment legislation
Anyone employing staff must comply with employment legislation. Important areas of legislation include recruitment, employment contracts, pay, working hours, holidays, employment policies, sickness, maternity, paternity, discrimination, discipline, grievances, dismissals, redundancies and employment tribunals.
Insurance for a photo equipment business
Contact an insurer or insurance broker and explain exactly how your business will operate - they will then explain what insurance cover you must have by law, and other cover you should consider. This might include:
premises, premises contents and stock
goods in transit (being collected or delivered)
cash
business interruption
employer's liability
public liability
product liability
motor insurance (for delivery vehicles)
It is worth noting that some buying groups and trade associations offer their members special insurance policies, which might save you money and provide the level of cover you need.
When comparing insurance quotes, uncover the differences between policies by using an insurance comparison form.