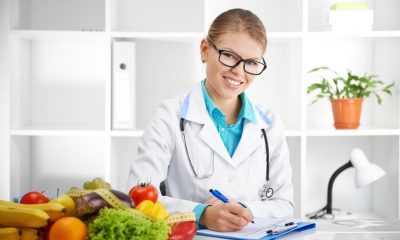 Although there is currently no legislation specifically regulating nutritional therapists, the profession is working towards introducing statutory regulation at some point in the future (although there is currently no timetable in place for this) and many therapists already choose to register with the Complementary and Natural Healthcare Council (CNHC) to demonstrate their professional competence. Nutritional therapists must not refer to themselves as 'dietitians' as this is a protected title.
Members of one of the nutritional therapy associations, such as the British Association of Nutritional Therapists, must comply with a code of ethics and conduct.
Some of the key areas where legislation is likely to affect your business are listed below.
What licences does a nutritional therapist need?
At the moment there are no licensing requirements that relate specifically to nutritional therapy practices and the title of 'nutritional therapist' isn't protected by law. The profession is moving towards being more tightly regulated with many nutritional therapists now choosing to register with the Complementary and Natural Healthcare Council (CNHC). (All member of the British Association for Applied Nutrition & Nutritional Therapy (BANT), for example, are registered with the CNHC.) However, it will be some years before it is a legal requirement to obtain a licence before practising, if it happens at all.
Your local authority may require you to obtain a 'special treatments' licence from them. Contact your local authority to find out the position in your area.
Data protection
If you keep computerised patient records or operate a CCTV system in your practice, you may be required to register with the Information Commissioner's Office (ICO). From May 2018 the General Data Protection Regulation has introduced additional protection for personal data. Visit the ICO website for more information.
Selling food supplements
If you choose to sell supplements as part of your business, you may have to register with your local authority environmental health department.
Supplements legislation
If you sell nutritional products, including supplements, you may be affected by the requirements of an EU regulation on nutritional and health claims on labels. The purpose is to protect the public from false or misleading claims. In England the Department of Health (DH) is responsible for regulating food supplements. You can see guidance on selling food supplements on the Gov.uk website. You can find similar information for Scotland and Northern Ireland on the Food Standards Agency website. Details of food supplement legislation in Wales is available on the Welsh Government website.
Health & Safety, fire
You must comply with workplace health and safety and fire safety legislation.
Employment legislation
Anyone employing staff must comply with employment legislation. Important areas of legislation include recruitment, employment contracts, pay, working hours, holidays, employment policies, sickness, maternity, paternity, discrimination, discipline, grievances, dismissals, redundancies and employment tribunals.
Insurance for a nutritional therapist
Contact an insurer or insurance broker and explain exactly how your business will operate - they will then explain what insurance cover you must have by law, and other cover you should consider. This might include:
professional indemnity
practice rooms, equipment and stock
cash
business interruption
employer's liability
public liability
product liability
motor insurance (for business vehicles)
The British Association for Applied Nutrition and Nutritional Therapy (BANT) has negotiated discounted insurance packages with an approved supplier and also recommends a range of other insurance companies to members. To be registered with the Complementary & Natural Healthcare Council (CNHC) and to be listed in the BANT directory, you must have professional indemnity insurance. You can find out more from the BANT and the CNHC websites.
When comparing insurance quotes, uncover the differences between policies by using an insurance comparison form.