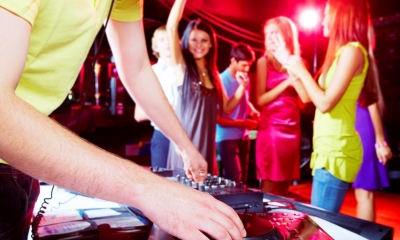 There are certain legal matters that you should be aware of as a professional mobile DJ. Some key issues are listed below.
What licences does a mobile DJ need?
The licensing requirements that you should be aware of. These are centred around making sure that the creators of the music you use in your business receive fair payment for their efforts.
Music performance licensing - TheMusicLicence
TheMusicLicence from PPL PRS allows a business or organisation to legally play music for employees or customers.
There are special licensing tariffs for mobile DJs However, in many cases mobile DJs don't need to obtain these licences themselves, as their performances are covered by licences held by the venues they play at. You can contact PPL PRS for advice, explaining exactly what you'll be doing and where you'll be doing it.
Copying copyright music - ProDub licence
As well as ensuring that your music performances are licensed where necessary - either under your own licences or those held by the venues you play at - you will need to obtain permission if you transfer copyright music from one format to another. This is covered by the special ProDub licence, a single licence covering copyright in the music work and in the sound recording. A ProDub licence permits you to copy, burn or transfer music from vinyl, CD, MP3 or CD+G to a digital format like an MP3 player, flash drive or laptop for use in your professional (or semi-professional) work.
ProDub licence holders get a certificate, and it's wise to keep this with you at all times when you're working in case you're challenged. Some potential clients may want confirmation that you hold a ProDub licence before they book you.
There's more information about the ProDub licence on the PRS for Music website.
PPL licenses certain 'DJ mix' suppliers to provide DJs with recorded music on CD, DVD or as a download. These suppliers are authorised to copy recorded music that's controlled by PPL so that they can provide their services to DJs. You can find out more on the PPL website.
Entertainment licensing
Under licensing legislation, certain types of public performance may require the venue to have an entertainment licence or a temporary event notice. This includes some DJ performances. It is normally the venue rather than the DJ who is responsible for checking the licensing situation and where necessary obtaining a licence. However, if you're putting on and promoting your own event then the responsibility may be yours, particularly if the venue isn't already licensed for regulated public entertainment. However, this aspect of the licensing system was relaxed in 2015, meaning that no licence is normally required for DJ performances to no more than 500 people on alcohol-licensed premises so long as the set ends no later than 11pm.
Background checking
If you regularly work with children - for example kids' parties and school discos - then it's a good idea to get an up to date background disclosure check. This can help to reassure potential clients. There's more information about background checks on the Disclosure and Barring Service (DBS) section of the Gov.uk website.
Public liability insurance
It's not a licensing requirement as such, but many venues and other people who book you will want to check that you have suitable public liability insurance. You may lose the booking if you can't show them a certificate demonstrating an adequate level of cover.
Electricity at Work Regulations - portable appliance testing
You'll be using a lot of electrical equipment in a public place, so be sure that it's all safe. Regular portable appliance testing (PAT) - for example once a year - is the benchmark for ensuring electrical safety. Items of equipment which have been tested can be labelled to show this, including the date of the last test.
The Health and Safety Executive (HSE) publishes a number of helpful leaflets on portable appliance testing and other aspects of electrical safety for entertainers which can be downloaded for free from the HSE website. The Health and Safety Executive Northern Ireland (HSENI) website also has information about the Electricity at Work Regulations.
Licensing and copyright
You should be well aware of licensing and copyright laws regarding the use of recorded music for public entertainment, and the licensing requirements of PRS for Music and Phonographic Performance Limited (PPL). Visit their websites for more information on music licensing.
There is general information about copyright law on the Copyright Licensing Agency (CLA) website.
Contracts
Whoever your customers are, it is advisable to always use a written contract. This should include your terms and conditions, especially your fees and when you should be paid by. This will ensure that both you and your client are fully aware of what is required. A very important detail to include is your limit of liability. If you are unable to get to a booking, a client could sue you for damages which, if you don't have a limited liability written into your contract, could amount to considerably more than your fee. Another important detail to include in the contract is conditions for cancellation by the client. Decide what percentage of the fee will be refundable in the event of a cancellation.
Contracts must be fair and you must provide all of the services that you are contracted to provide.
Health & Safety, fire
You must comply with workplace health and safety and fire safety legislation. It requires you to take appropriate steps to ensure the safety of your customers, other members of the public and any employees you have. You may share responsibility for health and safety with the owners of the venues you play at. Take particular care with loose leads and wires, hot equipment like lights, and anything that people could trip over in the dark or in low light levels. Be aware that noise at work regulations mean that employers have a legal duty to protect their staff from the potentially harmful effects of loud music.
Information about protecting people - and yourself - from hearing loss caused by very loud music is available on the Action on Hearing Loss website.
Employment legislation
Anyone employing staff must comply with employment legislation. Important areas of legislation include recruitment, employment contracts, pay, working hours, holidays, employment policies, sickness, maternity, paternity, discrimination, discipline, grievances, dismissals, redundancies and employment tribunals.
Other legislation
As an entertainer, you should familiarise yourself with consumer protection legislation. Make sure that your advertising does not give a misleading impression of your act, and that your contracts and terms of business (written and verbal) are all fair and above board.
If you are going to be working with children, you should be aware of laws and guidelines which are designed to safeguard children and avoid the possibility of unfounded allegations being made against the entertainer.
Insurance for a mobile DJ
Contact an insurer or insurance broker and explain exactly how your business will operate - they will then explain what insurance cover you must have by law, and other cover you should consider. This might include:
public liability
employer's liability (if you have any employees)
cash
business interruption
equipment insurance. This will cover you for damage to or theft of your equipment
hire cover
motor insurance
Your motor insurance is likely to rise substantially when you tell your insurer (as you must) that you are a professional mobile DJ, because of the high value of the equipment you will carry around with you and the late hours during which you'll often be on the road. However, there are insurers that offer special deals for DJs.
If necessary, you should also check that your house insurance will cover theft of your equipment from your home.
Some trade associations offer business insurance services to their members, or negotiate special rates for them with insurers. For example, the National Association of Disc Jockeys (NADJ) provides full members with public and employer's liability insurance as part of their package of membership benefits.
When comparing insurance quotes, uncover the differences between policies by using an insurance comparison form.