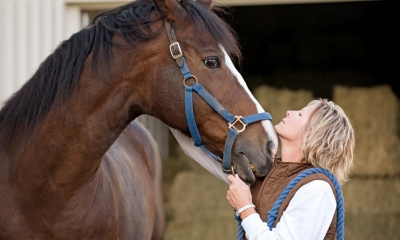 Some of the key areas where legislation is likely to affect your livery stable are listed below.
What licences does a livery stable need?
Livery stables that simply house and care for other people's horses do not need a licence. But you may need to get a licence if, for example, you offer a working livery arrangement whereby, in return for a reduced livery fee, you:
hire out your customers' horses for hacking
charge people for riding lessons on your customers' horses
Contact your local authority environmental health department if you are in doubt.
If, as part of your business, you use a vehicle of more than 3.5 tonnes gross vehicle weight to carry goods or horses, you will need an operator's licence. You can download a guide for horsebox and trailer owners from the Gov.uk website.
Data protection
Any business that keeps records of individuals' personal details, or in some cases uses a CCTV system, may need to register with the Information Commissioner's Office (ICO). You can find out more on the ICO website. From 2018 the General Data Protection Regulation has introduced additional protection for personal data.
Welfare and protection of animals
Because you will be responsible for the health and welfare of the animals in your charge you must make sure that you are aware of the legislation regulating the keeping of horses and ponies. The main relevant pieces of legislation are:
The Welfare of Farmed Animals Regulations - although these apply specifically to horses and ponies raised for food production, all owners or keepers would be expected to maintain standards to at least those specified
The Animal Welfare Act
Welfare of Animals (Transport) Order - if you transport horses or ponies as part of your business you must be authorised as an animal transporter. For long journeys (over eight hours), vehicles must have been inspected and approved. Drivers or attendants responsible for transporting animals more than 65km are required to hold a certificate of competence. The Department for Transport has produced a guide for horsebox and trailer owners which sets out the legal position if you transport horses in connection with your livery business.
Horse passport legislation. All horses, ponies and donkeys need to be registered and to have a 'passport'. The passport must be produced when a horse moves premises, enters competitions, is used for breeding, leaves the UK, or is sold or slaughtered. Foals must have a microchip implanted by a vet when their owners apply for a passport. The microchip number must be shown in the passport. The Gov.uk website contains more information
The standards for looking after horses at livery are set out in the Department for Environment Food and Rural Affairs (Defra) Code of Practice for the Welfare of Horses, Ponies, Donkeys and their Hybrids. You can download the Code of Practice from the NEWC website. If you don't care for the horses properly or you are cruel to them you can be fined or imprisoned and banned from keeping animals in future.
Storage and disposal of horse manure and waste
DEFRA has produced comprehensive guidance for horse businesses such as livery yards, including details of the legal requirements relating to horse manure and waste management. If you store horse manure for more than 12 months you'll need an environmental permit. You can read the guidance on the Gov.uk website.
Riding establishments
If you plan to hire out horses kept at livery for riding, or to give riding lessons, you will be a 'riding establishment' and you will need to obtain a licence. Regulations made under the Animal Welfare Act replaced the requirement to obtain a licence under the Riding Establishments Act 1964, although any unexpired licences granted under earlier Riding Establishments Acts continue in force until they expire. The licence is issued by the local authority which will only grant it if you comply with certain minimum standards. A vet will visit your premises to make sure that the horses are properly housed, fed and looked after. The licence must be renewed annually. You will have to show that you are suitably qualified and have experience of horse management. Your horses must be:
in good health and physically fit
suitable for hiring out for riding
given adequate food, drink and bedding
exercised regularly
safeguarded in an emergency
You'll have to have insurance covering you for any injuries which occur when people are riding your horses and you must keep a register of all horses kept on your premises which are under three years old. The register must be available for inspection.
You won't be able to get a licence if you have been banned from running a riding establishment. You'll need to check with your local authority whether they will grant you one if you have been convicted of an animal welfare offence.
Safeguarding vulnerable groups
Employers should make sure that volunteers and employees are suitable to work with children and vulnerable adults. The British Horse Society (BHS) processes disclosure checks with the Disclosure and Barring Service, Disclosure Scotland and Access NI to help identify people who may be unsuitable.
Visit the BHS website for more information and for details of the BHS Safeguarding and Protecting Children Course. This is a short course held at different venues around the country.
You can read about safeguarding children, young adults and vulnerable people on the British Equestrian Federation (BEF) website and download the Safeguarding Equestrian Sport documentation.
Riding hats
It is a legal requirement for children aged 14 years or less to wear a riding hat when riding on the road. The hat must comply with current BS standards.
Health & Safety, fire
You must also make sure that you comply with workplace health and safety and fire safety legislation.
Employment legislation
Anyone employing staff must comply with employment legislation. Important areas of legislation include recruitment, employment contracts, pay, working hours, holidays, employment policies, sickness, maternity, paternity, discrimination, discipline, grievances, dismissals, redundancies and employment tribunals.
Insurance for a livery stable
Contact an insurer and explain exactly how your business will operate - they will then explain what insurance cover you must have by law, and other cover you should consider. This might include:
premises, premises contents (including clients' tack/saddlery) and feedstuffs
cash
business interruption
employer's liability
public liability
personal accident
motor insurance (for vehicles)
horsebox and trailer cover
You should make clear in your client contracts who is responsible for insuring the client's horse.
The British Horse Society (BHS) can give guidance on insurance matters. All BHS Approved Establishments are eligible for discounts on insurance arranged through a BHS-preferred insurer. When comparing insurance quotes, uncover the differences between policies by using an insurance comparison form.