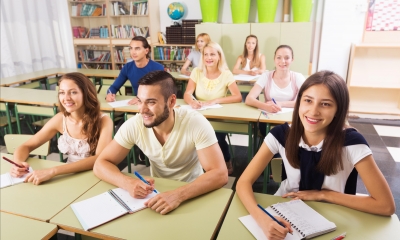 There are several pieces of legislation that apply to language schools. They cover areas such as licensing, food safety, and protecting young children.
What licences does a language school need?
Register of sponsors licence
Following changes to the UK visa system, language schools that intend to accept students from outside the EU who need a Tier 4 general visitor visa to study in the UK must apply for a licence. Once this is granted they will be added to the register of sponsors. Only schools that are accredited by a public body can apply to be registered. The register is operated by UK Visas and Immigration (UKVI) and there is more information about it on the Gov.uk website. The statutory public bodies are:
the Independent Schools Inspectorate for English language schools in England and Wales
Education Scotland for English language schools in Scotland
the Education and Training Inspectorate for English language schools in Northern Ireland
The cost of accreditation by a statutory body can be significant.
Short term student visas
If you want to accept students from outside the EU but are not planning to be a licensed sponsor, you're able to market your school to this type of student travelling under a short term student visa as long as your school is accredited by either Accreditation UK or the Accreditation Body for Language Services. Accreditation by one of these bodies will also allow you to accept people travelling on a general or business visa as long as the period of study is no more than six weeks (30 days) and the study is incidental to the main purpose of study. The cost of this type of accreditation is generally less than statutory accreditation but can still run to several thousand pounds. The British Council website has more details about the application process and the fees payable.
What other action is needed?
If you operate in Northern Ireland you'll need to register the business with the Health and Safety Executive Northern Ireland (HSENI).
If you sell, advise on, arrange or assist in selling general insurance - for example individual travel insurance to students - you may need to be regulated by the Financial Conduct Authority (FCA) even if insurance is only a small part of your business. If no exemption applies you will need to be either directly authorised by the FCA or an 'appointed representative' of an authorised principal. Visit the FCA website for further information.
If there are any televisions in the building, a TV licence must be obtained. A standard licence at the current fee covers up to 15 accommodation rooms, and another licence is required for every additional five rooms.
Licences are required for the use of copyright materials in the classroom:
schools using copied teaching materials require a licence from the Copyright Licensing Agency (CLA)
if TV or radio programmes are recorded for use in the classroom, a licence must be obtained from the Educational Recording Agency (ERA)
if newspaper articles are used for teaching purposes a licence is required from NLA Media Access
(The cost of these three licences depends on the size and turnover of the language school. Schools which only teach students under 16 years old may be able to obtain some licences free.)
If you provide accommodation or if you provide a canteen which prepares, stores and sells food you will need to register with your local environmental health department. They will inspect your premises and help you to comply with the requirements of the Food Safety Act. You should contact your local authority early on in your planning so that you register in good time. There is no charge for registering.
Protecting children and young people
If your school takes children under 16 years old then you'll need to have a child protection and safeguarding policy in place. Your local authority will probably have a model policy document that you can base your own policy on.
It is very important that your recruitment procedures include measures to identify people who might be unsuitable to work with children and young people. The Department for Education recommends that a criminal record check is made on all applicants to positions which involve contact with children and young people. Criminal record checks are carried out by the Disclosure and Barring Service (DBS) or Disclosure Scotland.
In addition, as a condition of the licence required to accept students from outside the EU travelling on a Tier 4 general visitor visa, you must disclose your employees' convictions and civil penalties.
Children staying with a host family for more than 28 days are subject to private fostering laws.
Food safety
If you are going to have a canteen you must comply with strict food safety legislation. Before you open, you must register your business with the local authority environmental health department. Your local environmental health officer will be able to give you advice and guidance as to what you should install in your premises to make sure your operating areas are hygienic and how to comply with the requirements of food safety laws.
Health & Safety, fire
You must comply with workplace health and safety and fire safety legislation.
Employment legislation
Anyone employing staff must comply with employment legislation. Important areas of legislation include recruitment, employment contracts, pay, working hours, holidays, employment policies, sickness, maternity, paternity, discrimination, discipline, grievances, dismissals, redundancies and employment tribunals.
Insurance for a language school
Contact an insurer or insurance broker and explain exactly how your business will operate - they will then explain what insurance cover you must have by law, and other cover you should consider. This might include:
premises, premises contents
cash
business interruption
business travel
employers liability (required by law)
public liability
motor insurance (for minibuses and any other vehicles)
The main professional association, English UK, offers its members a range of insurance options in partnership with its preferred insurer. There are full details available on the English UK website.
When comparing insurance quotes, uncover the differences between policies by using an insurance comparison form.