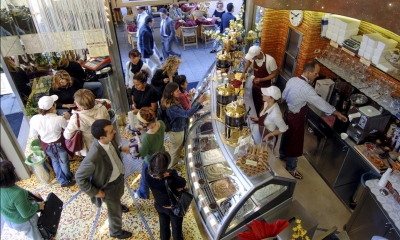 The ice cream industry is subject to certain special regulation and you should obtain expert help to make sure you comply with all the legal requirements. The Ice Cream Alliance (ICA) can advise its members on all aspects of legislation that affects the industry.
The following is an outline of some of the areas that are likely to be relevant to you.
What licences does an ice cream parlour need?
As you will be serving food from your outlet you will need to register with your local authority environmental health department. Contact your local authority for details. They will inspect your premises and help you to comply with the requirements of the Food Safety Act and food hygiene regulations made under it. There is no charge for registering. You can find out more about this and apply for registration on the Gov.uk website.
If you intend to run an ice cream manufacturing operation then your manufacturing premises will need to be authorised as a dairy processor (rather than just registered as a food business) by your local authority.
Chairs and tables on pavements
If you intend to put any tables and chairs on the pavement outside your ice cream parlour then you'll probably need permission from your local authority. They may refer to this permission as a 'pavement licence', an 'al fresco dining licence' or a 'tables and chairs licence'. Planning permission may also be necessary for the change of use - your local authority will be able to advise you on this. Similar conditions often apply to advertising A-boards placed on the pavement.
Using copyright music
If you play copyright music at your premises - for example to enhance the ambience in your cafe - then this is referred to as a 'public performance' and you are likely to need a Music Licence from PPL PRS Ltd. There is an annual fee for this which you can pay online on the PPL PRS website.
Alcohol licensing
If you intend to offer a full cafe or restaurant menu then you may want to serve alcoholic drinks with food. You'll need an alcohol licence for this - a personal licence for whoever is responsible for overseeing alcohol sales and a premises licence for your outlet.
Premises - planning use classes
When choosing premises, note that you may need to find some with the appropriate planning usage classification. Otherwise it may be possible to change the classification of a premises, but this will require planning consent. It is easier to change to some classifications than to others.
Planning usage classes covering food and catering activities are as follows:
A1 - shops (this would include outlets which sell ice creams to take away)
A3 - restaurants and cafes (food and drink for consumption on the premises - this would include most ice cream parlours)
A4 - drinking establishments (pubs and wine bars, but not night clubs)
A5 - hot food takeaways (hot food for consumption off the premises)
There is more information about planning use classes and getting permission for change of use on the Planning Portal website.
Ice cream, dairy products and food
Food safety and hygiene regulations include requirements for sterilisation and pasteurisation procedures for dairy products, which are particularly relevant if you intend to become involved in ice cream manufacture.
Food labelling and information regulations and weights and measures legislation will apply to you if you package and sell your own ice cream. The information regulations include provisions for businesses like caterers that sell non-packaged food, requiring them to make information available about any specified allergens contained in it.
The Ice Cream Alliance (ICA) offers a range of technical publications covering subjects including manufacturing, food hygiene and HACCP. You can find out more on the ICA website.
Food waste
If your business produces food waste you must make sure that you dispose of it correctly. It mustn't contaminate the environment and it can't be fed to livestock. If you use a waste carrier to get rid of your waste you'll need to make sure they're properly authorised. You can find out more about your responsibilities regarding catering waste on the Trading Standards Business Companion website.
Litter
The Clean Neighbourhoods and Environment Act makes businesses responsible for clearing up any litter around their premises that has originated from their retail activities (particularly ready-to-eat and take-away food). You will be responsible for clearing up any food or drink packaging, including empty crisp packets, drink cartons, ice cream wrappers and so on.
Workplace smoking ban
Smoking is not permitted in enclosed public places such as restaurants and cafes, workplaces and work vehicles. You must display appropriate 'No Smoking' signs. The legislation varies slightly in different parts of the UK so contact your local authority for details of how the ban affects you. You can also find out more on the HSE website.
Illegal workers
As an employer it's your responsibility to check that someone you take on is entitled to work in the UK. There are fines for employers who employ illegal workers because they've failed to make the necessary checks. You can read more about preventing illegal working on the Gov.uk website.
Carrier bag charge
A 5 pence charge applies in England, but small and medium-sized businesses (with fewer than 250 full-time equivalent employees) are exempt. You can get detailed guidance from the gov.uk website.
Retailers in Wales and Scotland must charge customers at least 5 pence if they supply them with a single-use carrier bag. This applies to all types of single-use bag, whether they are made of plastic, paper or plant-based starch. There is detailed guidance on the Gov.Wales and Zero Waste Scotland websites.
In Northern Ireland retailers must charge customers a 5 pence levy on all bags with a retail price of less than 20 pence (including any bags that would otherwise be free of charge), whether they are single-use or reusable.
Health & Safety, fire
You must comply with workplace health and safety and fire safety legislation.
Employment legislation
Anyone employing staff must comply with employment legislation. Important areas of legislation include recruitment, employment contracts, pay, working hours, holidays, employment policies, sickness, maternity, paternity, discrimination, discipline, grievances, dismissals, redundancies and employment
Insurance for an ice cream parlour
Contact an insurer or insurance broker and explain exactly how your business will operate - they will then explain what insurance cover you must have by law, and other cover you should consider. This might include:
employer's liability
public liability
product liability, including cover for food poisoning
premises - including plate glass windows
premises contents and stock, including cover for refrigerator or freezer breakdown
failure of gas, water or electricity
goods in transit (being collected or delivered)
cash
business interruption
loss of alcohol licence (if you have one)
customers' belongings
motor insurance (for delivery vehicles)
Bear in mind that some trade associations for the catering industry offer their members specialist business insurance packages at discounted prices. For example, UKHospitality offers members specialist business insurance services through its partner insurers, while the Nationwide Caterers Association (NCASS) offers discounted-rate insurance services to businesses like cafes and take-aways. Visit their websites to find out more.
When comparing insurance quotes, uncover the differences between policies by using an insurance comparison form.