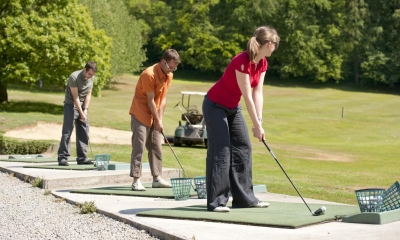 The following is an outline of some of the areas which may be relevant to you.
What licences does a golf driving range need?
Although you don't need a licence specifically to run a golf driving range, you should be aware of the following:
if background music is provided in the range you are likely to need a Music Licence from PPL PRS Ltd. There is an annual fee for this which you can pay online on the PPL PRS website
if you're planning to sell food, you'll need to register with your local environmental health department. They will inspect your premises and help you to comply with the requirements of the Food Safety Act and food hygiene regulations made under it. Contact your local authority early on in your planning so that you register in good time - you'll need to register at least 28 days before you start any food operations. There is no charge for registering
Planning permission
If you are starting your range from scratch, you are likely to need planning permission. Planning authorities are particularly concerned with light pollution caused by driving ranges if they are floodlit. However, if you include adequate screening for the end of the range in your plans you are more likely to be able to meet planning requirements. In addition, if your proposed site is close to roads or houses you will probably have to erect substantial perimeter fencing to protect neighbouring properties. The Organisation of Golf Range Operators (OGRO) produces a golf range design guide which includes a section on the necessary permissions required in setting up a range. Visit the OGRO website for details on how to purchase the guide.
Retailing
If you have a golf equipment shop in the range you should be aware that there is a wide range of legislation that applies to retail outlets and that protects the interests of the consumer. For example, goods and services must not be misleadingly described and the retail price of goods must be clearly displayed. You will be responsible for making sure that all goods or services are fit for their intended purpose and of satisfactory quality. There's detailed guidance on consumer protection laws on the Trading Standards Business Companion website.
Health & Safety, fire
You must comply with workplace health and safety and fire safety legislation.
Employment legislation
Anyone employing staff must comply with employment legislation. Important areas of legislation include recruitment, employment contracts, pay, working hours, holidays, employment policies, sickness, maternity, paternity, discrimination, discipline, grievances, dismissals, redundancies and employment tribunals.
Insurance for a golf driving range
Contact an insurer or insurance broker and explain exactly how your business will operate - they will then explain what insurance cover you must have by law, and other cover you should consider. This might include:
premises, premises contents
business interruption
cash
employers liability (required by law)
public liability
motor insurance
As with many other items of business expenditure, you can often save money by shopping around. Although many insurers can offer a complete package of business insurances, often at a competitive price, remember that you don't have to take out all of your business insurance policies with the same insurer. Also bear in mind that membership of the Organisation of Golf Range Operators (OGRO) can give you discounted rates of golf range insurance through its preferred partner. Visit the OGRO website for further information.
When comparing insurance quotes, uncover the differences between policies by using an insurance comparison form.