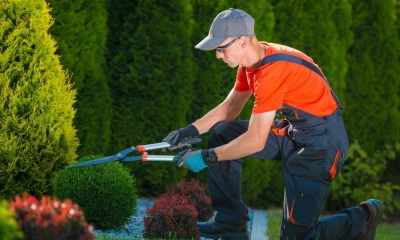 There are several pieces of legislation that apply to garden servicing businesses. They cover areas such as licensing, harmful plants and waste.
What licences do garden servicing businesses need?
Depending on the types of activity you carry out and the clients you work for, you might be required to get certain permits.
Chainsaw certificate
Under the Provision and Use of Work Equipment Regulations (PUWER), all workers who use chainsaws as part of their job need to be competent to do so. They need to hold a recognised certificate of competence to demonstrate this. This applies to both employees and the self-employed.
The Health and Safety Executive (HSE) publications INDG317 Chainsaws at work and AFAG805 Training and certification include detailed guidance on the requirements for chainsaw operatives.
Skills cards
Although it's not mandatory for operators of plant machinery like mini-diggers to hold a skills registration card, it's a good way of showing that your business complies with the requirement under the Health and Safety at Work Act for plant operators to be suitably trained. More and more contractors, clients and sites only permit plant operatives who hold a valid skills registration card or 'ticket'. (For example, you may be contracted by a housing developer to create gardens for an estate of newly built houses.)
The British Association of Landscape Industries (BALI) operates the ROLO (Register of Landbased Operatives) Scheme and the LISS/CSCS Skills Card Scheme. You can find out more on the BALI website.
Skips
If you use skips, be aware that if they are placed on a public highway they require a highway permit from the local authority. In some cases, a controlled parking permission is also required. Charges for these licences vary - your local authority will be able to give you details of charges that apply in your area. If you hire skips, ask the hire company who is responsible for obtaining the necessary licences and permits.
Waste carrier registration
You will need to register as a waste carrier if you:
carry away garden waste that you have removed. You'll need to register as a lower tier waste carrier (England, Wales and Northern Ireland) or a professional collector or transporter of waste (Scotland). Registration is free of charge and lasts indefinitely
carry away demolition and construction waste. You'll need to register as an upper tier waste carrier (England, Wales and Northern Ireland) or a waste carrier (Scotland). Registration costs around £150 and lasts for three years
carry away other people's waste. You'll need to register as an upper tier waste carrier (waste carrier in Scotland)
Waste carrier registration is carried out by:
the Environment Agency in England
Natural Resources Wales
the Scottish Environment Protection Agency
the Northern Ireland Environment Agency
Potentially harmful plant varieties
You should be aware that many garden plants are potentially harmful in that they are poisonous, can cause skin irritations and allergies and so on. If you are employing staff you should make sure that they are aware of any harmful plants growing in the gardens you are working in. If you are responsible for stocking a customer's garden you should make sure that you do not inadvertently plant a potentially harmful species. This is particularly important if there are children or pets who might eat parts of the plant. The Horticultural Trades Association (HTA) has produced a Code of Practice relating to potentially harmful plants which contains guidance - this is available on the Royal Horticultural Society (RHS) website.
There are also hundreds of invasive, non-native species of plants that are present in the UK. You must not intentionally plant invasive species or allow them to spread off-site (for example by placing cuttings of a species like Japanese knotweed into council green waste recycling bags). There's information about your - and the site owner's - legal responsibilities for dealing with invasive species on the Gov.uk website.
There are also three helpful leaflets that have been developed by Plantlife and the Royal Horticultural Association that cover gardening, landscaping and keeping ponds without invasive species. You can download these guides from the GB Non-native species website.
Use of equipment and tools
The Health and Safety at Work Act and regulations made under it require operators of machinery like construction plant to be properly trained and qualified. Skills registration card schemes like the LISS/CSCS Skills Card enable you to demonstrate your professional competence. This is administered by the British Association of Landscape Industries (BALI).
BALI also administers the ROLO health and safety standard and the NHSS18 quality management accreditation system. You can find out more on the BALI website.
The Provision and Use of Work Equipment Regulations (PUWER) cover the safe use and maintenance of hand and power tools such as chainsaws and hedge trimmers. All work equipment should be suitable for the job, safe and properly maintained, and employees should be trained in how to use equipment appropriately. You should provide your employees with protective clothing where necessary.
Storage, sale and disposal of potentially hazardous substances
Specific regulations cover the use, storage and sale of substances such as fertilisers and pesticides. Contact your local authority environmental health department for guidance.
Professional regulation
BALI requires members to comply with a strict Code of Conduct and will carry out rigorous assessments of those wishing to become members.
The Association of Professional Landscapers (APL) also requires its members to abide by a Code of Conduct and undergo rigorous annual assessment. All members must be accredited under the TrustMark quality assurance scheme.
Visit the BALI and APL websites for more information.
Environmental protection
The Environmental Protection Act and regulations made under it apply to the handling and disposal of all waste, including garden waste materials. Legislation also covers matters such as composting and burning garden waste.
As well as holding the appropriate waste carrier registration, you also need to fulfil your legal responsibilities as a waste carrier and make sure that the waste is handled safely and is only passed on to people who are authorised to receive it. You'll also need to make sure that the correct documentation is used.
Detailed information about your legal obligations towards the environment is available on the Gov.uk website.
Health & Safety, fire
You must comply with workplace health and safety and fire safety legislation.
Employment legislation
Anyone employing staff must comply with employment legislation. Important areas of legislation include recruitment, employment contracts, pay, working hours, holidays, employment policies, sickness, maternity, paternity, discrimination, discipline, grievances, dismissals, redundancies and employment tribunals.
Insurance for garden servicing businesses
Contact an insurer or insurance broker and explain exactly how your business will operate - they will then explain what insurance cover you must have by law, and other cover you should consider. This might include:
tools and equipment
employer's liability
public liability
motor insurance (for business vehicles)
personal cover - accident and injury, loss of earnings and so on
business interruption
When taking out personal and employer's liability cover it is particularly important to give precise details of the types of activity that you and any employees will be engaging in. Be prepared to answer questions about the type of work you will be doing, where you will be working, the type of materials and equipment you will be using, your health and safety policy and so on.
It is worth noting that some trade associations offer their members special insurance packages. One of these might save you money and provide exactly the level of cover you need. For example, the British Association of Landscape Industries (BALI) offers members specially negotiated insurance packages, as do other associations for the garden services industry including the Institute of Horticulture.
Contact an insurer or insurance broker and explain exactly how your business will operate - they will then explain what insurance cover you must have by law, and other cover you should consider. This might include: