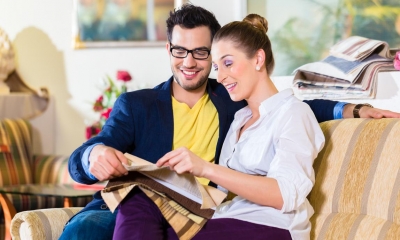 Some of the key areas where legislation is likely to affect your furniture retailing business are listed below.
What licences does a furniture shop need?
There are no licensing requirements relating specifically to furniture retailers.
You should, however, be aware of the following:
you will need consumer credit authorisation from the Financial Conduct Authority (FCA) if credit terms are offered to customers. You will need to meet a 'fitness and propriety' requirement as well as satisfying other financial criteria
you will need a Music Licence from PPL PRS Ltd. There is an annual fee for this which you can pay online on the PPL PRS website
businesses that keep computerised records of individuals' personal details - perhaps for finance purposes - or in some cases use CCTV may be required to register as data users with the Information Commissioner's Office (ICO). The General Data Protection Regulation has introduced extra protection for individuals' personal data
you will need an operator's licence if you use vehicles over 3.5 tonnes gross vehicle weight (for example, delivery lorries) and your drivers must be appropriately licensed. In Northern Ireland a goods vehicle operator's licence is required - these are issued by the Transport Regulation Unit (TRU). In Great Britain, operator's licences are issued by the Driver and Vehicle Standards Agency (DVSA). More information about goods vehicle operator licensing is available on the Gov.uk website and on the TRU section of the Department for Infrastructure Northern Ireland (DfI) website
If you manufacture some furniture items in-house then you may need 'chain of custody' certification to show that the timber you use is from sustainable sources. Note that under EU regulations it is illegal to place illegally-harvested timber onto the market within the EU. You can find out more about chain of custody certification on the FIRA website.
Selling general insurance
If your business advises on, arranges or assists in selling payment protection insurance (PPI) or accidental damage/fabric staining cover to your customers then you'll need to be either authorised by the FCA or an 'appointed representative' of an authorised insurer. You can find out more on the FCA website.
Licensing of second-hand dealers
You might decide to sell second-hand furniture, either as well as or instead of new items. Local authorities in Scotland require second-hand dealers to obtain a licence or registration to operate. This applies unless dealing in second-hand goods is only incidental to the main business activity. Elsewhere in the UK, some local authorities license or register businesses (with some specific exemptions) where second-hand dealing is the main or a significant part of the business and is not just incidental. If you are in any doubt as to whether second-hand dealer licensing may apply to your business, contact your local authority trading standards department for guidance.
Furniture and furnishings
Specific regulations cover the safety of many products and you must only stock goods that comply with these regulations. You are responsible for making sure that any new, upholstered furniture displayed for sale carries the right display label about fire safety. When these goods are supplied to customers you must make sure they carry a permanent label. If the manufacturer has only fitted the shorter version of the permanent label, you must get further details from the manufacturer and keep these safely for five years.
Don't forget that any motorised furniture you sell - like electrically operated recliner chairs - must have been risk assessed and must be CE marked.
If you sell any secondhand upholstered furniture, it must also comply with the same strict flammability requirements as new furniture. So you should only sell used furniture if it carries a permanent fire safety label, or you can show that it was originally supplied after 1 March 1990 (or before 1950 in the case of vintage and antique furniture).
Materials used for re-upholstering must also comply with fire safety standards. Check this with your suppliers if you carry out any re-upholstery work.
You can read guidance on the fire safety regulations for furniture on the Fire Safety Advice Centre website.
Guidance on selling safe new and used furniture is available from the Trading Standards Business Companion website.
Copyright matters
In 2016, the period of copyright protection for artistic works that have been industrially exploited (for example replica furniture) was extended from 25 years to a period ending 70 years after the death of the creator. To allow time to adjust to the extended period, the furniture industry, including retail outlets, had until 28 January 2017 to get rid of manufactured or imported replica furniture stock that contravened the new copyright law. Now, any replica furniture that comes under the new copyright protection must have a licence from the relevant rights holder.
e-Commerce
If you sell goods online there's special legislation that applies to your business. It covers matters like the information you must give on your website, distance selling and email privacy. There's detailed guidance on your legal obligations to consumers, and on the requirements when selling online, on the Trading Standards Business Companion website. Information about special legislation for online retailers is also available on the Gov.uk website.
Retailing
There is a wide range of legislation that applies to retail outlets and that protects the interests of the consumer. For example, goods and services must not be misleadingly described and the retail price of goods must be clearly displayed. Discounts and special offers must be genuine, not just made up. And phrases like "sale ends this Friday" must be genuine too - you mustn't try to panic shoppers into buying things there and then by pretending that the price is going to go up soon. You will be responsible for making sure that all goods or services are fit for their intended purpose and of satisfactory quality.
You must of course ensure that you trade fairly and honestly. For example, customers who pay you a deposit should have reassurance that they will get the goods they have ordered - or their money back in full. You can read more about consumer protection and fair trading legislation on the Gov.uk website.
Health & Safety, fire
You must comply with workplace health and safety and fire safety legislation.
Employment legislation
Anyone employing staff must comply with employment legislation. Important areas of legislation include recruitment, employment contracts, pay, working hours, holidays, employment policies, sickness, maternity, paternity, discrimination, discipline, grievances, dismissals, redundancies and employment tribunals.
Insurance for a furniture shop
Contact an insurer or insurance broker and explain exactly how your business will operate - they will then explain what insurance cover you must have by law, and other cover you should consider. This might include:
public liability
product liability
employer's liability
premises and glass
premises contents and stock
goods in transit (being collected or delivered)
cash
business interruption
commercial legal expenses
motor insurance (for delivery vehicles)
It is worth noting that some buying groups offer their members special insurance policies, which might save you money and provide the level of cover you need. The British Independent Retailers Association (BIRA) also offers insurance services to its members.
When comparing insurance quotes, uncover the differences between policies by using an insurance comparison form.