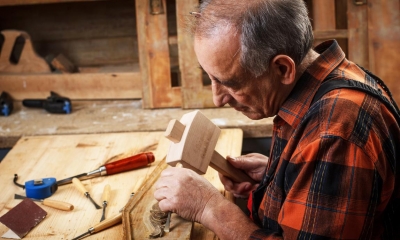 Antique furniture restoration uses some potentially harmful substances and procedures so care should always be taken to comply with health and safety and environmental legislation to make the workshop as safe an environment as possible for both you and any employees you have.
Some of the key areas where legislation is likely to affect your business are listed below.
What licences does a furniture restorer need?
There are no licensing requirements relating specifically to antique furniture restorers.
You should, however, be aware that if you spray solvent-based paints, lacquers and varnishes as part of your restoration activities then you may need an environmental permit (in England and Wales) or a pollution prevention and control permit (in Scotland and Northern Ireland). You can find out more about environmental and pollution control permitting on the Gov.uk website.
Note that premises in Wales which produce 500kg or more of hazardous waste in any 12 month period need to register with Natural Resources Wales.
The Export of Goods (Control) Order requires an export licence to be obtained for 'cultural goods' and antiquities over a certain age and value if they are to be exported from the UK. Full details are available from the Arts Council Export Licensing Unit. The Arts Council provides several guidance publications for exporters - you can find out more and download publications from the Arts Council website.
If you plan to work with certain restricted goods made from endangered species of plants or animals (for example ivory or tortoiseshell) then you should familiarise yourself with the CITES (Convention on International Trade in Endangered Species) licensing rules. Many restorers stick to using recycled and pre-Convention stocks of these materials.
Be aware too that there may be licensing issues relating to the possession - including temporary possession - of antique and historic firearms and weapons.
Dealing in antiques
The Dealing in Cultural Objects (Offences) Act makes it illegal to knowingly deal in any object that might be 'tainted' - that is to say obtained in an illegal manner. Dealers are expected to take appropriate steps to make sure that any object they purchase is not tainted in this way. Of course, it goes without saying that normal criminal law applies when it comes to receiving and selling stolen goods, passing items off fraudulently and so on.
Don't forget many countries have introduced bans on trading in ivory. The government has recently announced that, with a few exceptions, it will ban sales of ivory items in the UK.
Retailing
If you decide to sell antiques and other items direct to members of the public you should be aware that there is a wide range of legislation that applies to retail outlets and that protects the interests of the consumer. For example, goods and services must not be misleadingly described and the retail price of goods must be clearly displayed.
Use of equipment and tools
The Provision and Use of Work Equipment Regulations cover the use and maintenance of hand and power tools so that they are used in conditions that are as safe as possible.
Storage, use and disposal of potentially hazardous substances
Specific regulations cover the use, storage and sale of substances such as aniline dyes or turpentine. Under the Control of Substances Hazardous to Health (COSHH) Regulations employers must assess the risk of using and storing potentially harmful products and put in place measures to reduce the risks. You will also have a duty to ensure that waste chemicals are disposed of safely - for example by using an authorised waste carrier. Contact your local authority environmental health department for guidance.
Note that special regulations permit the use of paint stripping products that contain dichloromethane (DCM) by suitably trained and assessed professionals such as conservators. DCM paint strippers can not be supplied to non-professional users.
HSE produces a helpful information sheet, Health Risks During Furniture Stripping Using Dichloromethane, which is available to download from the HSE website.
Personal protective equipment
People working in furniture restoration may be exposed to potentially harmful substances, for example wood dust or paint stripper, and you should consider what protective clothing you should provide to minimise the risks to health. You should make sure that your employees use the protective clothing correctly and you should arrange for it to be laundered on a regular basis. Don't overlook the need to wear facemasks when undertaking some jobs. You can download Personal Protective Equipment (PPE) at Work from the HSE website for more information. Consider installing dust and/or fume extraction units if necessary.
The environment
Some of the chemicals you might use - and waste products and dust that you may produce - are potentially harmful to the environment if not handled and disposed of properly. Environmental protection legislation covers a wide range of issues, from waste and effluent disposal to safe storage of potentially harmful substances and pollution prevention. Be sure that all of your waste is disposed of properly by a licensed waste disposal contractor.
You may also be affected by regulations referred to as REACH - this stands for the Registration, Evaluation, Authorisation and Restriction of Chemicals. It aims to protect human health and the environment by controlling chemical substances. Check with your supplier that the chemicals you use have been correctly pre-registered or registered.
Health & Safety, fire
You must comply with workplace health and safety and fire safety legislation.
You and your employees may regularly handle heavy, bulky items which are difficult to grasp and which may have sharp surfaces which can cut or scratch someone. You should be aware that you must reduce the risks of injury to your employees as far as possible. You can download Manual Handling at Work from the Health and Safety Executive (HSE) website.
Employment legislation
Anyone employing staff must comply with employment legislation. Important areas of legislation include recruitment, employment contracts, pay, working hours, holidays, employment policies, sickness, maternity, paternity, discrimination, discipline, grievances, dismissals, redundancies and employment tribunals.
Insurance for a furniture restorer
Contact an insurer or insurance broker and explain exactly how your business will operate - they will then explain what insurance cover you must have by law, and other cover you should consider. This might include:
employer's liability
public liability
premises, premises contents and stock of materials
goods in trust
goods in transit (for example antiques and materials being collected or delivered)
business interruption
professional indemnity
motor insurance (for delivery vehicles)
It's very important to ensure that all items left with you for restoration are fully covered at all times. From time to time you may need to extend your cover if you are working on a particularly valuable item.
Full members of the British Antique Furniture Restorers' Association (BAFRA) benefit from access to favourable business insurance rates. BAFRA requires accredited members to hold public liability and professional indemnity insurance.
When comparing insurance quotes, uncover the differences between policies by using an insurance comparison form.