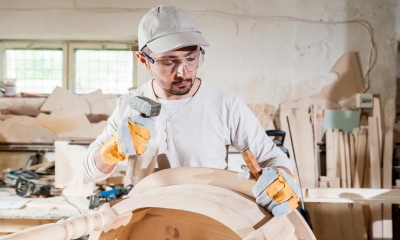 The following is an overview of important pieces of legislation that may apply to your furniture business.
What licences does a furniture maker need?
There are no licensing requirements which apply specifically to furniture manufacturers.
If you sell goods direct to consumers and you offer them finance then you will need consumer credit authorisation from the Financial Conduct Authority (FCA). For more information visit the consumer credit section of the FCA website.
Depending on the scale of your business and how you operate, you may well need one or more reasonably large delivery vehicles. If your business operates goods vehicles with a gross plated weight of more than 3.5 tonnes (or unladen weight more than 1,525 kg for unplated vehicles) then it will need a goods vehicle operator licence in England, Scotland and Wales. You must have an operator licence for each Traffic Area in which you have a base. Licences are issued by the Traffic Commissioner for that area. There are eight Traffic Areas covering England, Wales and Scotland. In Northern Ireland you may need a goods vehicle operator's licence from the Transport Regulation Unit (TRU) of the Department for Infrastructure (DfI). More information about goods vehicle operator licensing is available on the Gov.uk website - and from the DfI in Northern Ireland.
You should also be aware that businesses that keep records of individuals' personal details - perhaps for finance purposes - may be required to register as data users with the Information Commissioner's Office (ICO). From May 2018 the General Data Protection Regulation has introduced additional protection for personal data. You may also need to register if you use CCTV equipment.
Furniture safety
Many items of furniture are covered by specific regulations to make sure that they meet fire safety requirements. Manufacturers must carry out tests on fabrics and fillings to make sure they comply with the legal standards. Records must be kept of the results of the tests. You must also make sure that new, upholstered furniture carries an appropriate display label regarding fire safety.
Guides on fire safety regulations for furniture in domestic and non-domestic settings are available to download from the British Furniture Manufacturers Association (BFM) website.
Copyright matters
The period of copyright protection for artistic works that have been industrially exploited (for example replica furniture) has been extended. To allow time to adjust to the extended period, the furniture industry, including retail outlets, has until 28 January 2017 to get rid of manufactured or imported replica furniture stock that doesn't comply with copyright law. After that date any replica furniture that comes under the new copyright protection must have a licence from the relevant rights holder.
Packaging waste regulations
Businesses which handle 50 tonnes or more of qualifying packaging materials annually and turn over more than a certain amount (currently £2 million) have obligations under packaging waste regulations. They must either register with one of the following and carry out the necessary recovery and recycling of packaging waste:
Natural Resources Wales
the Environment Agency in England
the Northern Ireland Environment Agency
the Scottish Environment Protection Agency (SEPA) in Scotland
Alternatively, they can join one of the compliance schemes (for example Valpak or Biffpack).
Consumer protection
Consumer protection legislation covers the safety of products sold in the UK and EU. Manufacturers must make sure that the goods they produce are not defective. Any components you buy in from other suppliers should be identifiable so that if a finished item is defective, leading to a claim, any faulty component can be traced. Your local Trading Standards Department should be able to answer queries about how consumer protection legislation affects your business.
If you decide to sell your furniture direct to members of the public you should be aware that there is a wide range of legislation that applies to retailers to protect the consumer. For example, goods and services must not be misleadingly described and the retail price of goods must be clearly displayed. Special 'distance selling' legislation covers the sale of products online or by mail order.
There's detailed guidance on your legal obligations to consumers, and on the requirements when selling online, on the Trading Standards Business Companion website. More information about consumer protection and fair trading legislation is also available on the Gov.uk website.
Environmental matters
Larger furniture manufacturers in particular need to be aware of legislation that controls pollution to air, land or water that occurs as a result of the activities carried out. Activities that fall within the scope of the pollution control legislation are known as 'prescribed processes'. 'Timber processes' are subject to the legislation and, depending on the scale of your business, you may need to obtain a permit from the Environment Agency in England, Natural Resources Wales, the Northern Ireland Environment Agency or the Scottish Environment Protection Agency (SEPA) in Scotland - or from your local authority. You can find out more about environmental management on the Gov.uk website.
Health & Safety, fire
You must comply with workplace health and safety and fire safety legislation. Regulations of particular importance to furniture manufacturers include:
the Control of Substances Hazardous to Health Regulations (COSHH). These regulations require employers to carry out risk assessments in the workplace to identify hazardous activities and to put in place measures to reduce the risks. You will need to control wood dust levels and noise and make sure that potentially dangerous substances such as solvents, paints, adhesives and so on are stored and used safely
the Manual Handling Operations Regulations, which aim to reduce the risk of injury where heavy objects have to be lifted
the Provision and Use of Work Equipment Regulations (PUWER), which cover the safe use and maintenance of hand and power tools
the Personal Protective Equipment at Work Regulations, which cover the provision of protective items such as overalls or goggles where employees are engaged in potentially harmful activities
Further information and guidance leaflets on all aspects of health and safety, including specialist information for the manufacturing sector, are available on the Health and Safety Executive (HSE) and Health and Safety Executive Northern Ireland (HSENI) websites. You can also get help and advice from your local authority environmental health department.
The British Furniture Manufacturers Association offers advice and guidance to members on certain legal issues that may affect them, including health and safety and environmental matters. Visit their website for details of this and other membership benefits.
Fire safety is particularly important in a furniture manufacturing workshop or factory, where there are likely to be flammable materials like wood, lacquers, waxes, solvents and shavings.
Employment legislation
Anyone employing staff must comply with employment legislation. Important areas of legislation include recruitment, employment contracts, pay, working hours, holidays, employment policies, sickness, maternity, paternity, discrimination, discipline, grievances, dismissals, redundancies and employment tribunals.
Insurance for a furniture maker
Contact an insurer or insurance broker and explain exactly how your business will operate - they will then explain what insurance cover you must have by law, and other cover you should consider. This might include:
employer's liability
public liability
product liability, including product recall
premises, premises contents
machines and equipment
timber, raw materials, work-in-progress
finished items
goods in transit (being collected or delivered)
business interruption
loss of income/profit
credit insurance (cover against bad debts)
legal expenses cover
motor insurance (for delivery vehicles)
The British Furniture Manufacturers Association offers members a free business insurance 'health check', along with access to insurance quotations from preferred specialist insurers. Similarly, the Association of Master Upholsterers and Soft Furnishers has negotiated preferential business insurance rates for members. You can find out more about these and other membership benefits on their websites.
When comparing insurance quotes, uncover the differences between policies by using an insurance comparison form.