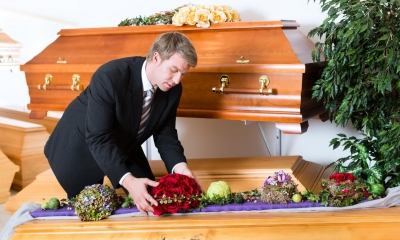 Apart from legislation passed in 2016 giving Scottish Ministers powers to introduce a scheme for licensing funeral directors, there is no legislation specifically for funeral directors. However, as a business person engaging in activities that are potentially hazardous to both people and the environment, there is certain legislation that you should be aware of.
What licences does a funeral director need?
There are no specific nationally-applicable licences that you will need to operate as a funeral director, so if your business activities are going to fall within the usual range of services offered by this type of business you don't need to do anything further. Legislation passed in 2016 gives Scottish Ministers powers to regulate the funeral industry by introducing a scheme for licensing funeral directors.
Some local authorities require funeral directors (and sometimes monumental masons) to register with them before they're permitted to operate within the authority's cemeteries and burial grounds.
Note that funeral prepayment plans can potentially fall within the regulatory scope of the Financial Conduct Authority (FCA). If you intend to operate your own scheme you will need to either obtain authorisation from the FCA or meet the criteria for exemption. If you intend to operate your own scheme then it's usually much more practical to set things up so that it meets the exemption criteria. If you do this then you might want to register as a plan provider with the Funeral Planning Authority. Of course, an alternative to setting up your own scheme is to use one of the existing specialist providers.
FCA authorisation may also be required if you offer your customers credit over a period of longer than 12 months and/or with more than 12 repayment instalments.
Voluntary licensing
The British Institute of Funeral Directors (BIFD) operates a voluntary licensing scheme - the BIFD Licence to Practise - to promote good practice in the industry. Participating funeral directors must meet certain criteria and show a commitment to continuing professional development. You can find out more on the BIFD website.
Most of the other trade associations in the funeral service sector require their members to adhere to a code of practice.
Consumer protection legislation
It goes without saying that you should always deal fairly, openly and honestly with your clients. Consumer protection legislation covers matters like:
giving proper and transparent price information, including details about exactly what is included in the price
making sure the goods and services you provide are of adequate quality and as you describe them
making it clear who owns your business
agreeing fair contracts with customers (including agreements you make when you visit them at home)
not pressuring customers to spend more - for example by suggesting that the deceased 'deserves better' or 'would expect more'
There is detailed information about consumer protection and fair trading legislation on the Trading Standards Business Companion website. Information is also available on the Gov.uk website. Your local Trading Standards Department will be able to advise you if you have a specific query about how consumer protection legislation affects your business.
Members of the National Association of Funeral Directors (NAFD) are required to participate in the independent Funeral Arbitration Scheme (FAS) run on behalf of the association. The conciliation and arbitration scheme is designed to resolve disputes between funeral directors and their clients.
Other relevant legislation
As a funeral director, you should be aware of the legislation which covers the registration of deaths and the disposal of bodies. This includes:
the Births and Deaths Registration Acts and the Registration of Births and Deaths Regulations cover matters such as informing the District Registrar for Births and Deaths. They require that a Registrar's certificate is obtained prior to the disposal of a body
the Local Government Act, under which the modern Burial Authority was established
the Burial Laws Amendment Act 1880 (to the Burial Act 1852) which covers situations where a burial is to take place in a graveyard without the rites of the Church. A certificate of burial must be passed to the vicar or minister in charge of the parish or district
the Cremation Acts and Regulations, which cover procedures that need to be followed before a body can be cremated
Note that funeral prepayment plans fall within the scope of financial services legislation under the Financial Services and Markets Act, although the Act sets out exclusion criteria which plan providers take advantage of.
Help with legal matters
Trade associations and professional bodies can often help their members with things like legal matters. The NAFD, for example, offers members access to a range of business support helplines, including legal and employment law. You can find out more about this and other benefits on the NAFD website.
Health & Safety, fire, and environmental legislation
the Public Health Act empowers local authorities to pass by-laws governing the use and provision of mortuaries and post-mortem rooms. Check with your local authority environmental health department for details of any relevant bye-laws in your area
the Public Health (Control of Diseases) Act and regulations made under it cover situations where a person dies while suffering from a notifiable disease, and restricts the period of time for which a body may be retained after death
the Control of Substances Hazardous to Health (COSHH) Regulations cover the storage and use of chemicals and other potentially harmful substances
the Environmental Protection Act and waste regulations - including those covering hazardous waste - cover the disposal of waste chemicals, detergents and so on
the Health and Safety at Work Act and the numerous regulations made under it cover all aspects of health and safety. Employers have a duty to ensure the health and safety at work of all their employees. Those with five or more employees must prepare a written health and safety policy statement. Some key areas where health and safety regulations affect your business, particularly if you employ staff, include the use of electrical equipment, adequate provision of protective clothing and equipment and the reporting of any accidents at work
You must comply with workplace health and safety and fire safety legislation.
Employment legislation
Anyone employing staff must comply with employment legislation. Important areas of legislation include recruitment, employment contracts, pay, working hours, holidays, employment policies, sickness, maternity, paternity, discrimination, discipline, grievances, dismissals, redundancies and employment tribunals.
Insurance for a funeral director
Contact an insurer or insurance broker and explain exactly how your business will operate - they will then explain what insurance cover you must have by law, and other cover you should consider. This might include:
employer's liability
public liability
professional indemnity/negligence
premises and premises contents
specialist insurance for all business vehicles (hearses, limousines, vans and so on)
If your business uses horses for horse-drawn carriages then you should make sure that they are properly covered too.
Also consider cover for instances such as employment disputes, personal accident and injury, loss of earnings, business interruption and so on.
Trade associations sometimes offer special insurance packages and discounts to their members. For example, the National Association of Funeral Directors (NAFD) offers its members free professional indemnity insurance along with a package of discounted business insurance services designed specifically for funeral businesses.
When comparing insurance quotes, uncover the differences between policies by using an insurance comparison form.