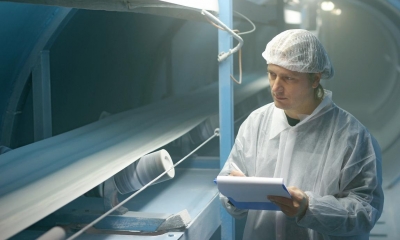 There are several pieces of legislation that apply to food manufacturers. They cover areas such as licensing, food safety, and organic products.
What licences does a food manufacturer need?
Various food safety laws cover all aspects of food preparation, processing, manufacturing, packaging, storing, handling, distributing and offering for sale foodstuffs. All food premises must register with their local environmental health department.
If you produce organic ranges - like ready meals or products for the catering trade - you will need to obtain certification of organic status from one of the approved certification bodies, the largest of which is the Soil Association. Visit the Soil Association website for more information.
If you manufacture Fairtrade marked products you'll need to be approved as a registered licensee by the Fairtrade Foundation and you'll have to sign a licensing agreement. There is a fee for using the Fairtrade Mark - the amount is based on quarterly reports that you must submit to the Foundation giving details of your purchases and sales of Fairtrade marked products.
Food safety
The Food Safety Act and regulations made under it provide the framework for all food legislation that businesses in the food sector must comply with. Before you start trading you must register your premises with your local authority environmental health department. They will provide guidance on the requirements relating to your premises, fittings and equipment. They will also tell you what you must do to comply with requirements for training your staff, carrying out a hazard analysis and implementing a HACCP plan. More details on HACCP are available on the Food Standards Agency's and the Chilled Food Association's websites or you can use the MyHACCP tool for small food manufacturers on the Food Standards Agency website. Regulations require food businesses to observe certain temperature controls on the storage of food where otherwise there would be a risk to health. You will need to keep a record of storage temperatures.
There is a large amount of legislation applying to food manufacturers and you can download many helpful guidance documents from the Food Standards Agency website. The Trading Standards Business Companion website also provides useful information that's relevant to food manufacturers.
Soft Drinks Industry Levy
You'll need to register and pay the Soft Drinks Industry levy if you produce, package or import over one million litres of 'liable' drinks a year. Liable drinks include those containing 5g of sugar or more per 100ml. You can find out more about the levy on the Gov.uk website.
Food waste
If your business produces food waste you must make sure that you dispose of it correctly. It mustn't contaminate the environment and it can't be fed to livestock. If you use a waste carrier to get rid of your waste you'll need to make sure they're properly authorised. You can find out more about your responsibilities on the Gov.uk website.
Traceability
Food and drink manufacturers must by law keep certain traceability records of supplies like ingredients that they buy in. These records must be kept for five years - six months if the ingredients are perishable. Manufacturers must also keep a similar record of food and drink products they have supplied to other businesses.
Weights and measures
Weights and measures legislation requires most pre-packed food to carry on the container an indication of the net quantity of the contents in metric measurements. (You can also include imperial measurements alongside the metric units.) There's more information in the Trading Standards guidance note 'Packaged goods - average quantity' which is available on the Business Companion website.
Organic products
Only products which meet set requirements can be sold as organic. The Soil Association provides guidance on how food manufacturers can achieve organic certification.
Packaging regulations
Businesses which handle 50 tonnes or more of qualifying packaging materials must register with:
the Environment Agency in England
Natural Resources Wales
the Northern Ireland Environment Agency
the Scottish Environment Protection Agency (SEPA) in Scotland
They must carry out the necessary recovery and recycling of packaging waste. Alternatively they may join one of the compliance schemes currently operating (for example Valpak or Biffpack).
Advertising food and drink to children
There are rules governing the advertising of food and drink products to children. These apply to both non-broadcast and television adverts. Think carefully about the products you'll include in your advertising if it's included in programmes that children will watch. You can find out more on the Advertising Standards Authority (ASA) website.
Gangmasters (Licensing) Act
Because your business operates in the food processing sector you will need to make sure that any labour provider you use has a licence from the Gangmasters & Labour Abuse Authority (GLAA). This was previously the Gangmasters Licensing Authority (GLA). More information about gangmaster licensing, including a database of licensed gangmasters, is available on the GLAA website.
Factories Act
This Act and subsequent regulations cover such things as work conditions and the safety of machinery and equipment.
Goods vehicles
You may decide that you need a medium to large van or lorry if you intend to deliver food products to trade customers. If your business operates goods vehicles with a gross plated weight of more than 3.5 tonnes (or unladen weight more than 1,525 kg for unplated vehicles) then it will need a goods vehicle operator licence in England, Scotland and Wales. You must have an operator licence for each Traffic Area in which you have a base. Licences are issued by the Traffic Commissioner for that area. There are eight Traffic Areas covering England, Wales and Scotland. In Northern Ireland you may need a goods vehicle operator's licence from the Transport Regulation Unit (TRU) of the Department for Infrastructure (DfI). More information about goods vehicle operator licensing is available on the Gov.uk website - and from the DfI in Northern Ireland.
Playing music in a public place
A Music Licence from PPL PRS Ltd is normally required for the public use of copyright music anywhere in your premises, from the factory floor to any retail or café areas you have.
Workplace smoking ban
Smoking is no longer permitted in any workplaces, including work vehicles. You must display appropriate 'No Smoking' signs. The legislation varies slightly in different parts of the UK so contact your local authority for details of how the ban affects you. You can also find out more on the HSE website.
Health & Safety, fire
You must comply with workplace health and safety and fire safety legislation.
Employment legislation
Anyone employing staff must comply with employment legislation. Important areas of legislation include recruitment, employment contracts, pay, working hours, holidays, employment policies, sickness, maternity, paternity, discrimination, discipline, grievances, dismissals, redundancies and employment tribunals.
Insurance for a food manufacturer
Contact an insurer or insurance broker and explain exactly how your business will operate - they will then explain what insurance cover you must have by law, and other cover you should consider. This might include:
premises, premises contents
plant and machinery
raw materials, work-in-progress, finished goods
goods in transit (being collected or delivered)
business interruption
employer's liability
public liability
product liability
product recall
motor insurance (for delivery vehicles)
When comparing insurance quotes, uncover the differences between policies by using an insurance comparison form.