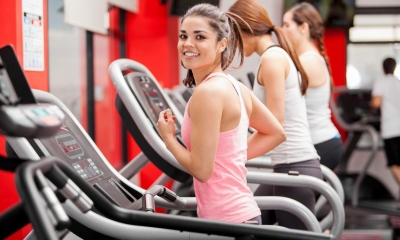 There are several pieces of legislation that apply to fitness centres. They cover areas such as licensing, sunbeds, and your employees.
What licences does a fitness centre need?
The licences/registrations that your fitiness centre will need will depend on the range of activities carried out and the services offered. Common activities that need a licence include:
if you sell or prepare food on the premises, the business must be registered with the local authority environmental health department
if you use copyright recorded music in fitness classes, you must obtain an 'Exercise to music' licence from PPL. The fee for this licence is calculated according to the number of fitness classes you run in a year, with members of ukactive able to qualify for a discount. Bear in mind that, since the rules changed in 2013, your centre needs this licence even if all exercise-to-music classes that you offer are taken by freelance instructors. It's also worth noting that a PRS for Music ProDub licence is required for an individual to be able to copy music onto various formats and devices and then to use this music for professional or semi-professional purposes such as a fitness class (unless all the music is purchased from a company that holds a PRS for Music 'Fitness Music Services' licence, in which case the ProDub licence is not usually required)
if you play background music elsewhere in the centre - for example in changing rooms, workout areas or the restaurant - you'll need a further licence from PPL PRS Ltd
if television programmes are shown in the fitness rooms or communal areas, you'll need a television licence from TV Licensing. You'll need an MPLC licence if you plan to screen films and TV shows
if you keep computerised records of individuals' personal details and/or use CCTV you may need to register as a data user with the Information Commissioner's Office
If your fitness centre offers spa and beauty facilities, you may need to be aware of the following:
if you offer treatments which carry a risk of cross infection such as electrolysis and piercing, the business must register these with the local environmental health department
if you offer beauty treatments, you should contact your local environmental health department to find out if you need to be licensed
if you offer treatments using lasers or intense pulsed light systems in Northern Ireland you'll need to register with the Regulation and Quality Improvement Authority (RQIA). The registering authority in Wales is the Healthcare Inspectorate Wales (HIW). You don't need to register if you're based in England or Scotland
Unfair terms in contracts
You should make sure that the contracts you enter into with your members don't include unfair terms. The Competition and Markets Authority (CMA) publishes a guidance document 'Guidance on unfair terms in health and fitness club agreements' which you can download from the Gov.uk website. There's also guidance on consumer contracts on the Trading Standards Business Companion website.
Sunbeds
Some local authorities may require centres that offer sunbeds to register with them and/or to be licensed. They may impose restrictions on the way you operate and will inspect your premises to make sure you comply with health and safety regulations.
You must make sure that both customers and staff are protected as far as possible from the potentially damaging effects of UV radiation. You must also make sure that spent tubes are disposed of in accordance with hazardous waste regulations.
All your sunbeds and any other electrical equipment you use must be professionally installed and regularly maintained so that they are safe for both customers and staff to use. You should put in place a system for regularly examining your electrical equipment and for getting things fixed if any problems are discovered.
Substances hazardous to health
You have a duty to evaluate all risks and implement procedures to remove or reduce these risks by preventing or controlling exposure to hazardous substances. Hazardous substances found in a health and fitness club might include swimming pool chemicals, cleaning materials and beauty salon materials such as bleaches, dyes, nail polish remover and so on.
Employees
If your club is a member of ukactive, you must ensure that any of your employees that instruct or demonstrate exercises are qualified in line with National Occupational Standards.
If you plan to take exercise referral scheme patients you must ensure that your instructors are on the Register of Exercise Professionals. In practice this means that they must be properly qualified.
Health & Safety, fire
You must comply with workplace health and safety and fire safety legislation.
You must ensure, as far as is reasonably possible, the safety of members and other people using the centre. This may involve carrying out risk assessments, using qualified staff for life guarding, supervising and managing any swimming pool facilities, and ensuring that facilities and equipment are properly maintained and meet required standards. (The Swimming Teachers' Association offers qualifications in practical life guarding skills and pool management to assist operators in fulfilling their health and safety obligations with regard to swimming pools.)
You must also make sure that you comply with other health and safety legislation. This covers all aspects of work place health and safety. Employers have a duty to ensure the health and safety at work of all their employees. Those with five or more employees must prepare a written health and safety policy statement. You should contact your local authority health and safety section for advice and guidance.
Employment legislation
Anyone employing staff must comply with employment legislation. Important areas of legislation include recruitment, employment contracts, pay, working hours, holidays, employment policies, sickness, maternity, paternity, discrimination, discipline, grievances, dismissals, redundancies and employment tribunals.
Insurance for a fitness centre
Contact an insurer or insurance broker and explain exactly how your business will operate - they will then explain what insurance cover you must have by law, and other cover you should consider. This might include:
premises, premises contents and stock
goods in transit
cash
business interruption
employer's liability
public liability
product liability
motor insurance
When comparing insurance quotes, uncover the differences between policies by using an insurance comparison form.