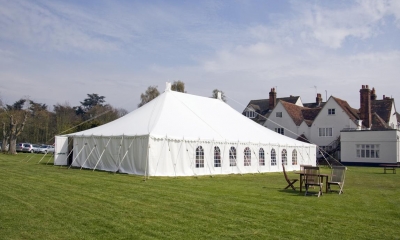 If you are starting a new business, rather than taking over an existing one, you may need to obtain planning permission from the local planning authority, particularly if you are changing the existing use of the premises.
In addition there is a wide range of legislation that may apply. Some of the key areas where legislation is likely to affect your business are listed below.
What licences does an event hire business need?
There are no licensing requirements relating specifically to operating as an event hire business.
You should, however, be aware of the following:
if you want to hire out any items on a long-term basis (longer than three months) you may need consumer credit authorisation from the Financial Conduct Authority (FCA)
if background music is provided in the hire shop you are likely to need a Music Licence from PPL PRS Ltd. There is an annual fee for this which you can pay online on the PPL PRS website
you will need an operator's licence if you use any vehicles which are over 3.5 tonnes gross vehicle weight and your driver/s must be appropriately licensed. (Operator's licences are issued by the Traffic Commissioner in Great Britain for the area in which you are based. Visit the Gov.uk website for further information. In Northern Ireland, goods vehicle operator's licences are issued by the Transport Regulation Unit (TRU) of the Department for Infrastructure (DfI) - you can find out more on the DfI website)
Hire contracts
There is a large amount of legislation covering the sale and supply of goods and services, consumer contracts and rights. You should draw up a standard contract of hire to use each time you hire an item. The HAE supplies members with standard terms and conditions which can be incorporated into hire contracts. Using a sound hire contract is vital in order to avoid misunderstandings and resolve any disputes that may arise.
You may need to be aware of regulations that cover off-premises contracts over £42. They require businesses that contract with consumers at their home or workplace to provide a written right to cancel the contract within a 14 day cooling off period. There is further information on consumer and fair trading legislation on the Gov.uk website.
Construction, Design and Management (CDM) Regulations
These Regulations, which were extended to temporary structures from April 2015, place an obligation on the supplier of the structure to consider and explain to the client the health and safety issues which will arise during the construction of their design and, once it is completed, in its maintenance. The client must be aware of his or her obligation to appoint a CDM co-ordinator whose duties include the co-ordination of a health and safety plan for the project. If you agree to help the event organiser by acting as co-ordinator you should draw up a separate agreement to cover this. You can download helpful Construction Information Sheets about the Regulations from the Health and Safety Executive (HSE) website.
Equipment safety standards
The items that you offer for hire must comply with the appropriate safety standards. Specific regulations set standards for various pieces of equipment. You should make sure that the equipment you buy complies with the latest UK standards - the supplier should be able to confirm this. You must check items between hirings to ensure that they are safe to use. In particular, the safety of any electrical equipment must be carefully tested. The Hire Association Europe (HAE) offers training courses on inspecting and testing all types of equipment. Your local trading standards department will be able to help you with any questions you might have about equipment specifications and standards.
Legal advice
The HAE offers specialist legal advice services to members. You can find out more about this and other membership benefits on the HAE website.
Hazardous substances
Various hazardous substances may be used by an event hire business and specific regulations cover their use, storage and disposal. Ensure that your and any employees' exposure to potentially harmful substances is minimised. This might involve precautions such as using gloves or barrier cream to limit exposure of the skin to oil or cleaning fluid and so on. Hazardous substances must be stored correctly as well.
Goods and services
There is a range of legislation that applies to all businesses, which protects the interests of the customer. Goods and services must not be misleadingly described. You must make sure that all items supplied are fit for the purpose for which they are intended - so for example, a sound system hired out for a conference should have a suitable power output. If you offer repairs to customers' equipment, these must be done with care.
Health & Safety, fire
You must comply with workplace health and safety and fire safety legislation.
Employment legislation
Anyone employing staff must comply with employment legislation. Important areas of legislation include recruitment, employment contracts, pay, working hours, holidays, employment policies, sickness, maternity, paternity, discrimination, discipline, grievances, dismissals, redundancies and employment tribunals.
Insurance for an event hire business
Contact an insurer or insurance broker and explain exactly how your business will operate - they will then explain what insurance cover you must have by law, and other cover you should consider. This might include:
premises, premises contents and stock of equipment
cover of equipment out on hire in case it is damaged, lost or stolen
cash
business interruption
employer's liability
public liability
product liability
motor insurance (for delivery vehicles)
Specialist hire firm insurance is available to members of the Hire Association Europe (HAE) through HAE Insurance Services. Information is available on the HAE website.
When comparing insurance quotes, uncover the differences between policies by using an insurance comparison form.