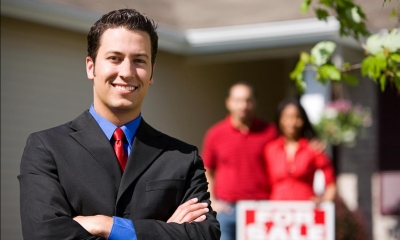 The following is an outline of some of the areas which may be relevant to your estate agency business.
What licences does an estate agent need?
All estate agents in the UK who engage in residential estate agency work must by law belong to an approved redress scheme that deals with complaints about buying and selling residential property. The Property Ombudsman Scheme (TPOS) is one of several schemes available to estate agents.
The same redress scheme requirement also applies to residential lettings agencies in England - once again an approved scheme is available from TPOS along with several other providers.
Estate agents must also stick to the terms of the Estate Agents Act and regulations made under it. The National Trading Standards Estate Agency Team of Powys County Council has the power to issue you with a Prohibition Order preventing you from working as an estate agent in the UK if you are found to be persistently in breach of the law.
You can find out more on the TPOS and Powys Council websites.
Residential landlords in Wales who have tenants on assured, assured shorthold or regulated tenancy agreements must register with Rent Smart Wales. Residential letting agents, and landlords who manage and administer their own lettings, must obtain a licence. There is more information on the Rent Smart Wales website.
Under the provisions of the Money Laundering Regulations estate agents must register with HM Revenue & Customs (HMRC) if they're not already regulated for money laundering purposes by the FCA, and put in place anti-money laundering systems. This applies both to estate agents operating within the UK market, and to UK-based agents who help clients to buy and sell overseas property. Under Money Laundering Regulations, HMRC is responsible for supervising estate agents to make sure they comply with anti-money laundering legislation. The Gov.uk website contains more information.
You may well decide to offer other related services for which you will need a licence. Some of these are listed below.
Surveying
To work as a professional chartered surveyor you will need to be a qualified member of the Royal Institution of Chartered Surveyors (RICS). However, if you only carry out valuations of properties to determine their market value prior to selling you don't need to be qualified.
If you want to be able to provide energy performance certificates yourself then you'll need to be a qualified and approved/accredited Domestic Energy Assessor. Once you're qualified, you'll need to belong to an approved accreditation scheme.
Conveyancing
If you are not a qualified solicitor and you want to carry out conveyancing work then you will need to obtain a conveyancer's licence from the Council of Licensed Conveyancers (CLC). There is a fee for this licence, as well as for the training which is required before a licence is awarded.
Financial services
If you want to sell and advise on financial services, including mortgages, then you or a member of staff must be registered with and authorised by the Financial Conduct Authority (FCA). An annual fee is payable for authorisation. Your authorisation may need to cover consumer credit if you're going to act as a mortgage broker. The FCA will be able to advise you of the steps you must take to become an authorised financial intermediary.
Data protection
Businesses that keep computerised records of individuals' personal details are usually required to register as data users with the Information Commissioner's Office (ICO) and to comply with the General Data Protection Regulation
Letting agents - waste broker registration
If you're a letting agent and you arrange for a third party to collect, transport and dispose of waste on behalf of landlords - for example between tenancies and/or on a regular basis in a commercial development or holiday let - then you'll need to register with the Environment Agency or the equivalent devolved environmental regulator as a licensed waste broker. You can find out more and register on the Gov.uk website.
Voluntary licensing
All members of the National Association of Estate Agents (NAEA) must meet Propertymark conduct and membership standards. There is more information about the standards on the Propertymark website.
Estate Agents Act
One of the main pieces of legislation that affects your business is the Estate Agents Act and various regulations made under it. The Act was significantly amended by the Consumers, Estate Agents and Redress Act (CEARA). It applies to any person who, in the course of their business, actively introduces potential buyers to property vendors and becomes involved in negotiating the sale ('passive intermediaries' like private property sales websites are excluded from the legislation). The Act covers a wide range of issues and focuses on honesty and transparency in dealing with others and the correct handling of other people's money.
CEARA makes it a legal requirement for residential estate agents to belong to a general redress scheme for resolving complaints and disputes (residential letting agents in England must also belong to an approved redress scheme).
Note that the Act does not apply to 'intermediaries' like websites which facilitate private property sales.
The National Trading Standards Estate Agency Team of Powys County Council publishes guidance on the law for estate agents on their website.
If you intend to operate in Scotland, you will be working within a different legal system from the rest of the UK. The Estate Agents Act makes provision for businesses operating in Scotland.
Residential letting agents are covered by rules which require them to publish clear details of their charges and to protect tenants' deposits. In Wales there are additional rules for letting agents along with a registration and licensing scheme for landlords and agents.
Property descriptions
It is illegal for an estate agent to knowingly or negligently make false or misleading claims about a property. You should take steps to make sure that all information about a property that you are given by the vendor is checked for accuracy before you incorporate it into any selling literature.
This aspect of estate agency used to be covered by specific legislation, but is now covered by general consumer and business protection regulations. You can find out more about consumer protection and fair trading legislation on the Gov.uk website. There's specific information for estate agents - as well as general guidance on fair trading law - on the Trading Standards Business Companion website.
Money Laundering Regulations
You should familiarise yourself with the requirements of the Money Laundering Regulations. Among other requirements they specify the customer identification procedures to follow, the records that must be kept of those procedures and the internal reporting procedures that must be set up. You will also have to train your employees in those procedures, in recognising money laundering transactions and in the law relating to money laundering. HM Revenue & Customs (HMRC) is responsible for supervising estate agents to make sure they comply with the regulations - you can find out more on the Gov.uk website.
Other relevant legislation
Other pieces of legislation that may be very relevant to your estate agency business include:
the Consumer Protection from Unfair Trading Regulations - as well as prohibiting estate agents from misdescribing properties, these regulations set out fair trading rules for all consumer-facing business. The Business Protection from Misleading Marketing Regulations also apply to estate agency work
the Financial Services and Markets Act - this applies if your business offers financial services (including mortgage advice) to clients and requires you to be authorised by the Financial Conduct Authority (FCA)
the Landlord and Tenant Act - this applies if you offer a residential lettings service and requires you to ring-fence any money you handle in the course of providing this service that is not your own
the Auction (Bidding Agreements) Act regulates the way in which auctions are conducted
Separate legislation covers consumer contracts - including those made in the client's home of workplace - and deals with matters such as cooling-off periods and cancellation rights.
You should be aware that all domestic properties placed on the market require an energy performance certificate (EPC). This should be commissioned - but does not have to have been received - before the property is marketed. Rental properties need an EPC too.
Be aware too that in some parts of the country landlords - or their agents - need to make 'right to rent' checks on prospective tenants to check they're living in the UK legally. Elsewhere, there's a statutory code of practice for residential landlords to help them avoid breaching the laws on immigration control. The right to rent check requirement was extended to all landlords in England from early 2016. You can find out more on the Gov.uk website.
Health & Safety, fire
You must comply with workplace health and safety and fire safety legislation.
Employment legislation
Anyone employing staff must comply with employment legislation. Important areas of legislation include recruitment, employment contracts, pay, working hours, holidays, employment policies, sickness, maternity, paternity, discrimination, discipline, grievances, dismissals, redundancies and employment tribunals.
Insurance for an estate agent
Contact an insurer or insurance broker and explain exactly how your business will operate - they will then explain what insurance cover you must have by law, and other cover you should consider. This might include:
employer's liability
public liability
professional indemnity
premises, premises contents
theft or loss of keys
loss of accounts and records
client money and deposits
motor insurance (for business vehicles - including those used by staff, whether their own or those belonging to the business)
loss of earnings
If you and your employees are going to use your own vehicles to travel to appointments and viewings, make sure that your motor insurance cover reflects this.
The National Association of Estate Agents (NAEA) has negotiated preferential rates on specialist professional indemnity insurance for its members.
When comparing insurance quotes, uncover the differences between policies by using an insurance comparison form.