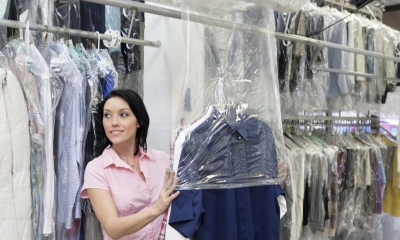 As a dry cleaning business, there's a range of legislation that you need to be aware of.
What licences does a dry cleaner need?
Under the Environmental Permitting Regulations all dry cleaning premises must be registered with the local authority environmental health department, who will issue an operator's permit if the equipment used meets the required standards. There is an annual fee for this permit. In Scotland permits are issued by the Scottish Environment Protection Agency (SEPA). Note that outlets that operate just as receiving units don't need a permit. Also bear in mind that it can take up to three months for your local authority to process your licence application and you're not allowed to operate without one.
Other licences required
If you plan to play background music in your outlet then you are likely to need a Music Licence from PPL PRS Ltd. There is an annual fee for the licence.
Legislation that's particularly important to dry cleaning businesses
The following is an outline of some of the areas which may be relevant to you. The list is not exhaustive and should only be used as a starting point.
As a permit-holding dry cleaning business proprietor, you should be particularly aware of the potential hazard posed to you, your staff, your customers and the environment by cleaning chemicals and solvents, hot steam, machinery, electricity, heavy items and heating equipment. In many cases legislation exists to protect people and the environment.
Solvent Emissions Directive
Under this piece of legislation and the related Environmental Permitting Regulations, everyone that uses dry cleaning solvents has to be competent and qualified and they also have to hold a permit from the local authority. The Guild of Cleaners and Launderers (GCL) provides a great deal of information to its members on the Directive and how to get a permit. It also offers a qualification called The Safe Handling of Dry Cleaning Solvents. Holders of this qualification meet the requirements of the Directive. You can find out more from the GCL website.
Hazardous substances
Various pieces of legislation regulate the use of hazardous substances:
the Control of Substances Hazardous to Health (COSHH) Regulations and Solvent Emissions Regulations cover the storage and use of chemicals such as perchloroethylene ('perc'), which is the main solvent used for traditional dry cleaning
the Environmental Protection Act and regulations made under it regulate the disposal of waste chemicals and detergents and so on. In addition, local bye-laws and regulations apply to waste water disposal and pipes - the local water company should be contacted for details
Your local authority environmental health department will be able to advise you on how the above legislation affects your business. Information is also available on the Gov.uk website.
Note that all electrical and gas equipment must be installed and maintained correctly by a suitably qualified engineer.
Health & Safety, fire
You must comply with workplace health and safety and fire safety legislation.
The key health and safety issues in a laundry and dry cleaning business include solvent safety and machine safety. The Health and Safety Executive (HSE) publishes guidance on its website that covers:
legionella in dry cleaners' water cooling towers
working with solvents
contaminated laundry
manual handling
electrical safety
The HSE also publishes the health and safety leaflet 'Dry cleaners: Are you in control?' and an example risk assessment for dry cleaners.
The Textile Services Association (TSA) offers guidance to its members on health and safety matters.
Employment legislation
Anyone employing staff must comply with employment legislation. Important areas of legislation include recruitment, employment contracts, pay, working hours, holidays, employment policies, sickness, maternity, paternity, discrimination, discipline, grievances, dismissals, redundancies and employment tribunals.
Insurance for dry cleaners
Contact an insurer or insurance broker and explain exactly how your business will operate - they will then explain what
insurance cover you must have by law, and other cover
you should consider. This might include:
shop contents - including fittings, equipment and stock and covering against damage by water, fire and explosion
cash (in the shop and in transit)
business interruption
employer's liability
public liability
damage to customers' items
motor insurance for any business vehicles, including goods in transit (covering, for example, laundry being collected and delivered)
glass breakage
personal cover - including accident and injury, loss of earnings and so on
When taking out personal and employer's liability cover you may be asked for details of the types of activity that you and any staff will be engaging in. Be prepared to answer questions about the types of chemicals that you will be using, the type of equipment you will be using, your health and safety policy and so on.
You might look into obtaining a specialist policy designed specifically for businesses in the laundry industry. Trade associations may be able to put you in touch with insurers who offer such policies. Some of them also advertise in the trade press. If possible, you should obtain several quotes for comparison purposes. Read details of the level of cover offered by each to be sure that you are comparing like with like.