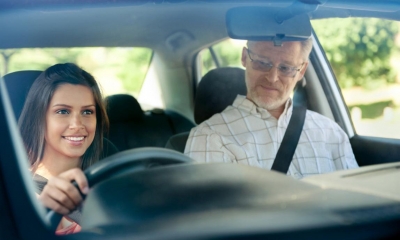 There are various pieces of legislation that will apply to your business, some of which are specific to driving instructing and some of which are general and apply to most or all businesses.
What licences do a driving school need?
As a professional driving instructor in Great Britain you are required by law to be registered with the Driver and Vehicle Standards Agency (DVSA) as an Approved Driving Instructor (ADI) who has completed and passed a special three part test. Fees for taking the three tests add up to around £300 (in addition to any money spent on ADI training). Driving instructors in Northern Ireland must be registered with the Driver and Vehicle Agency (DVA).
It goes without saying that you will need a valid UK driving licence for the category of vehicle you teach in and you will need to be deemed a 'fit and proper person' to give driving tuition. Part of demonstrating that you are a 'fit and proper person' includes undergoing a compulsory 'enhanced level' criminal record check, both when you first apply to become an ADI and when you renew your registration. Checks are carried out by the Disclosure and Barring Service (DBS). You will also need to be at least 21 years of age.
It is possible to apply for a Trainee Licence (PDI or 'pink ticket') when you have completed part of your ADI training. However, this is normally only valid for six months and will only be granted if you work for and are sponsored by a fully qualified ADI. (In 2013, under the coalition government, there was talk of phasing out the PDI system, so that all professional driving instructors would have to be fully qualified unless accompanied by a fully qualified ADI, but so far there has been no change.)
The DVSA and DVA charge a registration fee of £300 for four years. When it comes to renewing your registration you will have to pay a similar amount. Trainee Licences cost £140.
You will need to register separately with the DVSA if you want to become a Pass Plus instructor. There is a fee of around £40 for registering.
Pre-test motorcycle rider trainers and approved training bodies (ATBs) in Great Britain are also required to register with the DVSA. There's a voluntary DVSA register for post-test motorcycle rider trainers. In Northern Ireland, the DVA operates a register of approved motorcycle instructors.
Instructors who give tuition in large goods vehicles (LGV), articulated LGVs and passenger carrying vehicles (PCVs) are exempt from the requirement to register with the DVSA. The DVSA has voluntary registers for LGV instructors and fleet driver trainers and there is a similar register for PCV instructors run by the Joint Approvals Unit for Periodic Training. The DVSA also maintains a register for driving instructor trainers, known as the ORDIT register.
Motorcycle rider trainers must operate through a training body approved by the DVSA. At least one instructor in each approved training body must have passed the DVSA's Cardington assessment. Passing the Cardington assessment enables an instructor to give 'direct access' tuition to riders who want to learn on a larger capacity machine.
Periodic standards checks
As part of maintaining your ADI registration you will need to undergo a standards check from a DVSA examiner every few years - at least once during every four year period. Standards checks are graded A, B or fail. If you fail you'll get two more attempts to pass, but if you fail three times you'll be removed from the ADI register. If that happens, you'll need to re-take the three part test if you want to resume your career as a professional driving instructor.
Data protection
Businesses that keep computerised records of individuals' personal details are usually required to register as data users with the Information Commissioner's Office (ICO) and to comply with the General Data Protection Regulation[https://ico.org.uk/for-organisations/guide-to-data-protection/guide-to-the-general-data-protection-regulation-gdpr/
Driving and instructing
Other than the requirement to register with the Driver and Vehicle Standards Agency (DVSA) (or the Driver and Vehicle Agency (DVA) in Northern Ireland) as a qualified Approved Driving Instructor (ADI), the activities of professional driving instructors are not specifically regulated by any other specific legislation. However, as a registered ADI you are required to ensure that you drive and teach safely and responsibly. If your actions pose a threat to learner drivers or other road users then you can be suspended with immediate effect and removed permanently from the ADI register.
The test that you must pass before registering as an ADI is regulated by the Motor Cars (Driving Instruction) Regulations and amendments. The Road Traffic Act is itself a very important piece of legislation that you should become familiar with.
Other road safety matters
You should be aware that as well as being illegal to use a hand-held mobile phone while driving (except in a genuine emergency situation), it is against the law for a driving instructor to use a hand-held mobile while supervising a learner driver in a moving vehicle. This includes texting.
Seat belt rules apply to driving instructors and their pupils in the normal way, except that as an instructor you are permitted to remove your seat belt when supervising a pupil who is carrying out a manoeuvre that involves reversing.
Your teaching vehicle must, of course, be road legal and roadworthy, with a current MOT certificate of roadworthiness, valid motor insurance and a current vehicle excise duty licence (road tax). It must display regulation 'L' plates (or optional 'D' plates in Wales) that are clearly visible to other road users.
Health & Safety, fire
You must comply with workplace health and safety and fire safety legislation.
Employment legislation
Anyone employing staff must comply with employment legislation. Important areas of legislation include recruitment, employment contracts, pay, working hours, holidays, employment policies, sickness, maternity, paternity, discrimination, discipline, grievances, dismissals, redundancies and employment tribunals
Insurance for a driving school
Contact an insurer or insurance broker and explain exactly how your business will operate - they will then explain what insurance cover you must have by law, and other cover you should consider. This might include:
public liability (this is particularly important)
employer's liability (if you employ staff)
professional indemnity
premises and premises contents (if you have any premises)
personal accident
business interruption and loss of earnings
breakdown insurance
Some trade associations offer specialist insurance packages for their members. For example, the Driving Instructors Association (DIA) offers business and motor insurance at discounted rates for member driving schools, while the Motor Schools Association (MSA) offers its members tuition car insurance and tailored business insurance cover from an approved insurer. Several motor insurance companies specialise in insuring driving instructors - look out for advertisements in trade journals or try Yell.com.
Check out any tailor-made policies (and good rates) that have been negotiated by the Farm Retail Association for its members. When comparing insurance quotes, uncover the differences between policies by using an insurance comparison form.