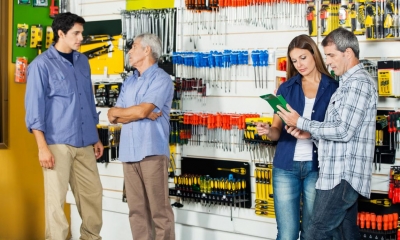 Some of the key areas where legislation is likely to affect your business are listed below.
What licences does a DIY shop need?
As a DIY goods retailer, you should be aware of the following:
you will need consumer credit authorisation from the Financial Conduct Authority (FCA) if credit facilities are offered to consumers, for example to spread the cost of a large purchase like an expensive tool
you'll need a Music Licence form PPL PRS Ltd if you play background music in your shop
if your business operates goods vehicles with a gross plated weight of more than 3.5 tonnes (or unladen weight more than 1,525 kg for unplated vehicles) then it will need a goods vehicle operator licence in England, Scotland and Wales. In Northern Ireland you may need a goods vehicle operator's licence from the Transport Regulation Unit (TRU) of the Department for Infrastructure (DfI). More information about goods vehicle operator licensing is available from the Gov.uk website - and from the DfI in Northern Ireland
Businesses in Scotland that sell non-domestic knives over a certain length need a knife dealer's licence from their local authority. However, this requirement is unlikely to apply to a typical DIY or hardware retailer that sells knives and blades designed for use in and around the home. If you do plan on selling non-domestic knives though - for example hunting and fishing knives stocked along with other country supplies - then you should check with your local authority.
Restrictions of sale
You cannot sell knives or blades to people under 18 years of age. If you're in Scotland you may need a knife dealer's licence from your local authority, depending on the types of knife you sell, although this requirement is unlikely to apply to a typical DIY or hardware retailer that sells knives and blades designed for use in and around the home (as opposed to hunting knives, for example).
It is an offence to supply a substance to a person under the age of 18 if you suspect that they are going to inhale the fumes for the purpose of causing intoxication. It is your responsibility to satisfy yourself that the person is not underage.
Storage, sale and disposal of potentially hazardous substances
Specific regulations cover the use, storage and sale of substances such as glue, paint stripper and varnish. You will also have a duty to ensure that waste chemicals are disposed of safely - for example, by using an authorised waste carrier. Contact your local authority environmental health department for guidance.
Substances that could be used to make explosives
There are special regulations in place to prevent substances that could potentially be used to make explosives getting into the wrong hands. Some substances, which would normally only be available from specialist suppliers, are regulated and can only be supplied to a member of the public who has a licence to obtain and possess them. Other substances, although not regulated, are nevertheless of potential concern. Examples of these, which are referred to as 'reportable substances', include ammonium nitrate (present in some fertilisers), sulphuric acid (contained in some strong cleaning products) and the solvent acetone. Any products labelled with the 'skull and crossbones' hazard pictogram are also potentially of concern, although they are not classified as reportable under the regulations.
You must report any suspicious transactions (or disappearances due to theft) involving regulated or reportable substances to the police Anti-terrorist Hotline on 0800 789 321. A transaction could be suspicious for various reasons, for example because the customer insists on paying cash and/or wants an unusually large quantity of a product containing a reportable substance.
There's more information for businesses about regulated and reportable substances on the Gov.uk website.
Waste batteries
If your business sells more than 32 kg of portable batteries in a year you must take back used batteries from customers to be recycled. You must provide this service free of charge. Defra has produced a calculator tool to help businesses work out whether they sell enough batteries each year to be affected by the new regulations. You can use a tool based on the Defra calculator on the Waste Support website.
Waste Electrical and Electronic Equipment (WEEE)
The WEEE Regulations aim to minimise the impact of waste electrical and electronic equipment on the environment. If you will be selling electrical products like drills and other hand tools to domestic customers, you are required to give customers information about WEEE, provide a free like for like take-back service for waste electrical goods or join the distributor take-back scheme. This is to allow customers to return old appliances when they buy new equipment. You can find out more on the Gov.uk and Northern Ireland Environment Agency websites.
Packaging regulations
You must use metric measurements on all pre-packed goods, where these are sold by weight or length, although you can show the imperial measurement as well if you want to. For all products sold loose by weight and count you must ensure that your measuring and weighing equipment is accurately calibrated.
Retailing
There is a wide range of legislation that applies to retail outlets and that protects the interests of the consumer. For example, goods and services must not be misleadingly described and the retail price of goods must be clearly displayed. You will be responsible for making sure that all goods or services are fit for their intended purpose and of satisfactory quality.
Workplace smoking ban
Don't forget that smoking is no longer permitted in any workplaces, including work vehicles. You must display appropriate 'No Smoking' signs. The legislation varies slightly in different parts of the UK so contact your local authority for details of how the ban affects you. You can also find out more on the HSE website.
Carrier bag charge
A 5 pence charge applies in England, but small and medium-sized businesses (with fewer than 250 full-time equivalent employees) are exempt. You can get detailed guidance from the gov.uk website.
Retailers in Wales and Scotland must charge customers at least 5 pence if they supply them with a single-use carrier bag. This applies to all types of single-use bag, whether they are made of plastic, paper or plant-based starch. There is detailed guidance on the Gov.Wales and Zero Waste Scotland websites.
In Northern Ireland retailers must charge customers a 5 pence levy on all bags with a retail price of less than 20 pence (including any bags that would otherwise be free of charge), whether they are single-use or reusable.
Health & Safety, fire
You must comply with workplace health and safety and fire safety legislation.
Employment legislation
Anyone employing staff must comply with employment legislation. Important areas of legislation include recruitment, employment contracts, pay, working hours, holidays, employment policies, sickness, maternity, paternity, discrimination, discipline, grievances, dismissals, redundancies and employment tribunals.
Insurance for a DIY shop
Contact an insurer or insurance broker and explain exactly how your business will operate - they will then explain what insurance cover you must have by law, and other cover you should consider. This might include:
premises, premises contents and stock
goods in transit (being collected or delivered)
cash
business interruption
employer's liability
public liability
product liability
motor insurance (for delivery vehicles)
It is worth noting that some trade associations and buying groups offer their members special insurance policies, which might save you money and provide the level of cover you need. For example, the British Independent Retailers Association (BIRA), which incorporates the British Hardware Federation, offers insurance services to its members.
When comparing insurance quotes, uncover the differences between policies by using an insurance comparison form.