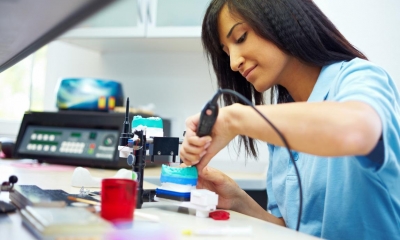 The dental laboratory industry is affected by certain specific pieces of legislation. It would be wise to obtain specialist help to make sure you comply with all your legal requirements. The Dental Laboratories Association (DLA) can help you with this. Bear in mind that dental technicians must register with the General Dental Council (GDC) and must complete a certain number of hours of continuing professional development (CPD) every five years. Dental technicians must comply with the GDC Standards for the Dental Team. The GDC website contains further information. The following is an outline of some of the areas that are likely to be relevant to you. This list is not exhaustive.
What licences does a dental lab need?
As a manufacturer of dental appliances you will need to register your business with the Medicines and Healthcare products Regulatory Agency (MHRA).
It is also compulsory for dental technicians to register with the General Dental Council (GDC). You must not work as a dental technician if you aren't registered and you mustn't employ unregistered technicians to work for you. You can use unregistered process workers to carry out limited duties provided that they work under the supervision of a registered dental technician. The GDC website contains full details of the registration process and requirements.
You should also register as a data user with the Information Commissioner's Office (ICO) if computerised records of patients' personal details are kept.
Medical Devices Directive
In order to comply with the Medical Devices Directive all dental laboratories must register with the Medicines and Healthcare products Regulatory Agency (MHRA) and implement a quality system as defined in the Directive. The Directive regulates the materials used and the construction of dental appliances. New EU regulations for medical devices were introduced in May 2017, with a three year transition period. You can find guidance for manufacturers of custom-made medical devices on the Gov.uk website.
Environmental protection
The disposal of all kinds of waste including industrial waste products is regulated and firms must use authorized handlers to collect and dispose of chemicals.
Hazardous substances
COSHH regulations cover the use and storage of any potentially hazardous substances and place specific duties on employers which include evaluating all risks and implementing procedures to remove or reduce these risks by preventing or controlling exposure to hazardous substances. Dental laboratories generate a lot of potentially harmful fine dust when they file down dental appliances like dentures. You'll need to make sure that your and your employees' exposure to dust is as far below the legal Workplace Exposure Limits (WELs) set by the COSHH regulations as possible. You will probably need to install single station or central extraction systems.
Health & Safety, fire
You must comply with workplace health and safety and fire safety legislation.
Employment legislation
Anyone employing staff must comply with employment legislation. Important areas of legislation include recruitment, employment contracts, pay, working hours, holidays, employment policies, sickness, maternity, paternity, discrimination, discipline, grievances, dismissals, redundancies and employment tribunals.
Insurance for a dental lab
Contact an insurer or insurance broker and explain exactly how your business will operate - they will then explain what insurance cover you must have by law, and other cover you should consider. This might include:
professional indemnity
premises, premises contents
raw materials, work in progress, stock (including precious metals)
goods in transit, including appliances sent out by mail order or courier
employers liability
public and product liability
motor insurance (for delivery vehicles)
Contact the Dental Laboratories Association (DLA) for details of specialist tailored policies for dental laboratories.
Visit the UK Special Risks website for details of insurance packages tailored for dental laboratories. Discounts are available for members of the DLA, the Dental Technologists Association (DTA) and the Dental Appliance Manufacturers Audit Scheme (DAMAS).
When comparing insurance quotes, uncover the differences between policies by using an insurance comparison form.