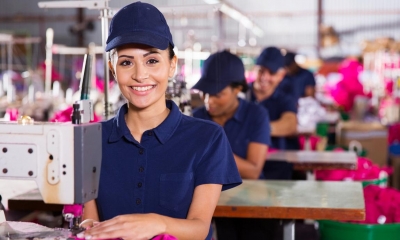 You will need to comply with a certain amount of legislation. The following is an overview of what might be relevant to you.
What licences does a clothing manufacturer neeed?
There are no licensing requirements which apply specifically to clothing manufacturers.
You should be aware that businesses which keep computerised records of customers' details may be required to register as data users with the Information Commissioner's Office (ICO). You may also need to register if you use CCTV.
The Registration, Evaluation, Authorisation (and Restriction) of Chemicals (REACH)
The textile industry uses many chemicals in the production and dyeing processes and, depending on the range of activities you carry out, your business may fall within the scope of the REACH regulations. You may need to register chemicals that you use in garment or textile production. You can find out more about this on the UK Fashion & Textile Association (UKFT) website. Members can access the UKFT REACH Briefing Note which is a textile and clothing industry-specific guide to REACH.
Goods vehicles
You may decide that you need a medium to large van or lorry if you intend to deliver orders to trade customers. If your business operates goods vehicles with a gross plated weight of more than 3.5 tonnes (or unladen weight more than 1,525 kg for unplated vehicles) then it will need a goods vehicle operator licence in England, Scotland and Wales. You will need a licence for each Traffic Area in which your operating centre is located. Licences are issued by the Traffic Commissioner for that area. There are eight Traffic Areas covering England, Wales and Scotland. In Northern Ireland you may need a goods vehicle operator's licence from the Transport Regulation Unit. More information about goods vehicle operator licensing - including the fees payable - is available on the Gov.uk website - and from the Department for Infrastructure (DfI) in Northern Ireland.
Fairtrade licensing
If you manufacture Fairtrade marked products you'll need to be approved as a registered licensee by the Fairtrade Foundation and sign a licensing agreement. There is a fee for using the Fairtrade Mark - the amount is based on quarterly reports that you must submit to the Foundation giving details of your purchases and sales of Fairtrade marked products.
Background music
Don't forget that if you plan to play background music in your factory or workshop you'll need to get a licence from PPL PRS Ltd. There is an annual fee for the licence. If you operate on a small scale with four or fewer employees and only play music in a factory area where it's not audible to customers, visitors or guests then you may be eligible to apply for the small workplaces licence.
Factories Act
This Act and subsequent regulations cover such things as working conditions and the safety of machinery and equipment.
Textile labelling
The Textile Products (Labelling and Fibre Composition) Regulations specify the information about the fibre content of garments that must be provided. This can either be on a label on the garment, or on the garment's packaging. If you supply to a wholesaler, the invoice accompanying the order can contain the information. You can find out more about this on the Trading Standards Business Companion website.
You don't have to include garment care information - such as washing instructions - on your clothing ranges but the UKFT recommends that you do so. The GINETEX system of symbols is used throughout Europe and you can find out more on the UKFT website. You may be required to pay a fee to use the symbols.
Consumer protection
The Consumer Protection Act covers the safety of products and manufacturers must make sure that the goods they produce are not defective. Any components they buy in from other suppliers should be identifiable so that if a finished product is defective, leading to a claim, any faulty component can be traced. The General Product Safety Regulations apply to many products, including clothing. The regulations require products to be safe in normal or reasonably foreseeable use. If you plan to manufacture children's nightwear, the Nightwear (Safety) Regulations apply. Nightwear must comply with the flammability performance requirements of BS 5722 and carry the appropriate label. Further requirements for the fire safety of children's nightwear came into effect in November 2008, introduced by European standard BS EN 14878. Members can download guidance on fire safety requirements from the UK Fashion & Textile Association (UKFT) website.
You can also contact your local trading standards department for further details. If you make children's clothing the Cords and Drawstrings on Children's Clothing Standard (BS EN 14682) sets out safety specifications for cords and drawstrings used in the garments.
Environmental protection
Environmental legislation regulates the disposal of industrial waste products.
You may also be affected by regulations referred to as REACH - this stands for the Registration, Evaluation, Authorisation and Restriction of Chemicals. It aims to protect human health and the environment by controlling chemical substances. REACH covers most chemicals that are manufactured or imported into the EU in quantities of one tonne or more in a year.
There are also regulations that are aimed at protecting the environment from pollution. If your manufacturing business carries out an activity that causes environmental damage you will have to prevent and remedy any damage.
The Gov.uk website contains a wealth of information and guidance on environmental legislation.
Health & Safety, fire
You must comply with workplace health and safety and fire safety legislation.
The Ministry of Housing, Communities & Local Government has produced several helpful guides for businesses, including a special fire safety risk assessment guide for factories and warehouses.
Employment legislation
Anyone employing staff must comply with employment legislation. Important areas of legislation include recruitment, employment contracts, pay, working hours, holidays, employment policies, sickness, maternity, paternity, discrimination, discipline, grievances, dismissals, redundancies and employment tribunals.
Insurance for a clothing manufacturer
Contact an insurer or insurance broker and explain exactly how your business will operate - they will then explain what insurance cover you must have by law, and other cover you should consider. This might include:
premises, premises contents
machines and equipment
raw materials, work-in-progress, finished garments
goods in transit (being collected or delivered)
business interruption
employer's liability
public liability
product liability
motor insurance (for delivery vehicles)
When comparing insurance quotes, uncover the differences between policies by using an insurance comparison form.