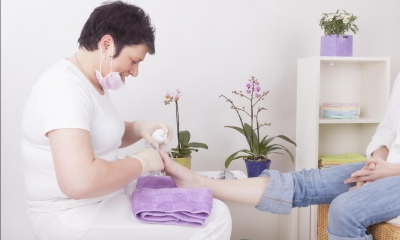 The Health Professions Order set up the Health and Care Professions Council (HCPC) to regulate chiropodists. It also introduced legal protection to the titles of chiropodist and podiatrist. Anyone who wants to practise using either of those titles must be registered with the HCPC, must comply with HCPC Standards of proficiency and Standards of conduct, performance and ethics and undertake continuing professional development (CPD). Professional indemnity insurance cover is required as a condition of initial and continuing registration with the HCPC.
Chiropodists who are registered with the HCPC can sell, supply and administer certain Prescription Only Medicines (POM), Pharmacy medicines (P) and General Sales Listed (GSL) medicines. There are conditions attached to these activities, for example GSL medicines must be pre-packed and supplied in the course of the chiropodist's professional practice from premises which can be locked. Chiropodists can also act as supplementary prescribers - that is, working in partnership with an independent prescriber like a doctor to prescribe medicines specified in a patient's clinical management plan (CMP). Recent legislation has enabled chiropodists to become independent prescribers themselves following the completion of post-registration training. You can find out more on the HCPC website.
What licences does a chiropodist need?
Anyone who wants to use the legally protected titles of chiropodist or podiatrist must have completed an approved course and be registered with the Health and Care Professions Council (HCPC). To remain on the register, you must continue to meet professional standards and you must also undertake continuing professional development (CPD) activities. There is a registration fee payable - the registration cycle lasts for two years, after which you will need to renew it.
Local authorities in some areas may require businesses that offer 'special treatments' such as chiropody to register with them. Contact your local authority to find out the position in your area.
You should be aware that businesses which keep computerised records of customers' personal details may be required to register as data users with the Information Commissioner's Office (ICO). Contact the ICO, Wycliffe House, Water Lane, Wilmslow, Cheshire SK9 5AF.
Health & Safety, fire
You must comply with workplace health and safety and fire safety legislation.
Chiropody practices may use potentially dangerous chemicals or pharmaceutical products and so you should be aware of the requirements of the Control of Substances Hazardous to Health (COSHH) Regulations. You must make sure that you carry out a work place risk assessment and put in place systems so that these substances are used as safely as possible. You can find out more about your duties as an employer under the COSHH Regulations from COSHH, a brief guide to the Regulations which you can download from the Health and Safety Executive (HSE) website.
As well as making sure that chemicals and medicines are stored and used safely, you must also comply with health and safety legislation that covers all aspects of health and safety in the work place. For example, making sure that sharps such as scalpels are used, stored and disposed of correctly, and putting in place precautions for infection control. Employers have a duty to ensure the health and safety at work of all of their employees and those with five or more employees must prepare a written health and safety policy statement. You should contact your local authority health and safety section for advice and guidance.
You can read the Code of Ethics on the IOCP website. This provides guidance on the standards expected of IOCP members.
Employment legislation
Anyone employing staff must comply with employment legislation. Important areas of legislation include recruitment, employment contracts, pay, working hours, holidays, employment policies, sickness, maternity, paternity, discrimination, discipline, grievances, dismissals, redundancies and employment tribunals.
Insurance for a chiropodist
Contact an insurer or insurance broker and explain exactly how your business will operate - they will then explain what insurance cover you must have by law, and other cover you should consider. This might include:
professional indemnity (mandatory for all those registered with the Health and Care Professions Council)
medical malpractice
practice rooms, equipment and stock
cash
business interruption
employer's liability
public liability
product liability
motor insurance (for vehicles)
The Alliance of Private Sector Practitioners public liability and treatment risk insurance covers members for up to £6 million.
Membership of the Society of Chiropodists and Podiatrists includes comprehensive insurance cover including public and product liability and medical malpractice.
When comparing insurance quotes, uncover the differences between policies by using an insurance comparison form.