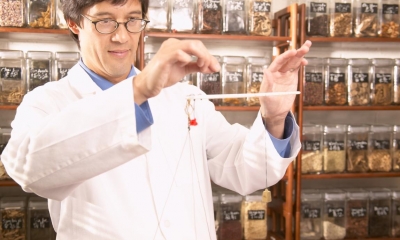 Although there is currently no specific regulation of Chinese (or other) herbal practitioners, a voluntary registration scheme for herbal practitioners may be introduced in the future. You can keep up-to-date with developments on the Register of Chinese Herbal Medicine (RCHM) or the European Herbal & Traditional Medicine Practitioners Association (EHTPA) websites.
Some of the key areas where legislation is likely to affect your business are listed below.
What licences does a Chinese herbalist need?
There are currently no licensing requirements relating specifically to Chinese herbal medicine practitioners. Although in 2011 the government announced that the profession would be statutorily regulated in the future, the Herbal Medicines and Practitioners Working Group (HMPWG) recently recommended that this should not take place after all. The HMPWG recommended voluntary registration instead, accredited by the Professional Standards Authority.
Bear in mind that if you also plan to practise as an acupuncturist, the provisions of the Local Government (Miscellaneous Provisions) Act and the London Local Authorities Act require you to register your premises with your local environmental health department. You will need to display your registration certificate. Under the terms of the Civic Government (Scotland) Act (Licensing of Skin Piercing and Tattooing) Order, all businesses in Scotland that carry out skin piercing activities must have a licence. Registered medical practitioners working in hospitals or independent clinics do not require a licence.
Any business that keeps records of individuals' personal details - for example patient consulation records - may need to register with the Information Commissioner's Office (ICO). For more information visit the ICO website.
If you play background music in your treatment rooms, you will have to obtain a licence from PPL PRS Ltd.
Licensing of herbal medicines
The EC Directive on Traditional Herbal Medicinal Products regulates the supply of herbal medicines.
Herbal medicines that are made up on the premises and supplied after a one-to-one consultation are currently exempt from licensing requirements but a registration scheme has been set up for over the counter pre-prepared herbal remedies. Manufacturers of these products must demonstrate that the products are of good quality and safe. All pre-prepared products sold over the counter must be registered. You can find out more about registration requirements on the Medicines and Healthcare Products Regulatory Agency (MHRA) section of the Gov.uk website.
Nutrition and health claims
Be aware that it's illegal to make any nutritional or health claims about a product unless it is included on the list of Authorised Claims approved by the European Food Safety Authority (EFSA).
Health & Safety, fire
You must comply with workplace health and safety and fire safety legislation.
Employment legislation
Anyone employing staff must comply with employment legislation. Important areas of legislation include recruitment, employment contracts, pay, working hours, holidays, employment policies, sickness, maternity, paternity, discrimination, discipline, grievances, dismissals, redundancies and employment tribunals.
Insurance for a Chinese herbalist
Contact an insurer or insurance broker and explain exactly how your business will operate - they will then explain what insurance cover you must have by law, and other cover you should consider. This might include:
medical malpractice/professional indemnity
premises, premises contents and stock
cash
business interruption
employer's liability
public liability
product liability
motor insurance (for business vehicles)
Members of the Register of Chinese Herbal Medicine (RCHM), the Association of Traditional Chinese Medicine and Acupuncture (ACTM) and the Acupuncture Society must have professional indemnity insurance cover.
Holistic Insurance Services specialise in insuring complementary therapists, including practitioners of Traditional Chinese Herbal Medicine.
When comparing insurance quotes, uncover the differences between policies by using an insurance comparison form.