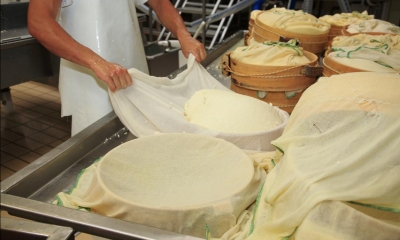 As a food manufacturer, food safety and labelling legislation is of particular relevance to your business. The Specialist Cheesemakers Association can advise its members on food safety legislation and cheese making.
There is a range of other legislation that may also apply to your business. The following is an overview of legislation that may apply.
Insurance for a cheese maker
You will normally need to obtain approval to operate a dairy product/processing business from your local authority environmental health department (although case-by-case exemptions may be made where dairy products are supplied on a 'marginal', 'localised' or 'restricted' basis - your local authority will be able to advise if this applies to your business, and give guidance on the food business registration requirements that apply to all food businesses if they are not required to be approved). They will issue you with an approval number once they are satisfied that your operations meet the required standards.
Contact your local authority for further information. There is more about approval requirements for dairy product establishments on the Food Standards Agency website.
Goods vehicles
You may decide that you need a medium to large van or lorry if you intend to deliver wholesale cheese to trade customers. If your business operates goods vehicles with a gross plated weight of more than 3.5 tonnes (or unladen weight more than 1,525 kg for unplated vehicles) then it will need a goods vehicle operator licence in England, Scotland and Wales. You must have an operator licence for each Traffic Area in which you have a base. Licences are issued by the Traffic Commissioner for that area. There are eight Traffic Areas covering England, Wales and Scotland. In Northern Ireland you may need a goods vehicle operator's licence from the Transport Regulation Unit (TRU) of the Department for Infrastructure (DfI). More information about goods vehicle operator licensing is available on the Gov.uk website - and from the DfI in Northern Ireland.
Playing music in a public place
You will need the appropriate licences if you play background music in a shop outlet or cafe. A Music Licence from PPL PRS Ltd is normally required for the public use of copyright music. These music licensing requirements also apply if you play music in a factory or production facility for your staff to listen to. If you operate on a small scale with four or fewer employees and only play music in a factory area where it's not audible to customers, visitors or guests then you may be eligible to apply for the small workplaces licence instead.
Protected Food Names Scheme
Producers of eligible regional specialties can register their products under the EU Protected Food Names Scheme. This is designed to protect genuine regional specialties from being produced outside their region of origin. The UK remains a member of the EU until negotiations for leaving are complete, so the Protected Food Names Scheme will continue to apply to UK manufacturers until then. You can find out more about the scheme on the Gov.uk website.
Using labour providers
Food processing and packaging businesses that use the services of gangmasters - basic labour providers - are required by law to use only gangmasters that are licensed by the Gangmaster & Labour Abuse Authority (GLAA). More information about gangmaster licensing, including a database of licensed gangmasters, is available on the GLAA website.
Retailing
If you operate your own retail outlet or sell your cheese direct to consumers from a market stall - or online - you should be aware that there is a wide range of retailing legislation that protects the interests of the consumer. For example, goods must not be misleadingly described and the retail price must be clearly displayed. You will be responsible for making sure that all cheese sold is fit to eat and of satisfactory quality.
More information about many different aspects of consumer protection legislation is available on the Trading Standards Business Companion website. There's also information and guidance available on the Gov.uk website.
Weights and measures
Weights and measures legislation requires most pre-packed food, including cheese, to show an indication of the net quantity of the contents in metric measurements. You can read more about weights and measures legislation on the Gov.uk website.
Health & Safety, fire
You must comply with workplace health and safety and fire safety legislation.
Employment legislation
Anyone employing staff must comply with employment legislation. Important areas of legislation include recruitment, employment contracts, pay, working hours, holidays, employment policies, sickness, maternity, paternity, discrimination, discipline, grievances, dismissals, redundancies and employment tribunals.
Insurance for a cheese maker
Contact an insurer or insurance broker and explain exactly how your business will operate - they will then explain what insurance cover you must have by law, and other cover you should consider. This might include:
employer's liability
public liability
product liability
product recall
contamination of products
environmental liability
supply chain management
premises, premises contents and stock
goods in transit (cheese being delivered)
cash
business interruption
motor insurance (for delivery vehicles)
Specialist insurance packages for food manufacturers - including cheese makers - are available from a number of different business insurers. Try searching online for 'food manufacturer insurance'.
When comparing insurance quotes, uncover the differences between policies by using an insurance comparison form.