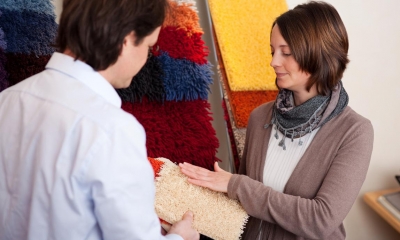 There are several pieces of legislation that apply to carpet fitting businesses. They cover areas such as licensing, retailing, and insurance.
What licences does a carpet fitting business need?
There are no licensing requirements relating specifically to selling carpets.
You should, however, be aware of the following:
if credit facilities are offered to retail customers you will need consumer credit authorisation from the Financial Conduct Authority (FCA)
if background music is provided in the shop you'll probably need a Music Licence from PPL PRS Ltd
if you keep computerised records of individuals' personal details you may be required to register as a data user with the Information Commissioner's Office (ICO)
you will need an operator's licence if you use delivery vehicles over 3.5 tonnes gross vehicle weight, and your drivers must be appropriately licensed
Waste carrier registration
You will need to register as a lower tier waste carrier (England, Wales and Northern Ireland) or a professional collector or transporter of waste (Scotland) if you or your employees fit carpets yourself (rather than using self-employed fitters) and carry away the old carpet that you have removed or off-cuts of new carpet. Registration is free of charge and lasts indefinitely.
Waste carrier registration is carried out by:
the Environment Agency in England
Natural Resources Wales
the Scottish Environment Protection Agency
the Northern Ireland Environment Agency
Carpet fitting
If you carry out carpet fitting, you should be aware of the British Standards Institute (BSI) Code of Practice for the installation of textile floor coverings, BS 5325 which lays down specifications for installation work. Carrying out work to BS 5325 is likely to be a requirement of many commercial floor laying contracts. There is a similar Code of Practice - BS 8203 - which covers the installation of resilient floor coverings. Note that these are not legal requirements - but you may be required to meet these standards under the terms of a contract. For more information, visit the BSI website.
Retailing
There is a wide range of legislation that applies to retail outlets and that protects the interests of the consumer. For example, goods and services must not be misleadingly described and the retail price of goods must be clearly displayed. In the case of carpets, make sure that it's clear to customers what they are getting in the price - and what you charge extra for. There is also 'off-premises selling' legislation designed to protect consumers when they enter into contracts in their own home rather than at a retailer's premises. More information on consumer protection and other trading standards legislation is available on the Business Companion website.
You are also responsible for making sure that all goods or services are fit for their intended purpose and of satisfactory quality.
The environment
There's various legislation designed to protect the environment from pollutants like waste and chemicals. If you fit carpets, laminate and other floor coverings then you're likely to produce a certain amount of waste including off-cuts, old floor coverings that you've removed and so on. This needs to be disposed of legally and responsibly. If you use chemicals like glues, solvents and cleaning agents then you must make sure that you prevent these from polluting the environment too. More information about environmental management and your duty of care to protect the environment is available on the Gov.uk website.
Health & Safety, fire
You must comply with workplace health and safety and fire safety legislation.
Employment legislation
Anyone employing staff must comply with employment legislation. Important areas of legislation include recruitment, employment contracts, pay, working hours, holidays, employment policies, sickness, maternity, paternity, discrimination, discipline, grievances, dismissals, redundancies and employment tribunals.
Insurance for a carpet fitting business
Contact an insurer or insurance broker and explain exactly how your business will operate - they will then explain what insurance cover you must have by law, and other cover you should consider. This might include:
premises, premises contents and stock
goods in transit (being collected or delivered)
cash
business interruption
employer's liability
public liability
product liability
motor insurance for delivery vehicles
It is worth noting that some buying groups and trade associations offer their members special insurance policies, which might save you money and provide the level of cover you need. For example, the Contract Flooring Association (CFA) offers an insurance helpline service for members and has also partnered with certain insurance providers who offer specialist flooring contractors insurance. Visit the CFA website for more information.
When comparing insurance quotes, uncover the differences between policies by using an insurance comparison form.