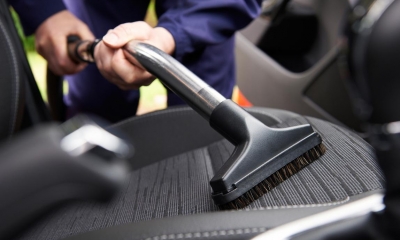 Some of the key areas where legislation is likely to affect your valeting business are listed below.
What licences does a car valeter need?
There are currently no licensing requirements relating specifically to car valeting businesses.
If you play music in the workplace (or in a cafe area) then you normally need a Music Licence from PPL PRS Ltd. There is an annual fee for this which you can pay online on the PPL PRS website.
Note that you will need permission from your water and sewerage provider to discharge any effluent, such as dirty water and shampoo run-off from cleaning vehicle exteriors, into their sewer (whether it's a foul or surface water sewer). In rented premises you may also need permission from your landlord. You can find out more on the Gov.uk website. The pollution prevention guideline PPG13 included specific information on trade effluent arising from vehicle cleaning. All PPGs were withdrawn in December 2015 but you can still access them from the NetRegs website. They are a useful source of information on good practice but they are no longer kept up to date so you can't rely on them as a source of information on legal requirements.
The Car Wash Advisory Service (CWAS) (previously known as the Car Wash Association), which campaigns to raise awareness of 'unregulated' hand car washes that pollute the environment and discharge effluent illegally, has information about handling waste water on their website.
Some of the key areas where legislation is likely to affect your valeting business are listed below. The list is not intended to be exhaustive.
Hazardous substances
A car valeting business may use hazardous substances and specific regulations cover their use, storage and disposal. Ensure that your and any employees' exposure to potentially harmful substances is minimised. This might involve precautions such as using goggles when steam cleaning or pressure washing an engine, and using gloves or barrier cream to limit exposure of the skin to oil, cleaning fluids and so on. This will reduce the risk of conditions such as contact dermatitis. When cleaning wheels, care should be taken to avoid exposure to brake dust. If any paint spraying is done, protective clothing and in particular, appropriate breathing apparatus (for example air fed masks) must be used. Ventilation equipment will also be needed. Hazardous substances must also be stored correctly.
The HSE and HSENI websites include information about keeping yourself and your employees safe from potentially hazardous substances.
Waste disposal and the environment
All waste must be disposed of properly. In particular, hazardous waste such as old cleaning fluid, cutting compound, paint and other chemicals must only be taken away and disposed of by registered, authorised waste carriers. Legislation also covers waste effluent, the emission of fumes, and dust from paint spraying. Contact your local environmental health department for guidance. More information about pollution control and authorised waste carriers is available from the Gov.uk website.
Waste disposal and pollution prevention regulations also cover run-off from activities like car cleaning, which is referred to as 'trade effluent'. You will need to ensure that you have the appropriate drainage and environmental protection measures in place.
Workplace smoking ban
Smoking is not permitted in enclosed public places, including workplaces and work vehicles. You must display appropriate 'No Smoking' signs. The legislation varies slightly in different parts of the UK so contact your local authority for details of how the ban affects you. You can also find out more on the HSE website.
Health & safety, fire
You must also make sure that you comply with workplace health and safety and fire safety legislation.
Car valeting and minor repair work is potentially hazardous and you must make sure that you comply with legislation covering all aspects of work place health and safety. You have a duty to ensure the health and safety at work of yourself and any employees. If you have five or more employees you must prepare a written health and safety policy statement. Specific regulations cover such things as the safety and maintenance of garage equipment, and the use of protective equipment (for example safety goggles). Care should be taken when using electrical equipment like polishers in damp or wet conditions. Contact your local authority environmental health department for guidance.
Employment legislation
Anyone employing staff must comply with employment legislation. Important areas of legislation include recruitment, employment contracts, pay, working hours, holidays, employment policies, sickness, maternity, paternity, discrimination, discipline, grievances, dismissals, redundancies and employment tribunals.
Illegal workers
As an employer it's your responsibility to check that someone you take on is entitled to work in the UK. There are fines for employers who employ illegal workers because they've failed to make the necessary checks. You can read more about preventing illegal working on the Gov.uk website.
Insurance for a car valeter
Contact an insurer and explain exactly how your business will operate - they will then explain what insurance cover you must have by law, and other cover you should consider. This might include:
employer's liability
public liability
premises, premises contents and stock
cash
business interruption
motor insurance (for mobile valeting vehicles)
insurance cover for customer's cars while they're being valeted, including indemnity against accidental damage caused during the course of valeting operations
insurance to cover driving customers' cars
A motor trade policy would cover you and your staff to drive any vehicle at any time. However, if your business doesn't involve buying and selling vehicles then you may not need a full motor trade policy. A specialist car valeter's policy could give you the level of comprehensive cover you need at a lower cost. Check whether or not you're fully covered when a vehicle is being driven on private land - at your premises rather than on a public road, for example.
Many commercial insurers specialise in the motor trade and some have specialist experience of providing cover for valeters. When comparing insurance quotes, uncover the differences between policies by using an insurance comparison form.