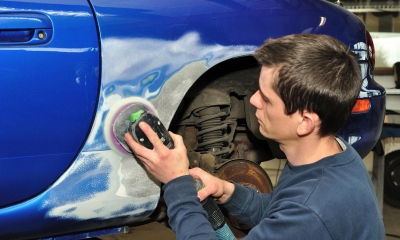 There are several pieces of legislation that apply to car bodyshops. They cover areas such as chemical regulation, repair work, and storing petrol.
If you are starting a new business, rather than taking over an existing one, you may need to obtain planning permission from the local planning authority. Even if you are taking over an existing business, additional planning permission may be required for paint spraying work.
In addition there is a wide range of legislation that applies. The following is an outline of some of the key pieces of legislation that are likely to apply to a car body shop. The list is not intended to be exhaustive
What licences does a car bodyshop need?
There are a number of licences that may be required, depending on the activities you carry out.
Pollution control
Under pollution control legislation, businesses that engage in car refinishing activities are required to hold an environmental permit (in England and Wales) or a pollution prevention and control permit (in Scotland and Northern Ireland). Permits are issued by local councils in England, Wales and Northern Ireland and the Scottish Environment Protection Agency. Permits set out the requirements and conditions for equipment and procedures. Business premises that have a permit are regularly inspected.
Waste
You will need to register as a lower tier waste carrier (England, Wales and Northern Ireland), or a professional collector or transporter of waste (Scotland), if you operate as a mobile bodywork repairer and carry away waste that you generate in the course of a repair. Registration is free of charge and lasts indefinitely.
Waste carrier registration is carried out by:
the Environment Agency in England
Natural Resources Wales
the Scottish Environment Protection Agency
the Northern Ireland Environment Agency
Note that any business which produces 500kg or more of hazardous waste at a premises in Wales within a 12 month period must register with Natural Resources Wales as a hazardous waste producer. You can find out more about hazardous waste producer registration on the Gov.uk website.
Number plates
All vehicle number plate suppliers in England and Wales are required by law to register with the DVLA. You can find out more about registering on the Gov.uk website.
Repair work
There is legislation that covers the sale and supply of goods and services - including the supply of car parts and repairs. You are responsible for ensuring that the correct parts are used and fitted safely and that all repair work is carried out in a way that will ensure the safety of any future driver of the car.
Vehicle identity check
You should be aware that all accident damaged and/or substantially repaired cars that have been 'written off' must pass a vehicle identity check before they can be returned to the road. Identity checks are carried out at test centres run by the Driver and Vehicle Standards Agency (DVSA) in Great Britain, or the Driver and Vehicle Agency in Northern Ireland.
Chemicals regulation
Because you will be using chemicals in your business activities, you're likely to be affected by the health and safety regulations that cover their use. You have a duty to use chemicals in a safe way and to follow the information on risk management measures. You can find out more about how chemicals regulations may affect you on the HSE website.
Storing petrol
The storage of petrol in workplaces (other than in a petrol filling station) is covered by the Dangerous Substances and Explosive Atmospheres Regulations 2002 (DSEAR). Under these regulations you must take steps to control the risks of fire and explosions that storing flammable liquids such as petrol could cause. You can find out more about your requirements under DSEAR on the HSE website.
Hazardous substances
Many hazardous substances are used in a bodyshop. Specific regulations cover their use, storage and disposal. Ensure that your and any employees' exposure to potentially harmful substances is minimised. This might involve precautions such as using dust masks and goggles when sanding body filler, and using gloves or barrier cream to limit exposure of the skin to paint and so on. If any paint spraying is done, protective clothing and, in particular, appropriate breathing apparatus (for example air fed masks) must be used. Ventilation equipment will also be needed. Hazardous substances must also be stored correctly.
Waste disposal and the environment
All waste must be disposed of properly. In particular, hazardous waste such as old paint and other chemicals must only be taken away and disposed of by registered, authorised waste carriers. Legislation also covers the emission of fumes and dust from paint spraying and bodywork repairs, so contact your local environmental health department for guidance. More information about pollution control and environmental protection matters is available from the Gov.uk website.
Goods and services
There is a range of consumer protection legislation that applies to all businesses, which protects the interests of the customer. For example, goods and services must not be misleadingly described. You'll be responsible for making sure that all parts supplied are fit for their intended purpose, and that both parts and work done are of satisfactory quality. Information about various aspects of fair trading and consumer protection legislation is available on the Trading Standards Business Companion website. If you offer a mobile repair service at peoples' homes, you also need to be aware of 'doorstep' selling legislation.
Health & safety, fire
You must comply with workplace health and safety and fire safety legislation.
Employment legislation
Anyone employing staff must comply with employment legislation. Important areas of legislation include recruitment, employment contracts, pay, working hours, holidays, employment policies, sickness, maternity, paternity, discrimination, discipline, grievances, dismissals, redundancies and employment tribunals.
Insurance for a car bodyshop
Contact an insurer and explain exactly how your business will operate - they will then explain what insurance cover you must have by law, and other cover you should consider. This might include:
premises, premises contents and stock
cash
business interruption
employer's liability
public liability
product liability
motor insurance (for driving customers' vehicles, for vehicles used to collect parts, for any courtesy cars you provide and for an accident recovery vehicle)
You are likely to have quite a large number of vehicles passing through your business on a regular basis, for example customers' vehicles in for repairs and restoration and possibly courtesy cars. Make sure that they stay legal while they are in your care, whether you drive them on the road or not.
You must have a motor trade insurance policy to cover you when you're driving different vehicles on the road. By uploading vehicle details to the Motor Insurance Database (MID) whenever necessary, you'll be able to comply with the 'continuous insurance enforcement' rules for vehicles. It's often a good idea to upload details even in situations when it's not a legal requirement. You can find out more about the MID on the askMID website.
It's worth noting that some trade associations offer their members special insurance packages. When comparing insurance quotes, uncover the differences between policies by using an insurance comparison form.