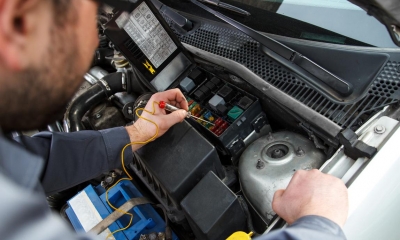 If you are starting a new business (rather than taking over an existing one) you may need to obtain planning permission if you're changing the existing use of the premises, although some changes of use are permitted without it. In addition there is a wide range of legislation that can apply to car alarm fitting businesses. The following is an overview of some of the key areas you should be aware of. The list is not intended to be exhaustive.
What licences does a car alarm fitter need?
Although there are no licences that relate specifically to installing vehicle alarms and related accessories, if you play music in your retail shop or workshop you're likely to need a Music Licence from PPL PRS Ltd. There is an annual fee for this which you can pay online on the PPL PRS website.
Vehicle insurance registration
Continuous Insurance Enforcement (CIE) requires that a vehicle must have a valid insurance policy in almost all circumstances. So it's recommended good practice to make sure that you upload to the Motor Insurance Database details of all customers' vehicles that you are planning to drive under your trade motor insurance policy. This will minimise the risk of you being stopped by the police and the vehicle being seized if the owner has failed to put in place their own insurance policy. The askMID website has more details about CIE.
Waste carrier registration for mobile fitters
You will need to register as a lower tier waste carrier (England, Wales and Northern Ireland) or a professional collector or transporter of waste (Scotland) if you operate as a mobile fitter/repairer and carry away waste that you generate during the course of an installation or repair. Registration is free of charge and lasts indefinitely.
Waste carrier registration is carried out by:
the Environment Agency in England
Natural Resources Wales
the Scottish Environment Protection Agency
the Northern Ireland Environment Agency
Fitting and repair work
Legislation covers the sale and supply of goods and services - including the supply of car parts, accessories and their fitting or repair. You are responsible for ensuring that security devices and other accessories that you fit are installed properly and that all work is carried out in a way that does not compromise the safety of any future driver of the vehicle.
Equipment standards
All security equipment that you supply and fit must comply with the appropriate British or European Standard - it is an offence to fit non-compliant equipment. So, for example, remote control alarm systems must operate within the prescribed frequency range. Your supplier should be able to confirm that all the products supplied to you comply with the appropriate standard.
Goods and services
There is a range of legislation that applies to all businesses, which protects the interests of the customer. For example, goods and services must not be misleadingly described. There are also rules for businesses that enter into contracts with consumers at their home or at another location that isn't your business premises - this is known as off-premises selling. You will be responsible for making sure that all parts supplied are fit for their intended purpose, and that both parts and work done are of satisfactory quality. Repair and fitting of alarms and accessories must be done with care. More information is available on the Trading Standards Business Companion website.
Hazardous substances
A car alarm fitting business may use hazardous substances and specific regulations cover their use, storage and disposal. Ensure that your and any employees' exposure to potentially harmful substances is minimised. This might involve precautions such as using goggles when soldering wires and using gloves or barrier cream to limit exposure of the skin to oil, cleaning fluids and so on. Care should be taken to avoid exposure to soldering fumes or adhesive fumes. Hazardous substances must be stored correctly, too.
Waste disposal
All waste must be disposed of properly. In particular, hazardous waste such as old car batteries or electrical components must only be taken away and disposed of by registered, authorised waste carriers. If you produce more than 500kg of hazardous waste a year in a premises in Wales then you'll need to register with Natural Resources Wales. You can contact the Environment Agency in England, Natrual Resources Wales, the Northern Ireland Environment Agency, or the Scottish Environment Protection Agency (SEPA) in Scotland for guidance.
Waste Electrical and Electronic Equipment (WEEE)
The WEEE Regulations aim to minimise the impact of waste electrical and electronic equipment on the environment. As you will be supplying electrical and electronic products to domestic customers, you are required to give customers information about WEEE, provide a free like for like take-back service for waste electrical goods, or join the distributor take-back scheme. This is to allow customers to return old appliances when they buy new equipment. You can find out more on the Gov.uk and Northern Ireland Environment Agency websites.
Health & safety, fire
You must also make sure that you comply with workplace health and safety and fire safety legislation.
Employment legislation
Anyone employing staff must comply with employment legislation. Important areas of legislation include recruitment, employment contracts, pay, working hours, holidays, employment policies, sickness, maternity, paternity, discrimination, discipline, grievances, dismissals, redundancies and employment tribunals.
Insurance for a car alarm fitter
Contact an insurer and explain exactly how your business will operate - they will then explain what insurance cover you must have by law, and other cover you should consider. This might include:
premises, premises contents and stock
cash
business interruption
employer's liability
public liability
motor insurance (for your own business vehicles)
insurance cover for customers' cars while they are being worked on
insurance to cover collecting and delivering customers' cars if this is required
You're likely to have quite a large number of vehicles passing through your business on a regular basis. So you'll need to take certain steps to make sure that they stay legal while they're in your care, whether you drive them on the road or not.
By uploading vehicle details to the Motor Insurance Database (MID) whenever necessary you'll be able to comply with the 'continuous insurance enforcement' rules for vehicles. It's often a good idea to upload details even in situations when it's not a legal requirement. You can find out more about the MID on the askMID website.