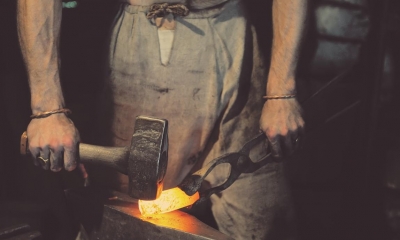 The following is an outline of some of the key pieces of legislation that may apply to your business.
What licences does a blacksmith need?
There are no licensing requirements relating specifically to blacksmiths.
You should, however, be aware that businesses which keep computerised records of customers' personal details may be required to register as data users with the Information Commissioner's Office (ICO).
Don't forget that it is unlawful to practise as a farrier unless you are appropriately qualified and registered in the Farrier's Register.
Retailing
If you decide to sell direct to members of the public from a showroom at the forge you should be aware that there is a wide range of legislation that applies to retail outlets and that protects the interests of the consumer. For example, goods and services must not be misleadingly described and the retail price of goods must be clearly displayed. You will be responsible for making sure that all goods or services are fit for their intended purpose and of satisfactory quality.
If you sell some items from your website you'll need to be aware of regulations covering online sales. You can find out more on the Gov.uk website.
Environmental legislation
Businesses that work with metals may affect the environment because they use processes such as welding that produce emissions that are potentially damaging. There is a great deal of legislation that regulates noise, waste and emissions to air and water so that the environmental impact is kept as low as possible.
Health & Safety, fire
You must comply with workplace health and safety and fire safety legislation.
The blacksmith's trade uses potentially harmful procedures and substances, so care should always be taken to comply with health and safety legislation to make the workshop as safe an environment as possible for both you and any employees you have.
Matters to which you should give particular attention include the following regulations made under the Health and Safety Act (the list is not exhaustive):
the Control of Substances Hazardous to Health (COSHH) Regulations which regulate how potentially harmful substances are stored and used
the Personal Protection Equipment at Work Regulations which specify that protective clothing and equipment should be provided for employees where necessary - for example, goggles and face shields
the Provision and Use of Work Equipment Regulations which cover the use and maintenance of hand and power tools
the Noise at Work Regulations which require a noise assessment to be carried out if there is a lot of noise in the forge
the Manual Handling Operations Regulations which require employers to make sure that hazardous manual handling is reduced to a minimum
the Reporting of Injuries, Diseases and Dangerous Occurances Regulations (RIDDOR) which require major injuries and accidents at work to be reported to the Incident Contact Centre. You must keep a record of any reportable occurance
The Health and Safety Act covers all aspects of health and safety in the workshop and employers with five or more employees must prepare a written health and safety policy statement. Contact your local authority health and safety section for advice and guidance. The Health and Safety Executive (HSE) and Health and Safety Executive Northern Ireland (HSENI) websites have a large number of free publications available to download which deal with all aspects of health and safety in the workplace.
Employment legislation
Anyone employing staff must comply with employment legislation. Important areas of legislation include recruitment, employment contracts, pay, working hours, holidays, employment policies, sickness, maternity, paternity, discrimination, discipline, grievances, dismissals, redundancies and employment tribunals.
Insurance for a blacksmith
Contact an insurer or insurance broker and explain exactly how your business will operate - they will then explain what insurance cover you must have by law, and other cover you should consider. This might include:
premises, premises contents and tools
goods in transit (being collected or delivered)
cash
business interruption
employer's liability
public liability
product liability
motor insurance (for vehicles, including carriage of gas)
The British Farriers & Blacksmiths Association (BFBA) works with insurers to offer members insurance policies tailored to the blacksmith's trade. BFBA members are entitled to a 12.5% discount.
When comparing insurance quotes, uncover the differences between policies by using an insurance comparison form.